Dutch Model Maartje Verhoef Swears by Drugstore Beauty Finds
Inside Maartje Verhoef's medicine cabinet you'll find Dermalogica moisturizer and Bioderma cleansing water.
---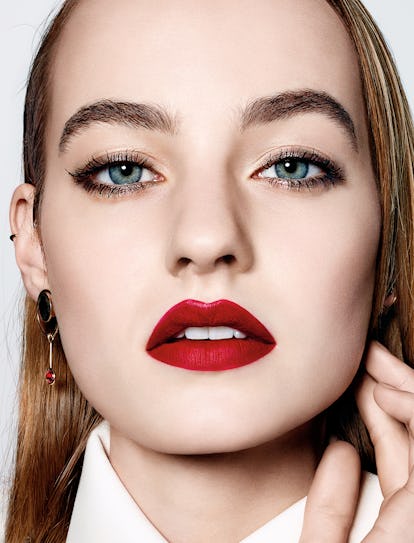 Photographs by Richard Burbridge, Makeup by Peter Philips; Styled by Charlotte Collet; Hair by Holli Smith for R+Co at LGA Management; manicure by Megumi Yamamoto for Chanel; Model: Maartje Verhoef at Women Management; Digital Technician: Kevin Kunstadt; Photography Assistants: Kim Reenberg, Enrico Brunetti, Tyler Nevitt; Fashion Assistant: Scott Taylor; Hair Assistant: Vi Huynh.
What is it about the Dutch that's so effortlessly pretty? It likely has something to do with that blonde hair, blue eyes and fair skin— something model Maartje Verhoef has in spades. Here, she shares her go-to workouts, favorite snack and what's inside her medicine cabinet.
Your look in three words: Natural, brows, no makeup.
Medicine cabinet snapshot: Nutrafol. I just discovered this one, as I lost lots hair because of working. This natural medicine/vitamin makes my hair bigger and grow faster. My skin is really dry, so I need a really good moisturizer. I use Dermalogica moisturizer and sunscreen, and Bioderma cleansing water.
A good hair day starts with… Full Thickening Mousse from Living Proof.
Makeup miracle: Green Cream, to get rid of the redness in my cheeks.
Sheet mask or mud mask? Mud mask, I love to take a facial and get a good mud mask. My face feels so much better afterwards.
My nails must be… Natural but done. Just one natural coat and filed. Bronze or blush? Definitely bronze.
Drink of choice: Lots of water, and green tea.
Never leave home without: Brushing my eyebrows.
Beauty from the inside out: I'm a healthy eater, I eat a lot of vegetables. I exercise quite a bit, and I like to do a lot of different stuff. Boxing, yoga and ballet bar workouts. I really like the Barre Method in Soho.
Are you a healthy sleeper? Not with jet lag!
What's your favorite snack? Unsalted cashews.
Product that you picked up from the pros: Dior cover stick.
A woman should smell like: Sophisticated, not too sweet. I love Narciso Rodriguez.
What is your most searing beauty question? I would love to know how to look fresh after a short night of sleep.
Beauty icon: I really love Gisele. She's so pretty. Her face, I can't stop staring at her.
Watch W's most popular videos here: