Dylan Penn: It Girl, It Trend
This Hollywood progeny keeps her cool even in chaos.
---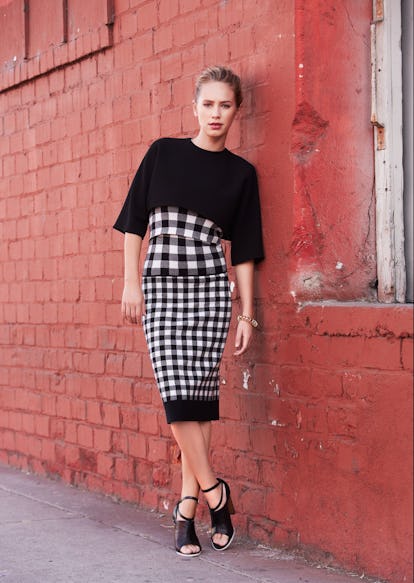 Stylist: Jessica De Ruiter Photographer: Lauren Dukoff
Despite growing up the daughter of the actors Sean Penn and Robin Wright, Dylan Penn had her first brush with the paparazzi only a few months ago, when rumors spread online that she was dating the Twilight star Robert Pattinson. It was a shock to her, but she handled it with the grace of an old pro. "It's sad that because I have one friend who is in the public eye, just being seen out together once means we're romantically involved. But I don't take it seriously, and it doesn't really affect me much," says the 22-year-old.
Credit Penn's calm, suburban upbringing for her preternatural ease. She was raised in Ross, a small town in Northern California, where she walked to school, went running with her dad, and dabbled in softball and soccer—all in relative anonymity. Today, she remains behind the scenes, working as an assistant to her godmother, the screenwriter Erin Dignam, and writing her own screenplay, based on her brother Hopper's time in rehab. To earn some extra cash, she did a stint delivering pizzas last year but gave it up after "getting treated like shit, not being tipped, and guys mistaking me for a stripper." (She models on occasion to pad her income.) And unlike practically every other 20-something on the planet, Penn is not on Twitter or Instagram. "I'm just weirded out by it all," she says. "The whole selfie generation—it's just not my vibe."
Photos: Dylan Penn: It Girl, It Trend
Penn wears Derek Lam tops, skirt, and shoes; Balenciaga bracelet.

Stylist: Jessica De Ruiter Photographer: Lauren Dukoff
Latest Music Obsession
"I can't stop listening to the band Haim, formed by three sisters in L.A."
Favorite Read
"This is an amazing story—now I want to go to India!"
Favorite Album
"I don't buy many whole albums anymore, but Justin Timberlake's latest one is pretty great."
Elie Tahari Edition 1974 coat.