E! May Be Airing Oscars Red Carpet Show with 30-Second Delay to Protect Ryan Seacrest
He's been accused of sexual harassment and abuse.
---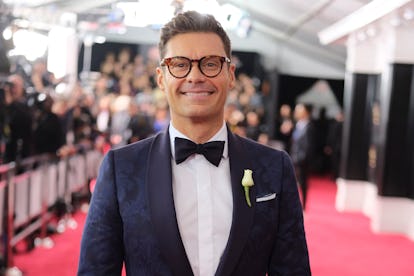 CBS Photo Archive
After Ryan Seacrest's alleged history of sexual misconduct resurfaced last week, many wondered how—if at all—the accusations would affect his longtime position as the host of E!'s pre-Oscars red carpet show, especially as several Hollywood publicists were reported to be planning on steering their clients away from Seacrest at Sunday night's ceremony. However, a few days before the Academy Awards, E! confirmed that Seacrest would indeed suit up and take his usual place on the red carpet, and on Sunday, Deadline revealed the strategy the network will reportedly be using to hide any potential animosity shown toward Seacrest on the red carpet.
A source told the outlet that E! was considering instituting a broadcast delay of at least 30 seconds on the Seacrest-hosted show (which is coproduced by Ryan Seacrest Productions) outside Los Angeles's Dolby Theatre. "The plan being considered is to mainly ensure plenty of time to either cut to [cohost Giuliana Rancic] or to pull the plug altogether unnoticed if an on-camera encounter with Ryan goes into tricky territory," the source said. Another insider told Deadline that the 30-second delay was just one of several "defensive scenarios" that E! had planned for Sunday night, should any interviewee mention Seacrest's alleged transgressions on camera.
An E! spokesperson told Deadline on Sunday that the evening's show would be "business as usual." They added, "As always, we tape multiple sources of content simultaneously to deliver the best possible show, and there are often brief delays between interviews." Though broadcast delays are common for live shows—to give producers time to cut out swear words, nudity, and the like—they typically span only about five seconds, Deadline notes. The Seacrest 30 seconds is unquestionably unconventional.
Twitter users were unhappy with the reported broadcast delay. Many criticized E! not only for continuing to support a man accused of sexual harassment despite the recent strides made against workplace sexual abuse thanks to the #MeToo and Time's Up movements, but also for covering up for Seacrest with the alleged delay. "It is telling that on Hollywood's biggest night, the #Oscars, in the year of #MeToo and #TimesUp, that it will be Ryan Seacrest, a man accused of wrongdoing, who is being protected on the red carpet with a reported 30-second time delay in case attendees challenge him," one person wrote.
While E! is reportedly doing everything possible to protect Seacrest from any negativity, Oscars guests will be encouraged to slam the entertainment mogul over on NBC's Access Hollywood. In an interview with Page Six ahead of the awards show, Access Hollywood executive producer Rob Silverstein said his hosts, Scott Evans and Kit Hoover, have been encouraged to ask interviewees about the #MeToo movement. "And then, we will ask them whether or not they will talk to Ryan Seacrest," Silverstein added.