Earth Day 2017: The Fashion Industry's Effect On the Environment, And the Brands That Are Taking Charge
As the ecological doomsday clock is ticking faster than ever, some of fashion's heaviest hitters are stepping up the plate.
---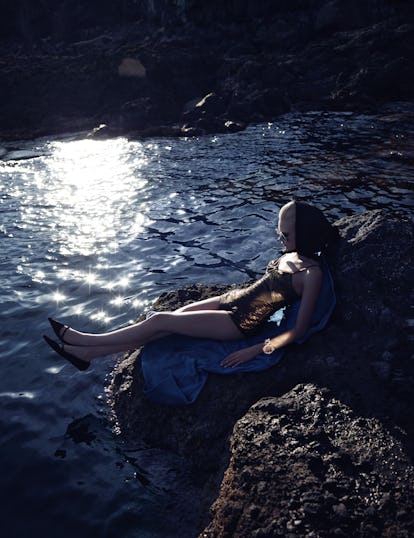 Photo by Mikael Jansson, styled by Edward Enninful
Compared to the first Earth Day in 1970, it's easy to view tomorrow's commemoration as something more akin to the countdown to ecological Armageddon. While the current administration is certainly doing nothing to help the cause, the blame for environmental degradation is not solely reserved for the political set. The fashion industry also has much to answer for, including toxic animal hide manufacturing, the creation and disposal of synthetic materials like polyester, and the annual use of 1.5 billion cubic meters of freshwater in the third world countries, where clothes are made. But, thankfully, the news is not all bad.
Gone are the days when veganism and sustainable clothing meant shapeless hippy caftans and thick itchy socks. Blue chip brands like Stella McCartney and Salvatore Ferragamo are leading a change, and you can bet that it's not at the expense of style. McCartney has built a reputation for her faux fur and feather-free ready-to-wear and accessories line, while Ferragamo has just launched a women's collection using sustainable fabrics from natural origins.
But beyond the good work being done by these name designers, sustainability has long been engrained in our fashion ethos. We have words like, "vintage—a fancy word for "recycled—to thank. Celebrities don vintage couture to awards shows, as acclaimed flea markets such as Los Angeles' Rosebowl, have attracted stylists like Kate Young and tastemakers like Nicole Richie, Madonna, and Kendall Jenner. Besides being one-of-a-kind pieces, any style setter will tell you that much of the vintage appeal comes down to quality. Thirty years ago fast fashion didn't exist, so clothing was made to last and constructed from quality materials. Cotton was unblended and didn't pill, and there were fewer cheap feeling polyester and rayon blends. Polyester, which is made from the same fibers found in plastic bottles, has become one of the world's most common fabrics and one of the deadliest pollutants in our waterways when it is washed. In fact, it's estimated that close to 20% of the world's water pollution comes from the dyeing and treatment of these man made textiles.
From Ashley Olsen to Rihanna, Vintage Dressing Is an Easy Way to Be Chic and Sustainable
Kate Bosworth wears vintage Chanel to the Metropolitan Museum of Art Costume Institute Gala "Superheroes: Fashion And Fantasy" in 2008.

Getty
Jennifer Lopez wears vintage to the 78th Annual Academy Awards at the Kodak Theatre in 2006.

Frazer Harrison
Reese Witherspoon wears vintage Christian Dior to the 2006 Academy Awards.

Getty
Penelope Cruz wears vintage to the 2009 Academy Awards.

Getty
Lady Gaga wears vintage Versace while out with Donatella Versace in 2012.

Getty
Natalie Portman wears vintage Louis Vuitton to the 84th Annual Academy Awards in 2012.

Getty Images
Taylor Swift wears vintage to the Taylor Swift and Target "Red" Deluxe Edition CD release launch party in 2012.

Getty
Amber Heard wears vintage to The Art Of Elysium 8th Annual Heaven Gala in 2015.

Getty
Jennifer Aniston wears vintage John Galliano to the 21st Annual Screen Actors Guild Awards in 2015.

Getty
Alexa Chung wears vintage Balenciaga to the 2014 InStyle And Warner Bros. 71st Annual Golden Globe Awards Post-Party.

Getty
Ashley Olsen wears vintage Christian Dior to the Costume Institute Gala for the "PUNK: Chaos to Couture" exhibition at the Metropolitan Museum of Art in 2013.

Getty
Charli XCX wears vintage to the 2015 Billboard Music Awards.

Getty
Michelle Monaghan wears vintage to the 2016 Vanity Fair Oscar Party.

Getty
Rihanna wears vintage to the 2016 Billboard Music Awards.

Getty
Sarah Jessica Parker wears vintage to the HBO Spain Presentation in 2016.

Getty
Kirsten Dunst wears vintage Christian Lacroix to Chopard presents The Garden Of Kalahari collection at Theatre du Chatalet in 2017.

Getty
Naomi Campbell wears vintage to the 2015 Fragrance Foundation Awards.

Getty
Kendall Jenner wears vintage Chanel to "The Tonight Show Starring Jimmy Fallon."

Getty
Sarah Paulson wears vintage Valentino to the premiere of Feud: Bette and Joan in 2017.

Getty
Emma Roberts wears vintage Armani to the 89th Annual Academy Awards.

Getty
Kim Kardashian West wears vintage Versace to the premiere of The Promise.

Getty
Anne Hathaway wears vintage to an appearance on Good Morning America in 2017.

Getty
So it's a good thing that cult labels such as RE/DONE and Reformation are stepping up, the latter which constructs their signature mini dresses and crocheted crop tops from recycled fabrics. Not only does Reformation transparently publish the amount of resources they both use and save in their manufacturing process, but any energy they do emit they make up for by planting forests and investing in clean water solutions. Similarly, RE/DONE, the LA-based denim brand, has repurposed over 60,000 pairs of Levi's, diverting them from landfills and reducing air and ground pollution. On average, it takes 2,600 gallons of water to make one pair of jeans, which might give one pause before grabbing a pair off the sale rack. It might be a steal for you, but the price is steep for the environment.
Thankfully, these kinds of eco-friendly initiatives are picking up steam. In the last few years, a host of other brands have stepped in to do their part, such as Dick Moby, an Amsterdam-based eyewear company which constructs glasses from recycled ocean detritus, and Sunad, a Spanish shirt line which uses 100% natural hand-spun fibers. Elder Statesman recently used hand-woven organic Kenyan cotton in a knit collection, Eddie Borgo just launched a line of un-dyed flax linen bags which require zero chemical processing, and tomorrow, Maiyet will launch its first collection of eco-friendly, 100% biodegradable sunglasses.
21 Chic, Sustainable Items to Shop This Earth Day
But sustainability also means upholding the tradition and authenticity of local craftsmanship and employing skilled artisans to do the job, rather than outsourcing to fossil fueled factories. There are many new designers popping up that employ the ancestral skills of indigenous communities to make their wares, such as Ball Pagès, Mercedes Salazar, and Mola SASA, accessories companies that employ local women to hand make goods from local recycled fabrics. Others brands are staying local to boost their immediate economy and cut down on transportation emissions, such as Los Angeles-based contemporary brand LACAUSA, which produces their fabrics in the LA area and donates proceeds to the ACLU.
Sustainability has also caught the attention of media influencers such as Livia Firth, the Creative Director of Eco-Age, has made it her life's work to call attention to the atrocities the fashion industry inflicts upon the environment and unethical practices like corrupt supply chains. "This evil machine is exploiting everyone and everything: the consumer, the planet's resources and the people who produce them," Firth has said.
So even as that doomsday clock continues to tick and the hands move toward midnight, fashion industry leaders are now responding to the urgent call.
Related: Watch W's most popular videos, here.