East of Eden: Behind the Scenes
Using a range of cultural references, W Fashion and Style Director Edward Enninful pushed Japanese tradition to a radical new extreme.
---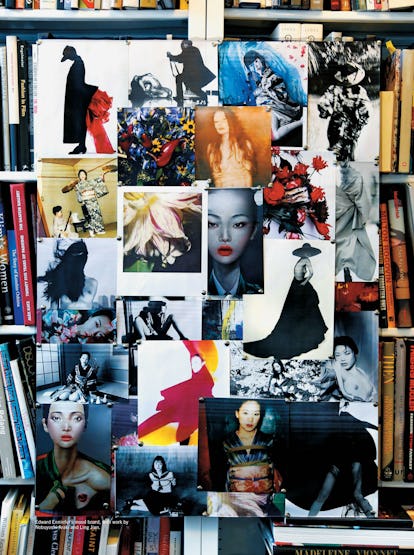 The initial spark for this story came from the spring 2013 collections: Prada, Haider Ackermann, Alexander McQueen, Emilio Pucci, and others had lots of Asian references, which I found interesting. That got me thinking about the Japanese designers from the '80s whom I love, like Yohji Yamamoto and Comme des Garçons. From there, I started looking at the work of Nobuyoshi Araki, who's one of Japan's most prolific contemporary artists and photographers. I wanted the story to acknowledge the past but still feel new; you never want fashion to look like costumes with no current relevance.
There's a lot of research and time that goes into my shoots. I spend weeks on them, even for one picture. You have to go to the recesses of your mind and recall every movie you've watched, every book you've read. I always think of Tom Cruise in Minority Report—just grabbing every bit of information. You never know where inspiration is going to come from.
Using old Yohji ads, Araki photos, and other images, I created a mood board, which is what I do before every shoot. It allows me to fully develop the character. I'll kick around ideas with the photographers—in this case, Mert Alas and Marcus Piggott—and together we flesh everything out. Who is the woman? Is she Chinese? Japanese? How old is she? Does she have bleached-blonde hair? We approach the project as if it were a play. The next step is, Where does she live? Where does she hang out? That's when we brainstorm about location. Maybe she's in a castle, maybe a studio. The clothes are the third layer: Once we have the character and know where she is, the fashion just falls into place. I may be obsessed with a certain red dress, but if it doesn't work on the character, then it's out. I envy those stylists who can just take an outfit from the runway and photograph it. It's so much less torturous than the way I go about it.
It was important to have Asian models, since the story was about Asian-inspired fashion. So we cast Yumi Lambert, who's part Japanese, part Belgian; and Xiao Wen Ju, who's Chinese. Then there was Ondria Hardin, who's American but has a manga look, with her big eyes. There were a bunch of girls that season who had a similar aesthetic—I call them the children of Gemma Ward. It was Mert and Marcus who suggested we use them; originally, I had imagined girls with really round faces. We also cast Saskia de Brauw, who is one of the most iconic models today. When you do a story with many models, you need someone to ground it, and for me that was Saskia. For the cover, we chose three of the biggest names in modeling—Kate Moss, Lara Stone, and Natalia Vodianova.
We shot for two days in a huge Gothic country estate in England with beautiful grounds. We brought in sets and built amazing Asian-inspired rooms. But ultimately we decided not to use the pictures, because they felt too heavy-handed. We realized that the idea was so strong it didn't need such an extravagant location—the girls were getting lost in the background. We thought the focus needed to be on them and the clothes, so we reshot in a studio in London for three days, using some of the set pieces we had created for the first shoot. A Japanese screen on the ground suggested Asia, and that was enough. We didn't need to hammer home the point.
Mert and Marcus are very good at directing the girls on-set. They really know about dance and movement, and they choreographed the pictures of Saskia with her hands positioned just so. We also had an expert who came to the studio to make sure that the hairdos were authentic and the obis were tied properly. We wanted to remain true to tradition.
It was an intense shoot—probably one of the most demanding I've ever experienced. Working with Mert and Marcus is always challenging, but that's what I love about them. Everyone is very focused, and if the images don't reach a certain level of excellence, they'll simply redo them. And I thank God we did. It turned out to be one of my favorite stories ever—it just felt so magical. Plus, I love the title: "East of Eden." It has such scope; your imagination can just run wild.
Prada satin stole and bra. Johanna O'Hagan hat. House of Harlot corset and belt.

Beauty note: Draw the perfect cherry pout with Urban Decay Super-Saturated High Gloss Lip Color in F-Bomb.

Photographer: Mert Alas & Marcus Piggott Stylist: Edward Enninful
Rick Owens python jacket. Kimono De Go by Mamiko wig.

Beauty note: Giorgio Armani Maestro Fusion Makeup provides lightweight coverage while masking little flaws.

Photographer: Mert Alas & Marcus Piggott Stylist: Edward Enninful
Miu Miu silk coat. We Love Colors fishnet knee-high (worn as headpiece); Kimono De Go by Mamiko obi; Perrin Paris gloves.

Photographer: Mert Alas & Marcus Piggott Stylist: Edward Enninful
Prada silk dress. House of Harlot corset and belt; LaCrasia Gloves gloves.

Beauty note: For a matte crimson lip, swipe on Burberry Lip Velvet in Bright Poppy.

Photographer: Mert Alas & Marcus Piggott Stylist: Edward Enninful
Gucci silk cady and tulle top. House of Harlot belt.

Beauty note: Dust on Chanel Poudre Signée Illuminating Powder for a shine-free yet glowing finish.

Photographer: Mert Alas & Marcus Piggott Stylist: Edward Enninful
Kimono De Go by Mamiko obi; Etro cotton pants. A.F. Vandevorst hat; Maria Piana ring (worn as a pin); LaCrasia Gloves gloves.

Beauty note: Highlight shoulders and cared-for skin with Garnier Fructis Triple Nutrition Miracle Dry Oil for Hair, Body & Face.

Photographer: Mert Alas & Marcus Piggott Stylist: Edward Enninful
Tom Ford rope harness. John Galliano silk taffeta pants. Kimono De Go by Mamiko wig; House of Harlot corset and belt.

Beauty note: Hair keeps even the most extreme shape with Joico Power Gel Sculpting Gel.

Photographer: Mert Alas & Marcus Piggott Stylist: Edward Enninful
Tom Ford rope harness. John Galliano silk taffeta pants. Kimono De Go by Mamiko wig; House of Harlot corset and belt.

Beauty note: Hair keeps even the most extreme shape with Joico Power Gel Sculpting Gel.

Photographer: Mert Alas & Marcus Piggott Stylist: Edward Enninful
A.F. Vandevorst cotton blend shirtdress, and belt. Peter Jensen oversize necklace; Prada socks and shoes.

Beauty note: Define choppy layers with Oscar Blandi Dry Sculpting Pomade.

Photographer: Mert Alas & Marcus Piggott Stylist: Edward Enninful
Haider Ackermann polyester top. Kimono De Go by Mamiko kimono (worn as skirt) and obi.

Beauty note: For chatter-worthy bright blue lips, try Obsessive Compulsive Cosmetics Lip Tar in RX.

Photographer: Mert Alas & Marcus Piggott Stylist: Edward Enninful
House of Harlot corset and belt; Mokuba ribbon.

Photographer: Mert Alas & Marcus Piggott Stylist: Edward Enninful
Dior silk duchess satin dress.

Photographer: Mert Alas & Marcus Piggott Stylist: Edward Enninful
TRick Owens python jacket and silk blend skirt. We Love Colors fishnet knee-high (worn as headpiece); Prada socks and shoes.

Photographer: Mert Alas & Marcus Piggott Stylist: Edward Enninful
Alexander McQueen jacquard bustier and caged crinoline. Emilio Pucci embroidered silk kimono.

Photographer: Mert Alas & Marcus Piggott Stylist: Edward Enninful
Tom Ford silk taffeta dress. We Love Colors fishnet knee-high (worn as a headpiece); House of Harlot corset and belt; Underground boots.

Photographer: Mert Alas & Marcus Piggott Stylist: Edward Enninful
Kimono De Go by Mamiko obi. Balenciaga by Nicolas Ghesquière silk crepe blend skirt.

Photographer: Mert Alas & Marcus Piggott Stylist: Edward Enninful
Alexander McQueen embroidered tulle dress and caged crinoline.

Hair by Malcolm Edwards at Streeters London and Odile Gilbert at Exposure NY; makeup by Lucia Pieroni for Clé de Peau Beauté; manicures by Anatole Rainey at Premierhairandmakeup .com. Models: Ondria Hardin and Saskia de Brauw at DNA Model Management; Xiao Wen and Yumi Lambert at IMG Models. Coordination and assistance for Kimono De Go by Mamiko by Suzanne Perrin at Japan Interlink London. Set design by Poppy Bartlett at the Magnet Agency. Production by Lalaland. Digital capture: Dtouch. Photography assistants: Matt Easton, Ted Park, Tomas Hein. Fashion assistants: Felicia Garcia-Rivera, Jack Borkett, Lucy Kebbell, Ryann Foulke, Caroline Grosso.

Photographer: Mert Alas & Marcus Piggott Stylist: Edward Enninful