Eckhaus Latta and Dev Hynes Take Fashion Week for a Walk in the Park
The designers handed out sandalwood fans to their usual crowd and cast of friends for a show at Seward Park, just around the corner from their design studio.
---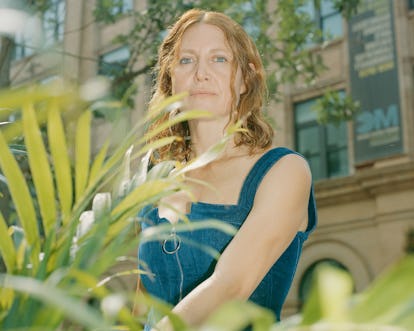 Not that its hundreds of attendees minded, but last season, the Eckhaus Latta show was a 10pm trek to Long Island City, Queens in the midst of a snowstorm. For spring 2017, designers Mike Eckhaus and Zoe Latta decided to take a walk in the park: They held their show on Saturday afternoon at Seward Park on the Lower East Side, surrounded by tennis and basketball courts, not to mention curious onlookers peering through the chain link fence.
"It's been really fun to go to different parts of New York and the world to do different shows, but it's nice to keep it simple and do it on our turf," Latta said afterward in the "backstage" area – a neighboring apartment building's lawn. "Our studio's around the corner and we've been living in this neighborhood for a while, and we really wanted to stay in the community and be in the zone," Eckhaus added.
Indeed, this summer alone, the pair has shown their designs everywhere from Berlin to the Hammer Museum in Los Angeles, continuing to bridge their characteristic gap between fashion and art. (Eckhaus and Latta, both 28, went to RISD and studied sculpture and textiles instead of design.) Though still doing things their way, they're definitely taking ground: The pair has inspired a whole new wave of more DIY designers, and earlier this year found mainstream success when they topped Forbes' 30 Under 30 list.
But this show proved the brand's still staying true to its roots: Walking the asphalt runway was its usual distinctive cast of models, artists, and friends, running the gamut in age, race, body type, and gender. There were signed names like Cole Mohr, Jane Moseley, and Michael Bailey Gates; friends like the restaurateur and actress Camilla Deterre, who Latta described as both "our fit model" and "our everything"; and artists like Thea Westreich and Susan Cianciolo, a longtime supporter. (Help came for the first time this season with a casting agency, though it was helmed by Rachel Chandler, another of their friends.) Taking it all in on the sidelines were editors who'd brought their kids and runway alumni like India Menuez and Hari Nef, the latter of which warded off the sun in a bright red bucket hat. And, like last season at PS1, where museum director Klaus Biesenbach declared that "the whole art world was present," names like Nate Lowman and Lucy Chadwick appeared in the front row, too.
"Backstage" on the Sidewalks at Eckhaus Latta Spring 2017
At the helm of it all was one last model alumnus: the composer Dev Hynes, also known as Blood Orange, a longtime friend and neighbor of Eckhaus and Latta. "That was a one-time only affair – I'm too much of a nervous wreck," he said of his past runway cameo, plucking the cello that he played as part of a different contribution this time around: the show's soundtrack. Its base came from 15 minutes he'd recorded of himself walking around the area just two days before. "It makes me feel nervous also," he said of scoring the show, even though it was his second time doing so, and he seemed to be surrounded by friends. "They're all a bunch of homies," he said of the crowd. "It's people that you know and see around. I like that about their shows."
As if to showcase the designers' focus this season – "we're getting excited more and more about making clothes you can just wear every day," Eckhaus said – Hynes had on a comfortable velvet, logo-stamped T-shirt and jeans by the brand that were just a normal part of his wardrobe. The clothes this time around were "easier and less frills," all about "elevating those types of things you put on in the morning and go out and about with your day and feel good in," Eckhaus added.
Still, they aren't totally basic. The duo paired up with the artist Brendan Fowler, using motifs from his Election Reform project and continued working with deadstock materials, getting particularly excited about a cotton sourced from North Carolina. It showed up in garments like knit suits, muscle tees, and a billowing jean jacket – alongside items like a "garbage bag dress."
Wearability is something Eckhaus and Latta have learned about firsthand since opening a brick and mortar store in L.A. earlier this summer. "We have relationships with buyers and we know what they buy…but it's very different to see what people are buying to make themselves feel good," Latta said. Plus, it's yet another space to collaborate with friends, which "isn't as exhausting as a fashion show, or maybe as expensive or time-consuming," she added. Next up? Fowler's election-focused programming and designs, which are being produced now in L.A. and will be carried exclusively in-store. "So it is a bit of a see-now-buy-now, but in a very Eckhaus Latta way," Latta said with a smile.