Eckhaus Latta and Telfar
Two youthful labels rooted in creative communities that extend beyond the fashion world celebrated their respective comings of age this week.
---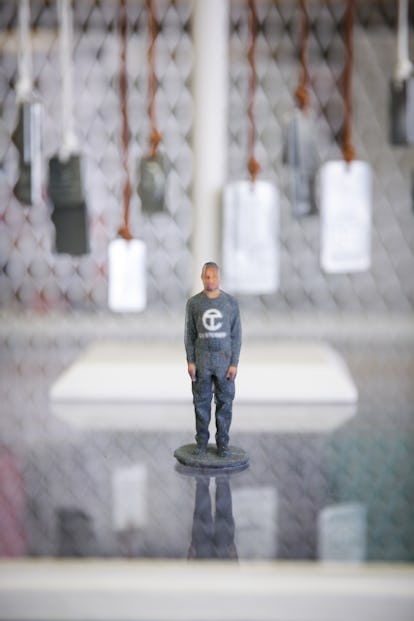 Sunday evening at the Standard High Line, designers Mike Eckhaus and Zoe Latta, who met as students at RISD and have since created five collections together, mounted their first proper runway show. Their clothes—lucid, lithe, and sober—are consistently noted for their materials, this season velvet, mohair, fleeces, and gauze. Squarish tops, dresses, and dickies are vaguely militaristic while a handful of more voluminous, gathered or braided pieces recall ceremonial costumes. The collection looks like the uniforms of a tech-savvy shamanic culture that has evolved past the need for physical defenses: though regimented, everything is too soft to be protective and too pastel to be threatening.
Two members of the performance collective Chez Deep served key roles in producing the show. Colin Self stood ethereal and oracular beside the catwalk, whisking Moby, 1970s performance artist Charlemagne Palestine, and the wrenching harmonies of the Trio Bulgarka into a hypnotic soundscape. Self's associate Hari Nef casted queer icons like rapper Le1f, DJ and muse Juliana Huxtable, and visual artist Stewart Uoo to walk alongside a post-cynical reinterpretation of the Benetton spectrum. Avena Gallagher, a member of the conceptual collective Shanzhai Biennial, styled the show, invoking a solemn sort of futuristic camp reminiscent of Star Trek, epitomized by model Cole Mohr epidermally tinted green and actress India Menuez a ruddy mauve.
The following day, Gallagher was across town at the New Museum putting the finishing touches on Monday's ingeniously convoluted Telfar show directed by Babak Radboy, another Shanzhai Biennial collaborator. A larger than life 3D print out of the unisex line's maestro, Telfar Clemens—who has been designing for eight years—stood in the lobby. Over the loudspeaker, the designer's name was looped into a din of "Telfar! Telfar? Telfar. Telfar!?" and his likeness appeared on faux credit cards (for sale, along with K-Mart-branded beanies: the fruits of a sponsorship that is both meta and actual, as K-Mart did underwrite a substantial portion of the event) and LCD screens displaying a video encircling the Liberia-born, Queens-based designer's million dollar smile with glittery graphics.
The museum directory posted outside the elevators recast the entire building as a Telfar department store consisting of seven immoderately merchandised floors. However, as guests ascended to the runway in the Sky Room, doors intermittently parted to reveal not Telfar handbags (which were available downstairs in sizes ranging from hummingbird to hog) but installers finishing the Pawel Althamer and Laure Prouvost shows which opened to the public today.
Once the presentation began, models filed out from behind the largest Telfar bag of all. Upon reaching the end of the catwalk, a single, decontextualized utterance of "Telfar" proffered a dystopically diligent reiteration of the brand. With each look, the DJ (Teengirl Fantasy's Nick Weiss) abruptly switched from one to another of nearly 200 instrumental tracks provided by the artists Lizzie Fitch and Ryan Trecartin (in whose films Clemens has played memorable leading roles).
Not only did the bank of music sound as if it were the score of a globe-trotting, time-travelling video game, but this channel flipping enforced a video game-like vertical narrative of compulsive leveling-up. It's a fitting analog for the clothes: familiar garments likes robes and trench coats exaggerated ad infinitum. The notion is put best by the show's exquisite promotional jargon, selling the designs as "neither conceptual nor accessible," the philosophy as "simplexity™," and Telfar overall as "Extremely Normal™."
Photos: Eckhaus Latta and Telfar
TELFAR Fall 2014. Photo by BFAnyc.com.
TELFAR Fall 2014. Photo by BFAnyc.com.
TELFAR Fall 2014. Photo by BFAnyc.com.
TELFAR Fall 2014. Photo by BFAnyc.com.
TELFAR Fall 2014. Photo by BFAnyc.com.
TELFAR Fall 2014. Photo by BFAnyc.com.
TELFAR Fall 2014. Photo by BFAnyc.com.
TELFAR Fall 2014. Photo by BFAnyc.com.