Edible Schoolyard
It was a foodie's paradise last night when Edible Schoolyard NYC held its Inaugural Spring Benefit, "A Garden Grows in Harlem."
---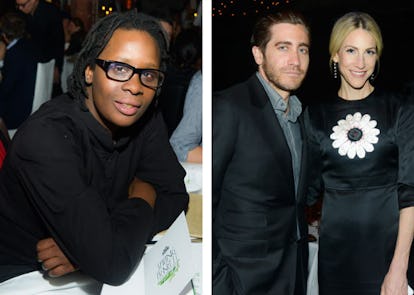 It was a foodie's paradise last night when Edible Schoolyard NYC held its Inaugural Spring Benefit, "A Garden Grows in Harlem." The organization partners with public schools to build gardens and in-classroom-kitchens where students can engage in hands-on learning. A crowd of bold names including Jenna Lyons and Courtney Crangi, Mickalene Thomas and event co-chair David Maupin flocked to the Essex Street Market to celebrate Manhattan's first actual "Edible Schoolyard" at Harlem PS7 which is slated to open later this year.
"I love that this is a community organization, but also such an international group," said actress Abigail Spencer. "Everyone's really thinking global but living local!"
Once guests made it past the swarm of security guards lining the typically laid-back East Village corner (Mayor Bloomberg and Diana Taylor were among the first to arrive) and into the sprawling Essex Street Market, they were greeted with hors d'oeuvres prepared by Momofuku's David Chang. It was a fitting start to quite a culinary extravaganza: more than 20 of Manhattan's most popular chefs, from The Spotted Pig's April Bloomfield to The Red Rooster's Joel Harrington stood poised at open air kitchen booths, ready to whip up three course meals for their allotted tables.
"We can't teach math, we can't teach science, but we can certainly raise awareness about food!" said Chang, the culinary chair of the evening.
Jake Gyllenhaal, a longtime Edible Schoolyard ambassador and the honoree of the evening, took a moment to contemplate the real value of the organization's mission.
"It's about more than just what you eat—it's about being connected to the earth," he explained. "Like, what would New York City be without Central Park? I mean, there's not much edible food in there…but still. That idea exists within the city, and it should exist in every public school."
Photos: Billy Farrell Agency