April 2015 Editor's Letter: Talent Spotting
W's editor-in-chief introduces who's next.
---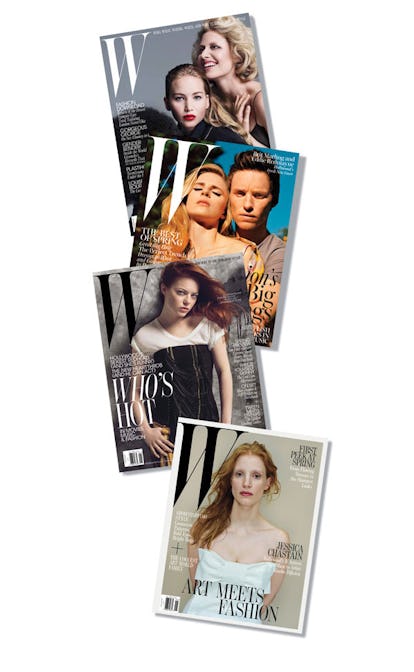 Every time we start planning our annual Who's Next Issue, I'm reminded of my early days in magazines, when I felt I had to personally discover the coolest newcomers in style, design, music, art, and film. My life has changed considerably since then, but I'm always excited to rekindle that drive for finding new talent. One of the great joys of editing a magazine like W is having the ability to help promote the people you believe in.
A case in point is our cover star, Alicia Vikander, a Swedish export you're sure to hear lots about in coming months. Vikander is starring in six films this year and is romantically involved with Michael Fassbender, one of her costars. Another sign that she is taking Hollywood by storm: Nicolas Ghesquière has signed her as the latest face of Louis Vuitton. Expect to see her on every red carpet come awards season next year.
Fashion is an industry known for its constant need for fresh blood, so we caught up with several young designers who are eager to shake up the establishment. Kenzo's Humberto Leon and Carol Lim have not only won over a new generation of fans for the brand but also managed to charm their most important critic, Kenzo Takada himself; Thomas Tait, who has been hard at work as an independent designer in London for the past five years, got a much needed boost a few months ago, when he won the first annual LVMH Young Fashion Designer Prize; and Anthony Vaccarello, a man whose daringly dramatic silhouettes stand in sharp contrast with his reserved demeanor, was recently tapped by Donatella Versace to helm the Versus Versace line. We also met up in Cannes with Philipp Plein, a globe-trotting force of nature who appeared seemingly out of nowhere and is building a mini-empire—one Swarovski-studded minidress at a time.
When it comes to what to wear this spring, what's next is, paradoxically, a trip down memory lane—to the '70s heyday of chic rock chicks, to be precise. Turn to "Out of Uniform," photographed by Mario Sorrenti, to see how this look is being updated with a mix of military gear, well-worn denim, and floppy hats. And it turns out that even the most rarefied clothes on earth can be worn with a fresh spirit. Photographer Paolo Roversi and Fashion and Style Director Edward Enninful literally knocked the stuffing out of couture, zeroing in on the raciest, most sensuous looks of the season. Trust me when I say these are not your typical ladies-who-lunch ensembles.
Finally, make sure to check out "The New Guard," our roundup of up-and-comers, ranging from the latest rap pack to a 13-person art collective to the director of a black and white Iranian vampire spaghetti Western. The eclectic portfolio, tirelessly compiled and edited by our features department, proves what I've known ever since I was a young editor in Italy: The one thing that never changes in the world of style is that it's constantly changing.