Screen Saviors: An Introduction to 2019's Biggest and Best TV Stars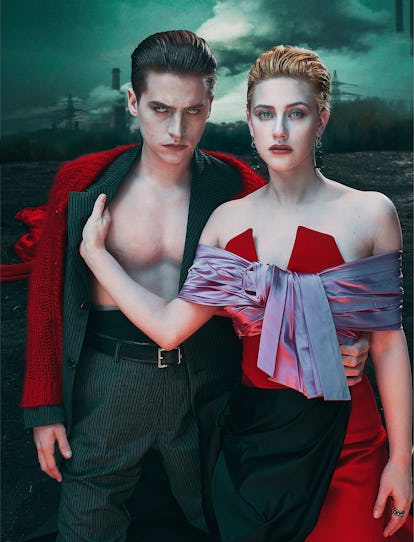 Photograph by Steven Klein; Styled Arianne Phillips. Hair by Didier Malige; Makeup by Diane Kendal at Julian Watson Agency; Manicures by Honey at Exposure NY. Set design by Andrea Stanley at Streeters. Produced by Libi Molnar at Lola Production; Production Managers: Kristen Prappas, Leia Ignacio at LOLA Production; Production Coordinator: Nicole Abt at Lola Production; Photography Assistants: Mark Luckasavage, Timothy Shin, William Takahashi, Johnny De Guzman; Digital Technician: Laur Lončar; On Set Retoucher: Mark Crisostomo at Gloss Studio; Retouching by Jim Alexandrou; Production Assistants: Chad Cameron, Carlos Garcia, Aaron Ward, Tyler Cavallero; Set Assistants: Nick Thalhuber, Eric Mestman, Nathan Smith, Beau Bourgeois; Fashion Assistants: Jose Dao, Elaine Uzor, Sharifa Morris, Nathan Simpson; Tailor: Alex Koutny at Christy Rilling Studio.
When historians look back at pop culture at the beginning of the 21st century, they will surely note that the music and entertainment industries were obsessed with youth, and that success was measured by one's prominence on social media. Movies and theaters had gone out of fashion, and something that was generally still called TV but was not watched anymore on television screens was the dominant creative outlet.
Indeed, television, the medium that hit its stride in the 1950s, is having a new golden age—even if most of us are streaming shows and videos on our laptops and smartphones. Traditional film studios are now competing with Netflix, Amazon, and Hulu, which are not only producing some of the most original content in years but also providing actors new and familiar with greater opportunities to show off their talent. It is a sign of our times that the Cannes Lions International Festival of Creativity, where television and advertising executives mingle with Silicon Valley tycoons, is starting to overshadow the legendary Cannes Film Festival, which does not allow streamed content to compete.
If you did not immediately recognize the young couple on our cover, perhaps it's because you are not one of the nearly 27 million people following Cole Sprouse on Instagram, or the 18 million who are obsessed with his onscreen and real-life girlfriend, Lili Reinhart. You probably haven't heard of #sprousehart, the hashtag used to define two of the leading actors on the extremely successful show Riverdale. Sprouse and Reinhart are very much of-the-moment television stars, but to give them a W twist, we asked them to become part of an imaginary landscape created by the photographer Steven Klein, who was inspired, along with the costume designer Arianne Phillips, by Michelangelo Antonioni's classic films Red Desert and L'Avventura ("Stranger Than Fiction"). Another new-gen celebrity who has been in the news lately is Hailey Bieber, aka Hailey Baldwin, aka the First Lady of Pop. In what I would call a very contemporary reading of Robert Frank's iconic 1958 photography book, The Americans, Bieber and the photographer Colin Dodgson traveled across the country to offer a fresh take on Americana ("Miss America").
Is streaming killing the movie industry, or saving it from its own demise? Judging from the talent and diversity on display in "Screen ­Saviors"—shot by the artist and photographer Jackie ­Nickerson—we are betting on the latter. Many of the shows in which the 14 actors in this portfolio star address issues of gender, race, and age. New faces like Cailee Spaeny and Maude Apatow commingle with more recognizable names like Penn Badgley and Natasha Lyonne; established movie stars like Michelle Williams meet new ones like Richard Madden.
Screen time also figured prominently in fashion this season. Designers used their shows to make dramatic statements geared toward Instagram followers while also delivering for their core customers. The bottom line? The bolder, the better. That's the message from contributing fashion editor Katie Grand, who worked on "The Height of Fashion" with the photographer Willy Vanderperre. Why not go out swathed in a mountain of multicolored tulle by the new fashion darling Tomo Koizumi? Why not nestle inside a larger-than-life fake-fur coat by Balenciaga, or a ball of black and white embroidered silk petals by Marc Jacobs? They may not be the most practical pieces in the world, but they are guaranteed to get you a lot of likes.