Edward Holcroft Went From Stagehand to Budding Movie Star In No Time At All
The British star of the Kingsman franchise and the upcoming The Sense of An Ending adaptation is a natural.
---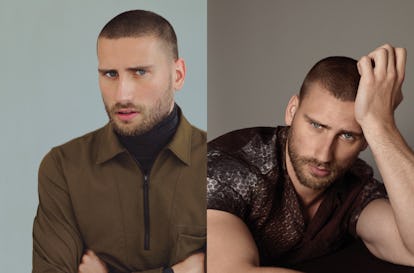 Photograph by Sean and Seng, Styled by Emma Wyman.
Edward Holcroft, 29, started acting only two years ago, but the rising British star already boasts a West End theater run (Les Liaisons Dangereuses), two BBC miniseries ("Wolf Hall," "London Spy"), and the action-blockbuster franchise Kingsman on his CV. The son of Patrick ­Holcroft, Lord Lieutenant of Worcestershire, aka the queen's county representative, and Annie Holcroft, the publishing director of Vanity Fair U.K., Edward took a job building sets at London's Royal Court Theatre at age 24, having abandoned his hope of becoming a professional drummer. There he had the good fortune of watching Mark Rylance rehearse his Tony Award–winning role in Jerusalem every day. "I was so moved, I thought, I've got to try this," Holcroft says. Turns out he was a natural: Three years later, he appeared opposite Rylance in "Wolf Hall." And this fall, ahead of reprising his role as the dashing, sarcastic spy Charlie Hesketh in next summer's Kingsman: The Golden Circle, Holcroft stars in the much quieter The Sense of an Ending, the film adaptation of a novel by Julian Barnes. "I love both roles, but it's like watching a rugby match and then a cricket match. They're very ­different games."
'Kingsman' Star, Actor, and International Man of Mystery Edward Holcroft Is About to Be a Household Name
Edward Holcroft on the set of BBC America television show, London Spy, in 2015.

Photo courtesy of Everett Collection.
Edward Holcroft attends the World Premiere of 'Kingsman: The Secret Service,' in 2015

Getty Images
Cressida Bonas and Edward Holcroft attend day eleven of the Wimbledon Tennis Championships, in 2015.

Getty Images
Ed Holcroft attends the Burberry Prorsum winter show at the London Collections, in 2015.

Getty Images
Edward Holcroft on the set of 'Vampire Academy' in 2013.

Photo courtesy of the Weinstein Company.
Edward Holcroft attends the World Premiere of "Kingsman: The Secret Service," in 2015.

WireImage
Edward Holcroft (L) and Jemima Jones attend a launch party for Vanity Fair's 2015 'On Couture' party London, England.

Getty Images
Ed Holcroft attends the front row at Burberry Prorsum AW15 London Collections.

Getty Images
Edward Holcroft attends the World Premiere of "Kingsman: The Secret Service," in 2015.

Getty Images
Watch W's most popular videos here: