The Late Eiko Ishioka Was a Costume Designer, Art Director, and Provocateur
Eiko Ishioka had a vision of global chic that was as singular as the woman herself.
---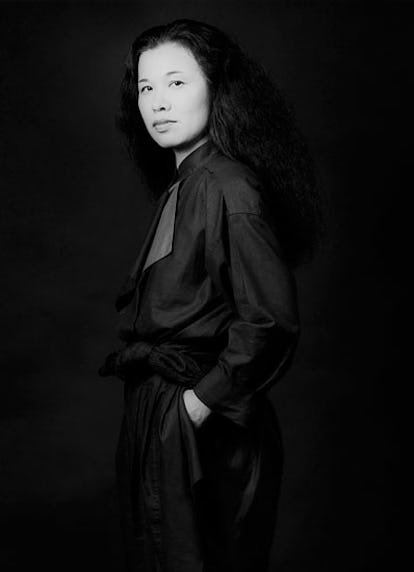 Eiko Ishioka loved red. And not just any red: Like every element of her life, the red Eiko (pronounced AY-ko) favored had to be something very specific—in this case, a dark but vibrant scarlet verging on maroon that to her telegraphed a mix of elegance, danger, and intelligence. Her red evoked her native Japan, and one of Eiko's missions throughout her dazzling and eclectic career—which included graphic design, art direction, and the invention of theatrical worlds through costume—was to forge a visual bridge between the East and the West. Her range was astounding: In the seventies, Eiko—who was usually referred to by her first name—conceived commercials with Faye Dunaway for Parco, an upscale Japanese department store; she won a Grammy for album packaging in 1987 when she paired photographer Irving Penn with Miles Davis for the latter's Tutu album, and an Oscar in 1993 for designing the savage, exquisite costumes for the film Dracula; more recently, she created a wild, sculptural wardrobe for the Broadway musical Spider-Man: Turn Off the Dark. She also directed Björk's controversial 2002 video for the song "Cocoon," in which the singer appears to be nude; designed the performers' costumes for the spectacular opening ceremony of the Beijing Olympics in 2008; and dreamed up the futuristic outfits for Grace Jones's 2009 tour. When Eiko died in late January of pancreatic cancer at age 73, she had just completed the wardrobe for Mirror Mirror, a retelling of the Snow White story, her fourth collaboration with director Tarsem Singh.
"Eiko wanted to evoke a true fairy tale," Singh told me over the phone. "She was not well during the movie; she was undergoing chemotherapy. But Eiko had only two gears: full-out or no gear at all. Her work kept her alive—it was her reason for being." Like all of ­Eiko's movie projects, the costumes for Mirror Mirror are elaborate, richly detailed manifestations of character. A lace collar around the evil queen's neck is designed to evoke the backs of reptiles; Snow White's gossamer gowns include touches like overlapping leaves and climbing velvet vines that subtly underscore her exile in the forest. And, of course, there is the judicious use of what's become known as Eiko's Red. "Eiko would say that red is the most difficult color," Singh explained. "But in many ways, red was Eiko: strong, intense, brilliant."
From childhood, Eiko was encouraged to pursue a career in design. Her father was a commercial graphic designer, and her mother, a ­traditional Tokyo housewife who wanted a more exciting life for her daughter. After studying design at Tokyo National University of Fine Arts and Music, Eiko began working in the advertising division of ­Shiseido in 1961 at age 22; four years later she was the first woman to win Japan's most prestigious advertising award. "One man, a very talented designer, said that my name would not be famous if I were not a woman," Eiko said in 2000. "It made me angry."
Her anger fueled her talent—and her ambition. When she became the chief art director for Parco in 1971, she seized the opportunity in remarkable ways: Her campaigns were provocative, beautiful, and subversive. Her defiantly antiproduct ads featured portraits of often naked women with taglines like "Girls Be Ambitious!" or "Don't Stare at the Nude; Be Naked." She used models from Morocco, India, and Kenya in native garb, along with New York street kids in their eighties New Wave splendor. In a particularly memorable series with Dunaway from 1979, Eiko photographed the actress in a gold and silver Issey Miyake satin robe and headdress. ­Dunaway's arms are spread wide, and two young Japanese children—Eiko's nieces—are embraced by the folds of her kimono. The girls are wearing red dresses that reveal their nipples, and a red pigment covers their eyes like a mask. The effect is mysterious, grand, and vaguely religious. The ad reads: "Can West Wear East?" "It was a rather bold question," Eiko later said. "The image looks to the future—to a time when East and West become one."
Photos: The work of late costume designer Eiko Ishioka
Faye Dunaway with Eiko's nieces in a 1979 Parco ad.
A 1977 poster for an Issey Miyake fashion show.
Eiko photographed by Robert Mapplethorpe, 1983.
Sadie Frost in Bram Stoker's Dracula, 1992.
Jennifer Lopez in The Cell, 2000.
Faye Dunaway in a 1979 Parco commercial.
Eiko's poster for the Luchino Visconti film L'Innocente, 1978.
The cover of Miles Davis's 1986 album Tutu, designed by Eiko and shot by Irving Penn.
Stills from the 1973 Parco television commercial "You Are Fantastic! How Old Are You?"
A 1968 antiwar poster: "Power Now."
Eiko's poster "Holiday," for a 1973 invitational exhibition.
A poster for the Eiko-curated exhibition of Leni Riefenstahl's Nuba photographs.
A detail from Eiko's poster for a 1978 musical production of Salome.
A costume for Bram Stoker's Dracula.
An Eiko headdress for The Fall.
Eiko's anatomical armor for The Cell.
Julia Roberts in Mirror Mirror, 2012.
Kellan Lutz in Immortals, 2011.
A Cirque du Soleil member from the Varekai production.
Eiko with Catherine Deneuve at the Academy Awards in 1993, where she won an Oscar for the costumes in Dracula.
Grace Jones on tour, 2010.
By 1983, Eiko had ended her association with Parco, opened her own design firm, and started traveling to New York more often. While she gravitated toward extremes in her costume design, Eiko preferred minimal style for herself. Her apartment overlooking Central Park South, which she bought in 1988, was white on white on white. "There was almost no furniture," Singh recalled. "And when she showed you her sketches, she put them out on the white floor. You'd walk around in your bare feet, in the white room, deciding on these opulent designs."
Singh and Eiko met in the late nineties when Singh hunted her down after seeing her work for Dracula, which was only Eiko's second job as a film costume designer. Francis Ford Coppola had collaborated with Eiko on the poster for the Japanese release of Apocalypse Now and felt her sensibility was crucial for Dracula. "My strategy in hiring her—an independent, a weirdo outsider with no roots in the business—worked," the director wrote at the time. "The script was envisaged for very young actors, so I said to myself, Let's spend our money not on sets but on the costumes, because the costumes are closest to the actors. I decided that the costumes would be the set."
Eiko's otherworldly outfits did not disappoint: Dracula sports a bloodred sort of muscle armor that resembles anatomy-book drawings, and the promiscuous Lucy wears a party dress embroidered with peppermint green snakes to underscore her eroticism and attraction to evil. "When you make a movie, you don't get exactly what you want—you never do—you get percentages," Coppola wrote. "Except for Eiko. She got what she wanted."
That kind of dedicated and singular vision is what Singh was after. "My classmate Nico [Nicholas] Soultanakis and I were huge fans," Singh said. "We heard Eiko was really difficult to get, but we fell down on our knees. It turned out not to be so hard: She worked on every one of my films—and Nico and Eiko fell in love. She was 30 years his senior, but they found each other. They got married in the hospital a few months before Eiko died."
Singh's first movie, The Cell, released in 2000, featured Jennifer Lopez playing a woman who enters the mind of a serial killer to solve a crime. "She essentially becomes a sex toy," Eiko explained in an interview. "So she had to look erotic and uncomfortable at the same time. I gave her a sheer dress, a big black-and-red wig, and a bizarre hard collar made of plastic. Jennifer asked me if I could make the collar more comfortable, and I said, 'No—you're supposed to be tortured.' "
"It was sometimes difficult for actors to wear Eiko's costumes," Singh said. "They were heavy and constricting, and it could take three people to carry a coat. But look at the film in the end. No one else could so successfully put together two things that don't belong together. For an opera, she had a 10-foot teddy bear, but it had testicles—soft and cuddly with prominent balls. She had a gift for the astounding."
In the nineties, Coppola took her to see a performance of Cirque du Soleil; in 2002 she was asked to create costumes for the troupe's show Varekai. She was told that flexibility and ease were required and that the wardrobe should not pose a danger to the acrobats. Eiko designed costumes with jagged edges and spiked points that looked mortally dangerous, though they were, in practice, safe. "I want to keep the audience in suspense until the very end of the show," she said.
While many of the Varekai performers were men, they were rendered largely androgynous—and though Eiko's male iconography is striking, it is her depiction of females that separates her from other designers. From the start, she was attracted to a new idea of sexuality, an amplification of her fusion of Eastern and Western cultures. Yet another commercial for Parco starred Dunaway in a glamorous beaded dress and black veil. She peels and then eats a hard-boiled egg. For Eiko, this was a meditation on "funny and serious, masculine and feminine, artistic and commercial."
Mostly, though, it remains surprising—and original. "It's very hard to come up with unique work again and again and again," Singh said. "And Eiko never repeated herself. Her goal was not to be an ambassador for Japanese culture or Western culture. Her goal was to be an ambassador for a new world: Eiko's planet. And she was."
Kendall Jenner, Performance Artist, Channels Icons Like Marina Abramovic and Yoko Ono