The Architect of Desire
Eileen Gray designed and built a house for love—and lived to suffer the consequences.
---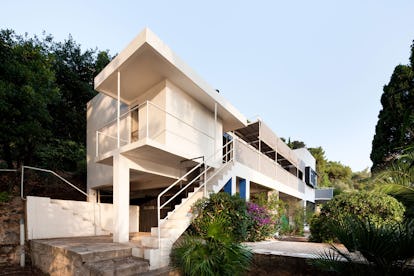 In 1926, Eileen Gray encamped on a bluff overlooking theBay of Monaco in the small French village of Roquebrune-Cap-Martin. There, over the next few years, she would work alongside a team of masons to construct a house she had designed as a gift for Jean Badovici, the editor of the influential magazine L'Architecture Vivante, and also her lover. She called the house E.1027: "E" for Eileen, "10" for the tenth letter of the alphabet, "J" for Jean, "2" for Badovici, and "7" for Gray. And upon its completion in 1929, it would be acknowledged as one of the finest and earliest examples of modern residential architecture.
Gray, who died in 1976, at 98, is known mostly as a furniture designer. She was an early proponent of tubular steel, which she manipulated into sensual functionalist pieces, like her adjustable glass-topped E.1027 bedside table (specifically made for the house) and the Non Conformist chair, with one arm upholstered and the other metal. Her lacquered Brick screens are still in demand, and her Dragons armchair from 1917 to 1919 sold for a record-breaking $28.3 million at the Yves Saint Laurent and Pierre Bergé estate auction at Christies in 2009. But while that sale may have reinforced Gray's reputation as a decorative artist, her place in the canon of modern architecture remains murky at best.
She is not without her champions. In the past few years, there has been a flurry of interest in Gray and her work: Gray Matters,a documentary about her life, was released last fall; Jennifer Goff's biography, Eileen Gray: Her Work and Her World, came out in the United States in January; and next year, a major Eileen Gray retrospective will travel from Le CentrePompidou, in Paris, to the Bard Graduate Center, in New York. Then there's the Irish director Mary McGuckian's soon-to-be-released feature film, The Price of Desire, which focuses on the often jealous triangle between Gray, Badovici, and her sometime mentor Le Corbusier. But perhaps most thrilling, this month, for the first time ever, E.1027 is open to the public, byappointment. As Cloé Pitiot, who curated the Centre Pompidou retrospective, notes in Gray Matters: "If one can say Le Corbusier is one of the fathers of modernity, then one can say Eileen Gray is one of the mothers of modernity."
Gray was born in 1878 in County Wexford, in Southeast Ireland. At 22, she enrolled in the Slade School of Fine Art in London, where she studied painting and drawing, and she learned the fundamentals of lacquering from the owner of a repair shop in Soho. In 1906 she moved to Paris, where she began a fruitful collaboration with the Japanese lacquer master Seizo Sugawara and opened a carpet workshop with the British weaver Evelyn Wyld. By the time she met Badovici, around 1920, Gray was a woman of independent means who had a glamorous career as an interior designer; a popular gallery, Jean Désert, on the Rue du Faubourg Saint-Honoré; and a roster of chic clients, including the Rothschilds and Elsa Schiaparelli.
Architecture was not a profession that welcomed women into its male-dominated ranks, but Gray, with the encouragement of Badovici, would become an integral part of the emerging modernist movement. Already in her late 40s, she taught herself drafting by studying the plans of Adolf Loos, Gerrit Rietveld, and Le Corbusier—whom she particularly admired even as she disagreed with his philosophy that "the house is a machine for living." In his biography Eileen Gray: Architect/Designer, Peter Adam quotes Gray as writing: "A house is not a machine to live in. It is the shell of man, his extension, his release, his spiritual emanation. Not only its visual harmony but its organization as a whole, the whole work combined together, make it human in the most profound sense."
E.1027 was the house that gave Gray a chance to explore that human approach—and where she and Badovici, and friends like Le Corbusier, the painter Fernand Léger, and the furniture designer Charlotte -Perriand spent summers drinking and sunning on the rooftop terrace. E.1027 established Gray's preference for built-ins and hidden storage and showcased iconic pieces like the Bibendum chair and the adjustable side table that allowed one to eat in bed without fear of crumbs.
When the house was published in L'Architecture Vivante, it was attributed to both Badovici and Gray, but historians argue over Badovici's contribution. He may have been an architect and an influential critic, but, according to Caroline Constant, professor emerita of architecture at the University of Michigan, he lacked architectural talent and was desperate to be part of the avant-garde about which he wrote. Gray's success, not to mention her financial resources, provided Badovici the legitimacy he craved. But the-relationship eventually soured, due to Badovici's alcoholism and philandering, and Gray left him and E.1027 behind. She set about building a new house in nearby Menton. She called it Tempe à Pailla.
As if to put his own stamp onE.1027, Badovici invited Le Corbusier to paint colorful, sexually explicit murals on the walls (which the architect famously executed in the nude). "This was a case where the master was outshone by his student," says Goff, a curator at the National Museum of Ireland, of Le Corbusier. "He was stupefied by what a 50-year-old woman, a self-taught architect, achieved with aplomb and grace."
"Have you gone to the Gray side?" Marco Antonio Orsini, the ____director of Gray Matters, asks me, half-joking. "People become so fixated by Eileen Gray that they become a bit crazy. They need to learn every detail they can about her life." This is not easy, however. An elegant woman who wore Poiret and was photographed by Berenice Abbott, Gray was extremely private. She destroyed much of her personal correspondence and urged others to do the same. Still, Orsini's interest was piqued by his friend Mary McGuckian, who, like Gray, is an Irishwoman who has spent a lot of time in France. Orsini watched McGuckian scrupulously research The Price of Desire, and when she urged him to make a documentary as a companion piece to her film—and offered to help produce it—he agreed.
McGuckian's infectious enthusiasm is apparent when I visit her in Villefranche-sur-Mer, a village a short train ride from E.1027. She speaks quickly, easily citing facts from Gray's life, but when she recounts the first time she saw E.1027, her speech slows. "You cannot believe it when you see it," she says. "Never mind it was built by three masons and one woman—it defines true modernism, yet with softness. It has curves, layers, it doesn't distinguish between the interior and the exterior, and while it's small, it just flows, all with these incredible details."
McGuckian acknowledges that there is no way of knowing how Gray really felt about being denied credit for E.1027 (thanks to the murals, some even came to believe that Le Corbusier had designed it). As Zeev Aram, whose London-based company Aram Designs owns the worldwide rights to Gray's designs and worked closely with her to put her modern furniture into production, says: "By nature she was modest, quiet. I think she was disappointed with the situation between Badovici and Le Corbusier, but she didn't have sharp elbows. A modest person needs a champion to gently push and promote her." McGuckian, for one, became so obsessed with Gray and the dilapidated state of E.1027 that, she says, "The Price of Desire became more than a movie; it became a movement." Against all odds, McGuckian was able to shoot inside E.1027 and re-create it as Gray had envisioned.
The house has its own tragic history—occupied by Germans and riddled with bullets during World War II; the site of a murder in 1996; and, at times, home to squatters. It was finally designated a historic monument in 2000. Michael Likierman, the president of the public association that manages the property, told McGuckian no one would grant her permission to shoot there, especially since the restoration, then mired in controversy, had come to a standstill. "Mary was a catalyst," Likierman says. "She got things done that no one else could." With her production designers, two female architects, she negotiated a deal to shoot on-site, with the agreement that the production budget would pay for the restoration work and leave behind the Gray furniture provided for the film by Aram Designs.
The debate about what to do with the murals, however, is ongoing. The irony, observes Constant, is that "most people know the house because of the murals; and during his life, Le Corbusier worked very hard to preserve the house because of them." But Le Corbusier also admired E.1027. He returned there often and even wrote to Gray in 1938: "I would be delighted to relate to you how much those few days spent in your house have made me appreciate that rare spirit that dictates all of its organization, both inside and outside, and has given modern furniture and equipment a form that isso dignified, so charming and so full of wit." Eventually Le Corbusier built his own Cabanon, a simple log cabin, directly behind E.1027. When he drowned while swimming in the sea in 1965, Gray's house may very well have been the last thing he saw before he died.
Photos: The Architect of Desire
Eileen Gray, 1926. Courtesy of Berenice Abbott/Getty Images.
Gray's 1926 Bibendum chair. Courtesy of Shira Klasmer/Aram Designs ltd.
E.1027, 2010. Courtesy of Manuel Bougot.
A still from The Price of Desire, 2015. Courtesy of Julian Lennon, 2014.
Gray's Brick Screen, designed between 1922 and 1925. Courtesy of Nadia Mackenzie/Arcaid/Corbis.
Gray's Wendingen rug. Courtesy of Shira Klasmer/Aram Designs ltd.
Detail of E.1027, 2010. Courtesy of Manuel Bougot.
Le Corbusier at E.1027, in front of one of his murals. © FLC/ADAGP, Paris/Artists Rights Society (ARS), New York 2015.
Gray's St. Tropez rug. Courtesy of Shira Klasmer/Aram Designs ltd.
Gray, at home in Paris, with the E.1027 table, 1927. Courtesy of the National Museum of Ireland.
A dilapidated E.1027, 1998. Courtesy of Daniel Ryan/the University of Sydney.