22 Soothing Ways to Cope With Election Stress
With no end in sight, it's not too late to find new ways to cope.
---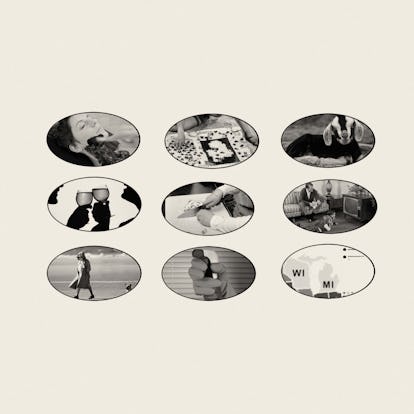 Photos courtesy of Getty Images and Instagram. Collage by Maridelis Morales Rosado for W magazine.
Before the sun even set this Election Day, Google searches for "liquor stores near me" hit an all-time high. Meanwhile, orders for pizza and various forms of cannabis also began to spike. Three days later, anxiety has only gotten worse. Electoral votes are at a standstill (at last count, 264 for Joe Biden and 214 for Donald Trump). And with states like Nevada taking their sweet time, there's no end in sight.
Remember: This too shall pass. But if your current coping mechanisms aren't cutting it, now's the time to change things up. Here, the W staff shares their sources of comfort, from face masks to CBD gummies to videos of kinetic sand.
Look at memes.
It's obviously not helpful to doom scroll, but when I find myself looking to social media for some sort of answers to what the election results may be, I try to make a point of checking the accounts that will actually make me laugh. – Brooke Marine
Binge old, familiar sitcoms.
My brain cannot handle new information, but thankfully my TV friends are just a click away to tell me the same jokes I've heard dozens of times before. What a gift. I'm gravitating towards my foreign favorites to put further distance my frontal lobe and whatever is going on in this country, but go with whatever works for you. – Kyle Munzenrieder
Clean.
My apartment has never looked so clean. I picked up the vacuum and before I knew it, I was re-grouting the tiles in my shower. That was on Tuesday night, it is now Thursday… – Jenna Wojciechowski
Cut out caffeine.
Caffeine can be a major trigger for anxiety, so maybe skip the quadruple shot if you're feeling extra on edge. If you're dependent on your daily dose, don't go cold turkey, but consider swapping your afternoon cold brew for a matcha or decaf tea. – Tilden Bissell
Pop a CBD gummy (or two).
The jury is still out on how effective CBD gummies actually are, but at least some of them taste pretty good. – Brooke Marine
Do a 1000-piece puzzle.
Over the weekend, I was delighted to discover that puzzles are back in stock. I cracked open a 1,000-piece one on the eve of Election Day, and have been poring over it while listening to the news ever since. – Stephanie Eckardt
Discover the cinematic universe of kinetic sand.
For whatever reason, I find the kinetic sand videos that one day started popping up on my Instagram "discover" page oddly hypnotic. Lo and behold, there's an entire YouTube channel dedicated to the phenomenon. It's like visual ASMR for people who can't stand the tingles. – Kyle Munzenrieder
Crack your back.
Pull out that foam roller to release all of the tension you've been holding in your upper neck. I promise you things will feel better for at least five seconds. If that doesn't work, watching videos of people getting chiropractic adjustments should provide at least some relief by proxy. – Brooke Marine
Get into obsessive and slow skincare.
"Smooth skin. Smooth brain." It's become my motto over the past few months as my skincare regime has gone from hurried bare necessities to drawn out necessary ritual. This week I'm really drawing it out, slowly but delicately working those serums into my skin, taking extra care to make sure that liquid exfoliant gets absolutely everywhere, suddenly deciding that my earlobes surely need as much hyaluronic acid as the rest of my face. If I'm thinking about my skin, then I'm truly not thinking about anything else for at least 10 minutes. Does my skin actually look particularly better? The jury is out, but at least it has taught me patience. – Kyle Munzenrieder
Read.
I always find escaping into the pages of a good book to be the ultimate distraction from anything going on in the real world. Currently I'm reading Tales from the Back Row by Amy Odell. – Jenny Oliver
Look at baby animals.
When it becomes a high stress situation in the middle of the day, I can depend on one of my fave Instagram accounts, @mignonettetakespictures, to ground me with top-notch baby animal images.
Watch distracting TV.
We ended up watching the end of The Proposal on Election Night, as it was on TV when we were flipping between stations. An hour of something light and non-election related was good for my raging anxiety! – Sara Moonves
Do a face mask.
Do a Peter Thomas Roth charcoal mask. My skin breaks out whenever I'm stressed, and this mud mask calms my skin every time. I've been doing plenty of them this week. – Michael Beckert
Cook something comforting.
I recommend cooking something comforting and relatively easy, but also very time-consuming. For two obvious reasons: It will prevent you from looking at your phone every 30 seconds, and you will end up with a delicious meal to share with your loved ones afterwards, and we all know it's just rude to look at your phone while seated at the dinner table. Think butter chicken, for example, or a pie with crust from scratch. Risotto is also a great option as it requires you to focus on stirring the same pot for about an hour. Whatever it is, make every step as complicated and fiddly as you can—really go the extra mile and make the broth for the risotto yourself! Mill your own flour if you have to! The New York Times alert will come eventually. – Andrea Whittle
Watch The Bachelorette.
An episode or two of the new season of The Bachelorette's new season is ideal for numbing your brain. – Maridelis Morales Rosado
Take a walk.
Turning off the news and getting fresh air, has been the most helpful thing for me. You can really get sucked into watching the news for hours on end which ends up driving you crazy! – Sara Moonves
Try aromatherapy.
Never underestimate the power of scent to soothe the mind. You can use a diffuser, like this rechargeable one from Vitruvi, or go even more portable with an aromatic inhaler—think of it as a chicer alternative to your Vicks Vapoinhaler. – Tilden Bissell
Listen to The Weeknd croon in Spanish.
Maluma and The Weeknd's new Hawái Remix music video features The Weeknd singing in Spanish, my native language. For three minutes and 43 seconds, listening to him melts all my worries away. – Maridelis Morales Rosado
Go for a run.
Even if it's just for a quick jaunt around the block, your brain will thank you for getting some oxygen up there. – Brooke Marine
Use a jade roller.
Before I attempt to sleep, I'll stare at myself in the mirror, pondering this economy and jade rolling my worries away for at least 10 minutes. – Maridelis Morales Rosado
Play solitaire.
I've been playing the radio constantly in quarantine, but I need quiet when I read and write. Aside from cleaning, the ideal activity to keep my hands busy while listening is solitaire. I played it relatively often as a kid, but got back into it just before lockdown began—which I remember because at one point, unable to tear myself away from the cards, I was late to meet friends. – Stephanie Eckardt
On occasion, indulge.
I've been oscillating between healthy behaviors, like long runs and cleaning my apartment, and unhealthy ones, like comfort food and too much wine. I think the combination is keeping me sane. – Christina Holevas