OUT OF AFRICA: ELEPHANT WATCH CAMP
Elephant Watch Camp in Samburu National Park, Kenya was founded by two elephant animal activists, Kenyan-born (Italian / French heritage) Oria Douglas-Hamilton and her Scottish-born husband Ian. The couple have been instrumental in stopping...
---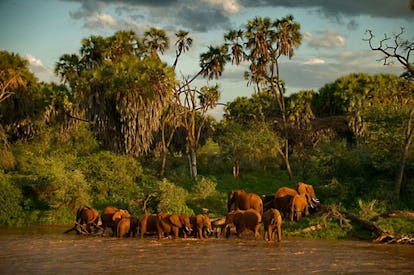 The place truly embraces a low impact, ecological philosophy. The camp— made from canvas, reclaimed wood and clay— can be broken down in a day, if necessary. The furniture is built from branches and logs that were knocked down by the elephants or left from flash floods, and the Italo-Afro bush gourmet fare is all made from ingredients grown on their organic farm. Though the philosophy might be lo-fi, the service is decidedly deluxe. You'll have your own personal butler who will brew your coffee in the mornings and mix your gin-and-tonics at sunset.
Photo: David Bebber