Art Party
Contemporary collector and philanthropist extraordinaire eli broad opens his masterpiece-filled home to the L.A. art world in celebration of Art Basel's 40th anniversary.
---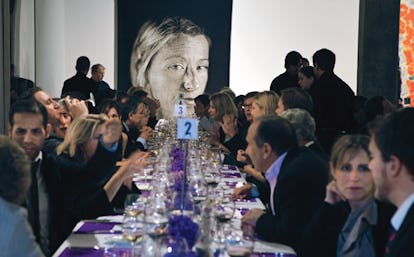 Almost everything about a recent dinner at Eli Broad's Los Angeles home in honor of the 40th anniversary of Art Basel was outsize, starting with the estate itself. Visitors approached the mansion—designed in part by Frank Gehry—through a private sculpture park, then entered a sitting room the size of a hotel lobby before descending a stairway into a series of double-height galleries. "This is bigger than the Gagosian Gallery," said fashion-world fixture Richard Buckley as he arrived at the first subterranean white cube, with its cranelike Calder sculpture and pair of giant Chuck Close portraits. A moment later Ann Philbin, director of UCLA's Hammer Museum, summed up the installation with a wry understatement: "Not bad," she said, in a tone that meant something more like, Can you believe?
Throughout the residence, dozens of works stood out both for their historical importance (Jeff Koons's Rabbit) and their giant scale (Richard Serra's Torqued Ellipse in the garden). The collection easily substantiated Broad's reputation as the most powerful arts patron in Los Angeles.
The only diminutive presence on that balmy evening was Broad's wife of 54 years, Edythe, who cheerfully received her dinner guests beside a billboard-size Anselm Kiefer. (A huge Warhol covered another wall, and a Piet Mondrian hung over the fireplace.) Mrs. Broad was apologizing for, of all things, the reduced number of works on view. Most of the collection, she explained, was on loan to the Los Angeles County Museum of Art for display at—where else?—the Broad Contemporary Art Museum. "This is what's left," she said.
Still, such is the aura of the Broad brand that hardly anyone would say no to an invitation to dine with the couple at home. (Broad's social drawing power has only been heightened by his controversial status as a double-edged donor: Even his admirers have to acknowledge his tendency to grandstand, and his $30 million pledge this past fall to rescue L.A.'s other big art museum­—the ailing Museum of Contemporary Art downtown—sparked hot debate over whether the institution should marry itself off to such a domineering white knight.) The 130 guests included fellow megacollectors Michael Ovitz and Eugenio Lopez; art stars Ed Ruscha, John Baldessari and Franz West (in town for his LACMA retrospective); gallerists Shaun Caley Regen and Michael Kohn; and international playboy-collector Nicolas Berggruen.
The party was organized in part by Art Basel's West Coast head of VIP relations, Lauren Taschen—wife of publisher and art collector Benedikt Taschen—and was intended as a sort of stimulus package to foster enthusiasm for what is widely considered the art world's preeminent sales event. "For our purposes, it's the best art fair," said Edythe, sounding an opinion informed by some 20 years of shopping there. "It has the best material. It's like art camp."
Art Basel's former director Samuel Keller explained that the event's reputation began to take its current shape with the early involvement of artists Joseph Beuys and Henry Moore, who brought site-specific performances and works to the fair in the Seventies. "The mix between the artistic and the commercial seems to be in exciting balance," Keller said.
"There's a nonlinear, omnidirectional cultural energy that is part of the fair," offered artist Doug Aitken, who has attended in the past with his European gallerist, Eva Presenhuber; this year he will participate in a program at Theater Basel curated by Hans Ulrich Obrist and also featuring Matthew Barney, Olafur Eliasson and Pierre Huyghe. "Also, while I don't think that exclusivity is necessarily a good thing, Basel has a sense of being curated. It weeds out the white noise. It's like a museum experience."
Despite the woeful economic climate in the real world, the evening at Broad's art-filled Shangri-la had all the trappings of headier days. Cosponsor Cartier invited a bevy of its diamond-clad customers, and additional sponsorship from NetJets and UBS was a subtle reminder that only a year ago, private planes were an aspirational luxury, not a political liability. There was a slightly frantic edge to the merriment­—as if a four-course Wolfgang Puck dinner including hand-formed mascarpone agnolotti with black winter truffles could jump-start a new bull market. In conversation, though, Art Basel codirector Marc Spiegler struck a more measured tone. The art market may be in retreat, he acknowledged, but it is not dead. Only two dealers who showed at Art Basel last year pulled out this year, he noted, and the programming around the fair, which opens June 10, will include a public conversation on "Institutions: A Time of Crisis—and Opportunity?"
Guests dined in another of the downstairs galleries, a narrow space hung with Close's enormous photographs of artists Robert Rauschenberg, Jasper Johns, Roy Lichtenstein and Cindy Sherman­—all of whom are represented in the Broad collection. Sherman's Olympian likeness stared down from the head of one table, appearing coolly indifferent to the chatter beneath its nose.
Throughout the evening, Broad loomed almost as large. "Times are tough," he allowed, when he rose to address his guests. "But we got a lot of great things in the early Nineties, which were also tough times. If you're a real dyed-in-the-wool art collector, you may find it's a pretty good time to buy." (As if to prove his point, about two weeks later, Broad purchased a major work by hot L.A. artist Elliott Hundley.)
Another prominent L.A. collector at the dinner told friends that he has lately received out-of-the-blue calls from a couple of New York dealers offering choice works and volunteering that the galleries could be "flexible" on price. And a top museum administrator reported still another sign of the times: Galleries are not only being forced to cut costs by mounting fewer shows, they're also chasing outstanding IOUs like black-clad bill collectors. Top clients, he explained, have been in the habit of taking home works with ridiculously lenient payment terms—as long as a year to settle an invoice. "Dealers are being much more diligent about collecting," he said. On the other hand, at least one gallery owner refuses to trim his sails: Larry Gagosian, perhaps Broad's single most important acquisition source, is in the process of nearly doubling the size of his Beverly Hills outpost, with the expansion being overseen by Richard Meier.
As dinner wound down and guests headed to an impromptu after-party at the Chateau Marmont, Benedikt Taschen noted that, not surprisingly, he will go to Basel this year, as he has for most of the past 25. (His best Art Basel moment: meeting Lauren there six years ago.) He waved off any suggestion that the global economy would fundamentally alter Art Basel as the event reaches middle age.
"There are so many fairs coming and going. This is the one that will stay for years," he said with European aloofness. "They are Swiss. They plan very well. The collectors who are buying will keep buying. It's what makes them go. It's their life."
But Taschen nonetheless did anticipate one welcome change, given that this year is once again—after a decade-long boom—a buyer's market. "I can't imagine any collectors being treated badly by snobby, arrogant galleries," he said, with Rauschenberg's colossal face staring out from the wall as if to back up his comments. "The collectors get their revenge now."