The Maestro of Vintage
Where can you find a jaguar fur coat, mint-condition Norma Kamali swimsuits from the eighties, off-the-wall hexagonal Guy Laroche sunglasses, and a seventies suede and fur skirt from Gucci? Head to Italy's vintage Mecca,...
---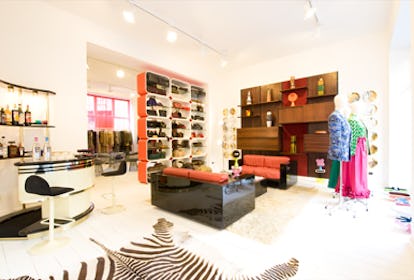 "Being a designer, Elio's approach in buying is completely different from regular vintage dealers," says Sabrina Querci, Managing Director of the store, "the commercial side is certainly not the priority in his selection." The offerings generally range from the eighties to the early 20th century—like one of their crowning finds, a fringed, fully sequined "Jeanne Lanvin" dress from the '30s. Though some of their most memorable pieces predate even that, like an 1870's silk and lace cape in perfect condition. "We carry everything Elio considers to be an extraordinary piece, regardless of style or era," Querci says. And they also stock a well-edited selection of antique furniture and true one-of-a-kind clothing prototypes that were never produced.
Karla Martinez, W's Fashion Market and Accessories Director stopped into the shop during Milan Fashion Week this season. "I was looking to buy something that I wouldn't see on anyone else," she says. "I found a navy blue long sleeve dress with gold buttons slightly below the breast line. Nothing feels more special than vintage Saint Laurent."
Via del Parione, 47R – Firenze – Italy, +39 055 290425 Via P. Maroncelli 1 – Milano – Italy, +39 02 431 13202 Visit elioferraro.com