Magic Johnson's Daughter Elisa Johnson, Modeling's Latest Scion Recruit, Sets Her Sights on Fashion Domination
Introducing Wilhelmina Models's newest signee, Elisa Johnson—the 22-year-old FIT student who happens to also be the daughter of former Lakers star Magic Johnson.
---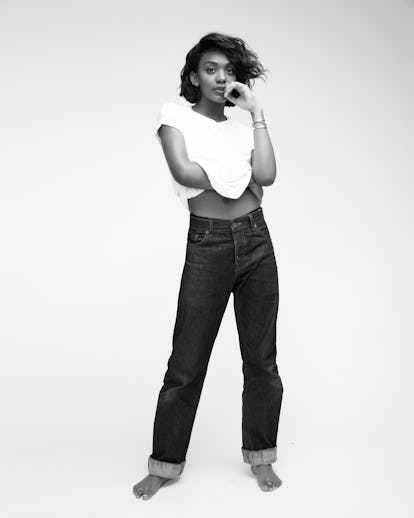 Adrian Nina
On the first night of New York Fashion Week, Elisa and EJ Johnson—the daughter and son of former Los Angeles Lakers star Magic Johnson—arrived at Tom Ford's Spring 2018 show with their mother, Cookie. They posed together beforehand, Cookie clad in a silk jacket and trousers and Elisa and EJ flanking her in matching bustiers, PVC coats, and skin-tight black pants, and Elisa uploaded the image for her more-than-323,000 followers on Instagram.
"Can I be honest with that?" Elisa said conspiratorially, on an afternoon in New York two days after the show. "That was not planned. He went to the store before me, and I didn't think to be like, 'Hey, EJ, what did you get?'" Her brother had picked out his look in Los Angeles; Elisa did the same in New York; and they ended up, by sheer coincidence, selecting variations on the same theme. (EJ opted for a long PVC trench, Elisa for a shorter jacket; EJ wore her jacket, or one just like it, to Philipp Plein a few nights later.)
Tom Ford was the introduction to her third New York Fashion Week—last season, she attended Philipp Plein, VFiles, and a handful of other shows; before that, she walked the runway at Just Drew with the likes of Tiffany Trump, Gaia Matisse, and Billie Lourd. But this was her first fashion week as the newest signee of Wilhelmina Models. Earlier this year, Elisa, who, at 22, is entering her final semester studying fashion business at the Fashion Institute of Technology, began looking for agency representation, something of a rite of passage for the children of celebrities these days. She took several meetings, but when she met Wilhelmina's image board director Donat Barrault, "it spoke to me here," she said, gesturing to her chest. "I was like, 'I love him. I adore him.'" (Barrault, who sat across from his young neophyte, offered his impression of their first meeting: "I was like, 'Mmhmm, maybe it's the total package.'")
But for all Elisa has come around to fashion, it was not always such an organic trajectory. Rather, until high school, she played basketball and soccer, and fancied herself a future WNBA star.
Contrary to what one might assume, her professional basketball aspirations, she assured me, were not the result of living under the same roof as a two-time Basketball Hall of Fame inductee. "It actually made me not want to do it, because it was a lot of pressure," she said. (Nevertheless, she wore his number, 32, on the court.) "When he would come, I would get more nervous—I remember this one time, I got hit in the face with a ball because I was freaking out that he was at my game," she added.
In ninth grade, Elisa's basketball team didn't make it to the varsity playoffs. "Everyone was crying," she recalled, "and I wasn't crying." It was around the time she began to bend the rules of her high-school uniform—embellishing khaki skirts and polos with Alexander McQueen scarves and Christian Louboutin heels, like any ninth grader—and "tried to move away from the norm of things and do my own thing," she said. "That's where it progressed."
And while Elisa did not end up pursuing a place in the WNBA, her father has left his imprint on her ambitions in other ways. Magic Johnson, who was diagnosed with HIV in 1991, has become an outspoken advocate for HIV-positive individuals, encouraging education and testing among minority communities in particular, and working to reduce the stigma surrounding the virus. Her brother, EJ, for his part, has become a role model for gender-fluid and gender-nonconforming individuals: Just last month, he presided over a Beautycon panel entitled "The Gender Revolution," and in a recent New York Times profile, he matter-of-factly punctured fashion's self-congratulatory approach to androgynous looks. "I don't think the fashion world has made any type of major huge strides, where we need to start commending anybody yet," he said. "They should probably start highlighting people who are doing it in the streets, as opposed to whatever celebrity they're putting in a skirt for five seconds just for publicity."
As she witnessed her brother and father's respective forms of advocacy on behalf of marginalized groups, Elisa began to wonder, "Well, what will I do?" She has joined her mother in working with the Ladylike Foundation, a Los Angeles-based organization aimed at educating and "building self-esteem," she explained, among young women from underprivileged communities. (Tina Knowles was an honoree at a recent Ladylike fundraising event.) She has also set her sights on working with adopted and foster children: "I know what it's like to feel sometimes like you're not whole, that something's missing," she told me. (Elisa was adopted by Magic and Cookie when she was an infant; she met her birth mother when she was 18, as depicted in her brother's short-lived E! series EJNYC.) "My background is different than anyone else's background," she conceded, "but I think it's important to share and talk."
She has also picked up style cues from her dad and brother. When she was a child, she explained, Magic "had someone lay out all of his outfits. Top, pants, shoes, in order." (After all, NBA stars are the new frontier of fashion celebrity.) From EJ, who was once a cast member on the reality series Rich Kids of Beverly Hills and has sat front-row at many a fashion show, she has picked up attitude as well as an eye for PVC. "He's the one person who I can think about when I want to be fully confident," she said. "'Do it like EJ.' He's my reference." (So it's no wonder they ended up wearing the same thing to Tom Ford.)
But Elisa is doing things her own way, too, setting her sights on fashion collaborations. Accessories "are my thing," she said. "Dior is reaching high, but…" she trailed off. She's Magic Johnson's daughter, after all; reaching high probably isn't such a stretch.
The Best Behind-the-Scenes Photos of New York Fashion Week Spring 2018
Inside the VFILES show on Wednesday, September 6th at Barclays Center during New York Fashion Week. Photographed by Serichai Traipoom for W Magazine.

SERICHAI TRAIPOOM
Inside the VFILES show on Wednesday, September 6th at Barclays Center during New York Fashion Week. Photographed by Serichai Traipoom for W Magazine.

SERICHAI TRAIPOOM
Inside the VFILES show on Wednesday, September 6th at Barclays Center during New York Fashion Week. Photographed by Serichai Traipoom for W Magazine.

SERICHAI TRAIPOOM
Inside the VFILES show on Wednesday, September 6th at Barclays Center during New York Fashion Week. Photographed by Serichai Traipoom for W Magazine.

SERICHAI TRAIPOOM
Kaia Gerber making her debut at Calvin Klein Show on Thursday, September 7th at the Calvin Klein headquarters during New York Fashion Week . Photographed by Serichai Traipoom for W Magazine.

SERICHAI TRAIPOOM
Inside the VFILES show on Wednesday, September 6th at Barclays Center during New York Fashion Week. Photographed by Serichai Traipoom for W Magazine.

SERICHAI TRAIPOOM
Inside the VFILES show on Wednesday, September 6th at Barclays Center during New York Fashion Week. Photographed by Serichai Traipoom for W Magazine.

SERICHAI TRAIPOOM
Inside the Calvin Klein show on Thursday, September 7th at Calvin Klein Headquarters during New York Fashion Week. Photographed by Serichai Traipoom for W Magazine.

SERICHAI TRAIPOOM
Inside the VFILES show on Wednesday, September 6th at Barclays Center during New York Fashion Week. Photographed by Serichai Traipoom for W Magazine.

SERICHAI TRAIPOOM
Inside the Adam Selman show on Thursday, September 7th at Skylight Clarkson during New York Fashion Week. Photographed by Serichai Traipoom for W Magazine.

SERICHAI TRAIPOOM
Tinashe at the VFILES show on Wednesday, September 6th at Barclays Center during New York Fashion Week. Photographed by Serichai Traipoom for W Magazine.

SERICHAI TRAIPOOM
Inside the VFILES show on Wednesday, September 6th at Barclays Center during New York Fashion Week. Photographed by Serichai Traipoom for W Magazine.

SERICHAI TRAIPOOM
Inside the VFILES show on Wednesday, September 6th at Barclays Center during New York Fashion Week. Photographed by Serichai Traipoom for W Magazine.

SERICHAI TRAIPOOM
Inside the VFILES show on Wednesday, September 6th at Barclays Center during New York Fashion Week. Photographed by Serichai Traipoom for W Magazine.

SERICHAI TRAIPOOM
Inside the Adam Selman show on Thursday, September 7th at Skylight Clarkson during New York Fashion Week. Photographed by Serichai Traipoom for W Magazine.

SERICHAI TRAIPOOM
Inside the Adam Selman show on Thursday, September 7th at Skylight Clarkson during New York Fashion Week. Photographed by Serichai Traipoom for W Magazine.

SERICHAI TRAIPOOM
Inside the Adam Selman show on Thursday, September 7th at Skylight Clarkson during New York Fashion Week. Photographed by Serichai Traipoom for W Magazine.

SERICHAI TRAIPOOM
Inside the Calvin Klein show on Thursday, September 7th at Calvin Klein Headquarters during New York Fashion Week. Photographed by Serichai Traipoom for W Magazine.

SERICHAI TRAIPOOM
Inside the Tory Burch show on Friday, September 8th at the Cooper Hewitt during New York Fashion Week. Photographed by Serichai Traipoom for W Magazine.

SERICHAI TRAIPOOM
Inside the Tory Burch show on Friday, September 8th at the Cooper Hewitt during New York Fashion Week. Photographed by Serichai Traipoom for W Magazine.

SERICHAI TRAIPOOM
Tory Burch SS18. Photographed by Serichai Traipoom for W Magazine.

SERICHAI TRAIPOOM
Inside the Tory Burch show on Friday, September 8th at the Cooper Hewitt during New York Fashion Week. Photographed by Serichai Traipoom for W Magazine.

SERICHAI TRAIPOOM
Inside the Tory Burch show on Friday, September 8th at the Cooper Hewitt during New York Fashion Week. Photographed by Serichai Traipoom for W Magazine.

SERICHAI TRAIPOOM
Inside the Tory Burch show on Friday, September 8th at the Cooper Hewitt during New York Fashion Week. Photographed by Serichai Traipoom for W Magazine.

SERICHAI TRAIPOOM
Inside the Brandon Maxwell show on Friday, September 8th at The Doubles Club during New York Fashion Week. Photographed by Serichai Traipoom for W Magazine.

SERICHAI TRAIPOOM
Inside the Brandon Maxwell show on Friday, September 8th at The Doubles Club during New York Fashion Week. Photographed by Serichai Traipoom for W Magazine.

SERICHAI TRAIPOOM
Inside the Brandon Maxwell show on Friday, September 8th at The Doubles Club during New York Fashion Week. Photographed by Serichai Traipoom for W Magazine.

SERICHAI TRAIPOOM
Inside the Brandon Maxwell show on Friday, September 8th at The Doubles Club during New York Fashion Week. Photographed by Serichai Traipoom for W Magazine.

SERICHAI TRAIPOOM
Inside the Brandon Maxwell show on Friday, September 8th at The Doubles Club during New York Fashion Week. Photographed by Serichai Traipoom for W Magazine.

SERICHAI TRAIPOOM
Inside the Brandon Maxwell show on Friday, September 8th at The Doubles Club during New York Fashion Week. Photographed by Serichai Traipoom for W Magazine.

SERICHAI TRAIPOOM
Marc Jacobs's first kiss was with a girl—but it was just for show: