For Her Next TV Role, Elisabeth Moss Will Play a Texas Axe Murderer
It's both a spiritual sequel to "The Act," and a "Mad Men" reunion.
---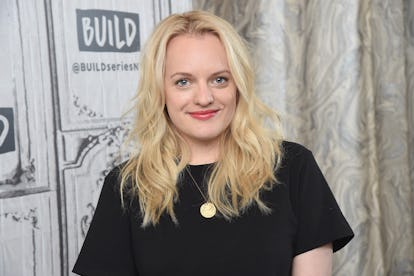 Gary Gershoff/Getty Images
The queen of prestige television has chosen her next throne. Elisabeth Moss will team up with many of the behind-the-scenes talents from Hulu's recent hit The Act to tell the true story of Candy Montgomery, a churchgoing Texas woman with a seemingly ideal life who ended up murdering her best friend with an axe after starting an affair with her husband.
It's certainly quite riveting material.
The murder occurred on a Friday the 13th in June 1980 in Wylie, Texas, then just a sleepy town of about 3,700. The victim was a local teacher named Betty Gore. She was found in her laundry room with 41 axe wounds bloodying her body, her newborn child asleep in a crib nearby. Fears of a possible serial killer spread through town, and most were shocked when the petite Montgomery was pinpointed as the prime suspect within a week. Soon, rumors spread that Montgomery herself was a serial killer (she wasn't). A sensational trial ensued, and Montgomery claimed self defense. Her version of events claimed that it was Gore who originally came at her with an axe, and she merely had a primal reaction. Is it a spoiler to include the fact that Montgomery was eventually acquitted?
Hollywood, of course, has told the tale once before. Back in 1990, Stephen Gyllenhaal (yes, father of Jake and Maggie) directed the CBS TV movie Killing in a Small Town, a slightly fictionalized take on the story. Barbra Hershey played the role of Candy and took home both the Emmy and the Golden Globe that year. In an astounding reminder, however, of just how innate sexism is in Hollywood, for some reason Brian Dennehy, who played the defense attorney, received top billing and dominated the promotional material for the film (despite the fact he was officially just a supporting actor). Hershey is barely perceptible on the DVD cover, and barely gets any actual words in during the official trailer.
It makes you wonder how the story might play out if it had centered women. Good news, then, that Emmy winner Robin Veith has written the pilot. She previously worked with Moss on Mad Men, and was also a producer and writer for The Act. Moss herself will get a producer credit. Journalists Jim Atkinson and John Bloom, who covered the story back in the '80s for Texas Monthly and eventually wrote a book on it, will serve as consulting producers, indicating that their material will serve as the story's source.
"I have been wanting to play an anti-heroine for a while now, and have been trying to work with Robin again after 'Mad Men' for even longer, so when she asked me if I wanted to play a housewife from Texas who, some would say, got away with murder, I simply said, 'Where do I sign?'" said Moss, according to Variety.
No streaming service or network has been confirmed as of yet, but at this point we're just more curious about who they might cast to star alongside Moss as the friend and eventual victim.
Related: How Joey King Made Her "Exhilarating" Transformation Into Gypsy Rose Blanchard In The Act