Shirley Trailer: Is Elisabeth Moss a Horror or Just a Writer?
Moss plays the famed horror author Shirley Jackson.
---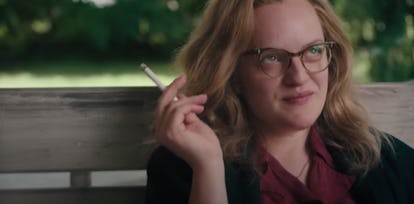 The running joke is that if there are no more movies released this year, they should just give Elisabeth Moss the Best Actress Oscar for her work in Invisible Man. Which might be a shame, only because Moss had another possible contender lined up: the Sundance hit Shirley.
Moss dons a pair of horn-rimmed glasses to play a fictional version of famed horror writer Shirley Jackson (if nothing else, you've probably read her short story "The Lottery," though her novel The Haunting on Hill House is the basis for a current Netflix hit as well). Jackson struggled with both mental and physical health problems throughout her life, and was also reticent about being seen socially as just the "faculty wife" of her professor husband, the well-known literary critic Stanley Edgar Hyman (played in the film by Call Me by Your Name's Michael Stuhlbarg).
Shirley is set in the early 1950s, at a time when Jackson was writing her novel Hangsaman, and while it's based on real life it takes some clever literary license to imagine the story behind the story.
Enter a young married couple played by Logan Lerman and Odessa Young who find themselves as both boarders in the couple's home as well as inadvertent caretakers for Jackson.
Moss plays the title role as a literary grump with a stinging tongue, and the trailer almost makes it seem like the author has become the villain in her own horror movie. Like Jackson's work, however, things aren't quite that simple.
The film premiered to rave reviews earlier this year at Sundance, and marks the first outing for director Josephine Decker since her last Sundance triumph Madeline's Madeline.
Distributor Neon says Shirley will be available "everywhere" on June 5th, which, for most of us, likely means at home on our own couches through Video on Demand.