Beach Baby Elizabeth Bennett Prefers Bikinis to Just About Anything Else
"I'm in my element when I'm in a bathing suit," the 18-year-old model explains.
---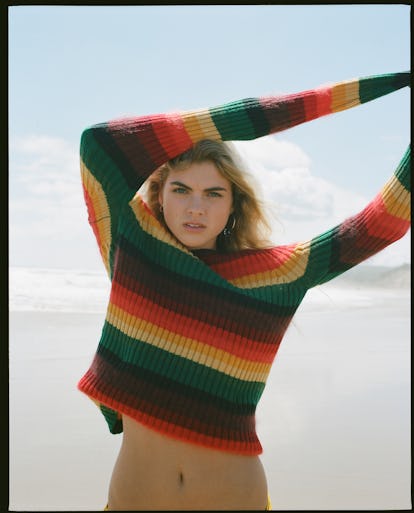 The weekend before Memorial Day, model Elizabeth Bennett was trying on a series of one-piece swimsuits at the Surf Lodge hotel in Montauk. She was ready for summer, even if the threatening clouds and low temperatures didn't agree.
"I grew up on the beach," says the 18-year-old high school student from Rhode Island, who is signed with Elite Model Management in New York and is in Abercrombie & Fitch's recent, rebranded campaign. "We were always kayaking and going in the canoe. I'm in my element when I'm in a bathing suit. I model bathing suits better than normal clothes because I'm more comfortable in them."
So far, modeling has taken her to many other places she's never been before, from Montauk, the beach town on the Eastern tip of Long Island, to the Coachella music festival, where she was dancing with the Victoria's Secret Angels she admires so much. "My dream job would be Pink by Victoria's Secret," she says, "Those shoots just look so fun, and it's the easiest for me to smile and just be silly versus a really edgy look."
Victoria's Secret is a perfect fit for the up-and-coming model's outgoing personality. "I'm not shy," she says. "I've always been a social butterfly and have tried to be the center of attention."
Her first photoshoot, taken by a local modeling agency in her native Rhode Island, tried hard to be serious. "It was just in a park, the bare minimum. Now that I look back at the pictures they are hilarious. But it got me started."
She was 15 years old at the time. And although she had 11 years of experience playing hockey, she had never modeled before. "I wasn't nervous. I've always felt comfortable in front of the camera," she explains. "I can't say I knew what I was doing but I tried."
Early work ranged from modeling in Style Week, Rhode Island's celebration of local designers, to e-commerce and bridal magazines. "I was a 16 year old in a wedding dress. It was fun because I actually felt like it was my wedding day," she says. Since signing with an agency in New York, Bennett doesn't appear in any local shows in Rhode Island–today, she's focusing on bigger campaigns like Abercrombie & Fitch (and, hopefully, Victoria's Secret), moving to New York in the fall and eventual plans to pursue acting, like her "twin" Kate Upton. But first, the young model has to graduate from high school. And go to prom with her boyfriend, where she'll be wearing a simple black dress. "Last year I went overboard for prom and I got a custom-made dress. It was absolutely beautiful but I am totally worn out by prom this year. I just want to have fun, and I don't want to worry about what I look like or anything."
But first, it's time for the beach. "The sun came out!" she says.
Watch W's most popular videos here:
The Montauk Moment: The Best Swimsuits of Summer Are Revealing In All the Right Ways