Elizabeth Debicki's Acting Career Is Taking Off
Following several movie roles, the young actress is trying out TV.
---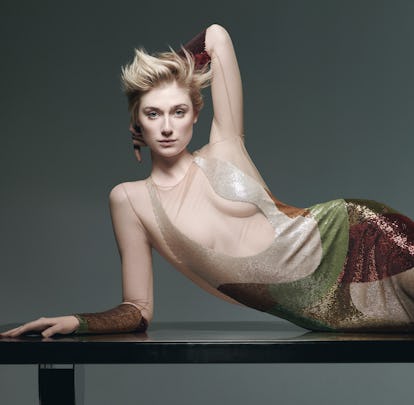 Photographer: Mark Segal Stylist: Sally Lyndley
Just two months after she graduated from Melbourne's Victorian College of the Arts, in 2010, Elizabeth Debicki found herself reading lines with Tobey Maguire at the Chateau Marmont in Los Angeles. The room was decorated to resemble a 1920s salon, and she was in full flapper regalia. "Baz Luhrmann is a very visual director," the actress, 25, says of her atypically elaborate audition for his remake of The Great Gatsby. "He needs to see things as they would unfold in his world." Debicki landed the role of Jordan Baker, Daisy Buchanan's haughty confidante, and her career took off.
Growing up in Melbourne, the tall, lithe beauty assiduously studied ballet (her parents are both former professional dancers), but at 17 she tried acting and shortly thereafter hung up her pointe shoes. In 2013 she starred opposite Cate Blanchett and Isabelle Huppert in an Australian theater production of The Maids; more recently, on the big screen, she's saved lives as a base-camp doctor in Everest, been burned at the stake in Macbeth, and portrayed a glamorous Nazi sympathizer in The Man From U.N.C.L.E. But Debicki seems most excited about her work in the BBC miniseries The Night Manager, premiering this summer, in which she plays a social climber entangled in a perverse love triangle. "What I loved about this project is that, for eight episodes, we focused on the female role," she says. "Television is the medium that's allowing women's stories to flourish."
Hair by Ramsell Martinez for Oribe at Streeters; Makeup by Darlene Jacobs for Lancome at Starworks Artists; digital technician: Justin Ruhl; photography assistants: Seth Gudmunson, Zac Hahn; fashion assistant: Mary Ossovskaya.