Exclusive: Elizabeth Hilfiger on Launching Foo and Foo, Her New Whimsical Fashion Brand
The 23-year-old daughter of Tommy Hilfiger is going out on her own with a brand that mixes art and fashion.
---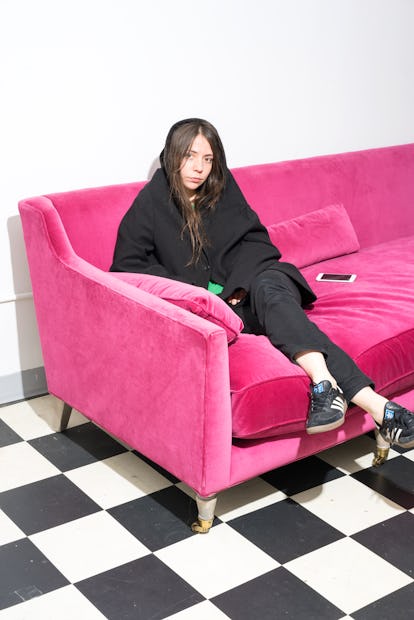 Jackson Hallberg
Elizabeth Hilfiger, the 23-year-old daughter of Susie and Tommy Hilfiger, launched her own brand, called Foo and Foo, this year—but there's nothing 'foofy' about her. At The Odeon restaurant in Tribeca last week, she arrived wearing an 'I heart New York' t-shirt, baggy jeans, Adidas sneakers, and enormous blue-tinted sunglasses that she found on Canal Street. It was her first time giving a formal interview, but she didn't tell me this until the end.
The brand's name, she explained, is a pet one her father gave her as a child based on her love of the poem, "Little Bunny Foo Foo," which he would read to her after returning from his many travels. As the story goes, Foo Foo the Rabbit wants to do its thing, (bopping field mice on the head), and refuses to listen to the Good Fairy's instructions to stop. As a result, it is turned into a Goon—a fate that "never failed" to put a smile on Hilfiger's face.
Born in Greenwich, Connecticut, Hilfiger describes her younger self as a "huge tomboy," who by high school was itching to leave her hometown's "lacrosse/preppy vibes." She enrolled instead at Convent of the Sacred Heart, an all-girls Catholic school on the Upper East Side of Manhattan, which boasts alumni like Lady Gaga, Nicky Hilton, Caroline Kennedy, and Gloria Vanderbilt. It was there that her love of a uniform was solidified, but she still spent most of her time "just trying to figure out how to be a girl."
Hilfiger always knew she wanted to go into fashion, and went on to get a degree in textile design the Rhode Island School of Design (RISD). But despite growing up in her father's showrooms and offering her own two cents about his children's line, she was quickly overwhelmed by art school, (like most first-years), and often thought about dropping out. (Her parents said absolutely not.)
"My freshman year, a teacher gave us assignment with a concept and I started crying," she recalls. "I was like, 'What the f— is a concept?' I couldn't wrap my head around the fact that there's a word for an idea of words, for an idea of something else, that you make from an idea. But now I kinda get it."
After graduating in 2015, Hilfiger decided to move to Los Angeles, where she worked various fashion-related internships and jobs, one of which was doing pattern-making for Zoe Latta of Eckhaus Latta. She's spent the past year though building her own label from scratch, without the help of her parents. Her days are fully-devoted to dealing with web designers and photographers, emailing with her team back in New York, and visiting the factories in Los Angeles where each of her pieces are all hand-knit-dyed, and made. She has no time for 'foofy' outfits, she says.
When asked if people make assumptions based on her last name, Hilfiger rolled her eyes and said, "Of course, it's so annoying." She recalls trying to switch surnames with another girl one year at summer camp, but it didn't fool anyone. Today, she'll take advice from her dad, but knows that what they're doing is "so different," and that any comparisons are misinformed. In short, Foo and Foo's all-black "just the tip" hoodie with safety-pin hardware is not likely to be found on Gigi Hadid.
"Whenever I show my dad my designs, he's like, 'Make the logo bigger!'" Hilfiger said, with a laugh.
Foo and Foo aims to be "more than just fashion," and the brand's website also hosts Hilfiger's own curation of works by young artists, who she'll invite each season to make pieces inspired by and using the collections. The homepage has a Y2K throwback design as well as a "sleep mode" feature, which brings visitors to a mysterious campaign video featuring Adwoa Aboah, who also models in the brand's first look-book shot by Georgia May Jagger.
"Foo and Foo is a digital space where you can see the clothes in different situations through different young artists eyes," Hilfiger explained. "It's meant to inspire you and also confuse you. Is it a clothing website? Is it a gallery? Is it an experiment? But it's like my brain, because it's also super organized."
As for the clothing, Hilfiger's first collection—or "drop 001″—was inspired by her recent trips to Tokyo and the Museum of the Middle Ages in Paris. Featuring affordable hoodies and t-shirts ranging from $55 – $100, she considers these styles the "base" of Foo and Foo, and they'll always be available on the website.
Per her father's suggestion, most pieces feature the brand's logo, but they're also adorned with details that are unique to Hilfiger's mind. Her hoodies, for example, are meant to be worn behind the ear, with piercings strategically placed around the rim. In the future, she dreams of a drop-down tab, where customers can also purchase additional hardware to build on the basics.
"Foo and Foo is also Foo and you," says Hilfiger. "You are the variable that manipulates the different hardware. It's about finding fun in every day; to make life less boring."
It's this goofy approach to rebellion, much like the storied rabbit, that defines Hilfiger's personality and style, or "foocore," as she calls it. It's a concept, maybe, but one that's not meant to make much sense or be taken too seriously.
The exhaustive description of the "foocore" hoodie sums this idea up well: "If you aren't hardcore but you always secretly thought maybe you might be, or if you eat your peanut butter and jelly sandwiches as separate pieces of bread with the peanut butter or really side face up, like a tostada, then you are foocore, and this hoodie is for you."
For now, Hilfiger is taking things one day at a time, and has no plans to show at fashion week. Rather, you can expect gallery shows, parties, and new drops, well, when Foo and Foo feels like it.
"Honestly the idea of the fashion schedule makes me kind of sad," said Hilfiger with a shrug. She then slipped into a parodied Russian accent that her colleague apparently begged her not to do in an interview, throwing her hands in the air. "For what?!"
Watch Wonder Woman Star Gal Gadot Was a Very Reluctant Pageant Queen