Damian Hurley, Elizabeth Hurley's 15-Year-Old Son, Is Already an Actor to Watch Out For
He's a natural in front of the camera.
---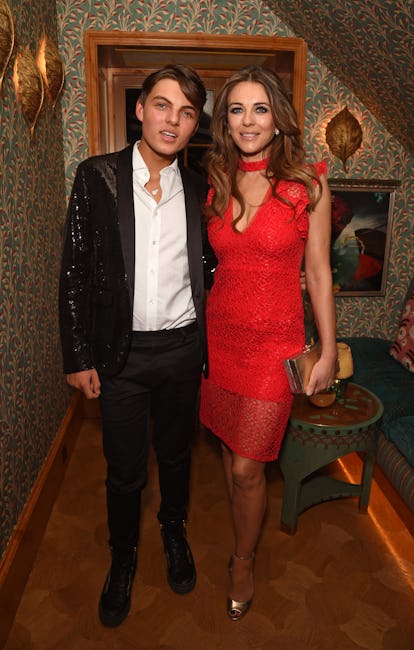 David M. Benett/Dave Benett/WireImage
Damian Hurley may be only 15 years old, but he's had just as many years getting used to the spotlight. As the son of model turned actress Elizabeth Hurley and businessman Steve Bing, the teenager has spent his whole life in front of the cameras and, now, he's turning that experience into a career. Last year, Hurley made his TV acting debut with a guest role on his mom's E! series The Royals and, soon, he will be making another appearance.
"He had a part last year in season 3 [of The Royals] and then then they reprieved him—they brought him back this year, and I actually had scenes with him," Elizabeth Hurley told People. "He plays Prince Hansel Von Liechtenstein," she continued. "He's a real prince, but… he's [on a] reality TV show. He's been such a supporter of the show and indeed of me for his whole life. and to have him actually be in costume, mic-ed up, doing his lines, I was proud."
Outside of the actual acting though, Damian has already adjusted to one of the hardest parts of being a well-known actor. "He understands the advantages—money can get us to the front of the line at Euro Disney—but he also knows its disadvantages—people staring and there's not always so much privacy," Hurley said of Damian's relationship to fame. "So it's a double-edged sword, but he's adapted really well to it and he's supportive with everything."
Damian is especially supportive of his mom on his Instagram, where he frequently posts throwback photos and tributes to her. "Happiest of birthdays to the best person on this planet @elizabethhurley1 I love you mama ❤️," he wrote in the caption of one this past June 10. The budding actor also uses his platform of 17,900 followers to share gems like videos of his dog or photos from his wanderlust-inducing vacations.
It was only until after his first appearance on season 3 of The Royals, though, that Damian opened up his Instagram account for all to see. "I'm persuading my mom to let me go public, at the moment," he said in an interview with Harry last December. But his mom responded with a different idea. "I've always said absolutely not, it has to be private because you're putting up—as you should be—silly pictures of you and your friends at school and they're private," she said. "You don't want anybody just looking at that. But because he's now had his first professional job, he's going to have a public profile different to his personal one… and those are ones that people who will employ him or fall in love with him in the future are allowed to see. His private pictures would most likely not be suitable for the public to see because he's young." Spoken like a real-life royal.
Greta Gerwig defines royalty: