Elizabeth Olsen Slides Under the Radar at the American Ballet Theater Fall Gala
Calvin Klein, Maggie Gyllenhaal, Brooke Shields and more attend the American Ballet Theater fall gala.
---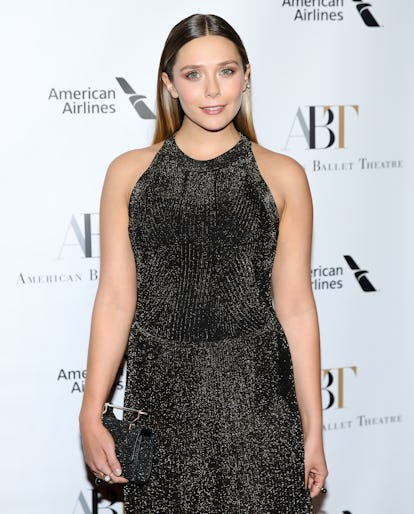 Kelly Taub/BFA.com
The American Ballet Theatre fall gala on Thursday evening at the David H. Koch theater not only featured the Alexei Ratmansky work Rondo Capriccioso (including dancers of all ages from the ABT Jacqueline Kennedy Onassis School), Frederick Ashton's Symphonic Variations and Benjamin Millepied's Daphnis and Chloe–but also a handful of A-listers.
"My mother went to the School of American Ballet and then was a dancer with ABT. So it's a privilege to be here. I'm so glad it has such a huge turn out and that we're keeping ballet alive," said co-chair Julianna Margulies, who is more of an observer than participant. "My mom used to teach in our basement when I was little. But I was the jock: I liked to ride horses and do track."
Nearby, Calvin Klein was practically jubilant about the night ahead. "I love the ballet and this is a very big evening in New York. Everyone is here! And look at the way they're all dressed. What about that?" he marveled. "People-watching, fashion-watching…everything. It's one big night rolled into one."
But the passerby who clustered around the step and repeat hoping for a shot of Brooke Shields or Maggie Gyllenhaal didn't always recognize the star wattage in front of them. "Who is she?" queried one older gentleman over and over again as Elizabeth Olsen gamely posed for the photographers.
She is not just an actress, but apparently a balletophile: Olsen spent the pre-performance educating her date on the difference between the Jacqueline Kenney Onassis School and the School of American Ballet, and then proceeded to "whoop, whoop!" a cheer of recognition when ABT principal dancers Gillian Murphy and Marcelo Gomes took to the stage.
Inside the American Ballet Theater Fall Gala
Julianna Marguiles, Keith Lieberthal

Joe Schildhorn/BFA.com
Calvin Klein, Brooke Shields

Joe Schildhorn/BFA.com