The Kids Stay in the Picture
Emanuele Della Valle's new iPad app for chic moms the world over.
---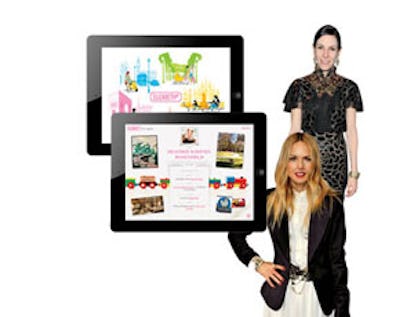 Traveling with young children is no easy task, and often the hardest part is finding ways to entertain them once you get to your destination. To the rescue is Elizabeth St., a new iPad application designed by venture capitalist Emanuele Della Valle, father of 4-year-old Margo and 2-year-old Jack. "We went to Paris, and it took 50 phone calls to figure out what to do with the kids," explains Della Valle, who recruited 10 mothers (including stylist Rachel Zoe and writer Jill Kargman) in each of five cities—New York, London, Los Angeles, Milan, and Paris. The moms created a daily diary page outlining their plans and included useful information on their favorite restaurants, museums, and even bakeries for birthday cakes—all tailored toward kids 8 and younger. For each sale of the app, 15 percent of net proceeds will go to a child-focused charity in each of the five cities. Next up are editions from Tokyo, Shanghai, Hong Kong, Berlin, Madrid, and Rome. And Della Valle has also enlisted his cosmopolitan mommies to write about favorite resort destinations.
Elizabeth St.: courtesy of Elizabeth St. (2); Kargman: Patrick Mcmullan; Zoe: Getty Images