Meet Ella Boucht, the Finnish Designer Making Rihanna's Puffer Coat
A former intern at Marques'Almeida and recent graduate of the Swedish School of Textiles, Ella Boucht's designs aren't afraid to take up space.
---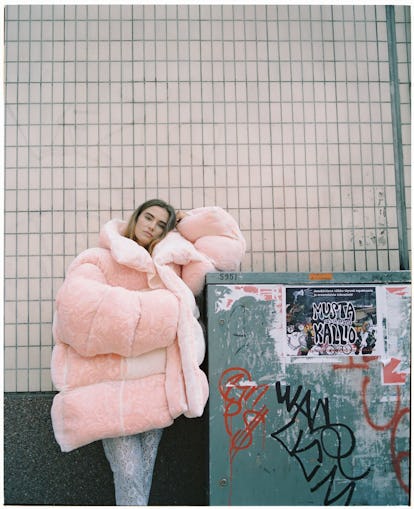 Ellen Syrjälä
Ella Boucht was asleep when the texts, DMs, and emails started pouring in on Sunday night. She had been at a party in her native Helsinki when Rihanna stepped out in Paris, nearly 1,500 miles away, wearing an oversized peach-colored puffer coat of Boucht's design — and launching a thousand memes in the process.
"Already have my own meme," the 23-year-old designer captioned an Instagram the next day. It might have gone unremarked — Rihanna never wears the same thing twice — except that the coat is impossible to ignore. It's not just oversized: It's of a scale that can't possibly be intended for the human form. It envelops the singer, draping from her shoulders and swallowing her arms in its pillowy depths. It's bold in tone, too, comprising white silk viscose, a velvet-like material, patterned with a floral devoré; it gets its soft salmon tone from a filling of neon orange-dyed batting. It's the only one in the world, and it comes from Boucht's graduate collection, entitled "Claiming Space," which experiments with scaling up contemporary sportswear to often-dramatic effect. (Boucht, a former intern at Marques'Almeida, cited Maison Margiela's Spring 2000 show as one of her primary sources of inspiration.)
Rihanna's Spring 2017 collection for Puma x Fenty, which she showed in Paris last Thursday, was all about excess: She pulled inspiration from Marie Antoinette, the French queen whose ostentatious displays of her decadent lifestyle helped precipitate the French Revolution. Her models walked the runway in ruffled, laced-up, and bustled fur-and-silk designs that recalled Puma's sportswear DNA, while in no way actually permitting the wearer to submit to any kind of exercise. It exaggerated, and subverted, athleisure — I called it athluxury, and I'm sticking by it — just as Boucht's collection exaggerates what she called "archetypical garments." Like puffer coats.
Boucht's early entry into fashion came with a stint in community theater as a child, where she became fascinated by the company's costume designer. She began making her own clothes around age 15, entering the Swedish School of Textiles in Borås, Sweden, after high school. Like many of her Finnish contemporaries, Boucht's designs are playful, daring experiments in texture, proportion, and silhouette. "Fashion is more about humor," she explained. She completed her BFA in June, and has since shown her collection alongside her graduating class at London and Stockholm's respective fashion weeks.
It was the Stockholm Fashion Week show that brought the young designer to the attention of Jahleel Weaver, one of the creative directors at Rihanna's Fenty Corp and former styling assistant of the singer's longtime stylist Mel Ottenberg.
"It looked like cotton candy," Weaver recalled thinking when he stumbled upon Boucht's collection online. In addition to his duties at Fenty Corp, which develops Rihanna's various fashion collaborations including Puma x Fenty, Dior, and Manolo Blahnik, Weaver still styles her from time to time — he was also responsible for her look at the Dior Spring 2017 show and for sourcing the midnight-blue velvet Isa Arfen jacket she wore with an Altuzarra skirt in Paris early last week.
Yet for all the established designers with whom Rihanna often allies herself, she and her team have also become staunch champions of up-and-coming designers; she frequently wears Matthew Adams Dolan denim, and a sparkly jumpsuit she wore for Calvin Harris's "This Is What You Came For" video catapulted its designer, recent Pratt graduate Isabel Hall, to instant notoriety.
"There's nothing fresher and more current than what's going on with today's youth," Weaver said. "There's a rush for the hunt of finding something and then actually getting it, and I just love what the students have to offer."
Rihanna paired Boucht's puffer coat with a Dior bag, pink lace shorts of her own design, and a t-shirt reading "You Fuck'n Asshole" pulled from Vetements' Fall 2016 collection. There's something of Demna Gvasalia in Boucht's own aesthetic; both pull at the edges of conventional silhouettes in order to offer a meta-commentary on their original models. For Gvasalia's Vetements, it's a kind of capitalist critique, while there's something of a feminist streak in Boucht's design philosophy. As we spoke, she noted the slow increase in the number of women entering design and the diversity of models cast in shows. I posited that her idea of "claiming space" could equally apply to these political observations — women and models of varying ethnicities and body types claiming space in the industry — as it does to the actual physics of her collection.
"Exactly," she agreed. Her feminist ethos also aligns her well with Rihanna — "She's this super businesswoman," Boucht said. As for Boucht's own prospects, she doesn't plan to strike out on her own just yet: When we spoke, she was about to return to Sweden for job interviews.
"I'm still interested in developing my own vision before I start making my own brand," the young Finnish designer explained.
But, like she wrote on Instagram, she's 23, fresh out of design school, and she's already got her own meme.
Watch W's most popular videos here: