Elle Fanning and Kirsten Dunst Sure Seemed to Have Fun on the Set of Sofia Coppola's Latest Film
In the film, Fanning and Dunst compete for the affection of a soldier, but they got along pretty well on set.
---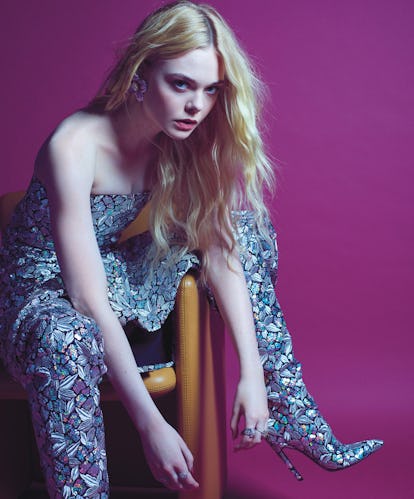 Photographs by Mario Sorrenti, Styled by Edward Enninful
Sofia Coppola recruited previous muses Elle Fanning and Kirsten Dunst for her latest film The Beguiled, and one wonders if a director who united two actresses she previously worked with has worries similar to anyone introducing two of their different friends for the first time. Will they get along? Will they like each other? Will they fight and you'll end up having to spend the entire time mediating between the two?
Luckily for Coppola her Somewhere star Fanning and her The Virgin Suicides and Marie Antoinette star Dunst seemed to get along just fine. In fact, the two spent a lot of their downtime on the set of the upcoming The Beguiled bonding and Instagramming the whole thing.
The film started shooting down in Louisiana back in October, and filming on the Civil War-era drama started wrapped up today. Dunst, Fanning and other members of the cast shared some of their final moments together on social media.
Co-star Angourie Rice, an Australian actress who recently co-starred alongside Ryan Gosling in The Nice Guys and will also be seen in the upcoming Spiderman: Homecoming, also shared a few snaps from the last day of the film of both herself and Fanning.
12-year-old Addison Riecke, a Nickelodeon star making her first big feature film, also had some group shots to share.
It's not the first time the cast has shared behind-the-scenes pics. Dunst and Fanning also posed in what very well could be the same chair Beyoncé and Serena Williams shared in Lemonade (it was likewise shot in Louisiana).
Dunst featured her director's chair.
Fanning gave us a look at the slate.
Of course, maybe you're wondering what this movie, and in particularly those long dresses are about. It's all a bit of a departure for Coppola. Even when she does a period piece like Marie Antoinette there's an emphasis on chic style.
This film, however, is a remake of an almost forgotten 1971 Civil War drama of the same name that starred Clint Eastwood. In the original, Eastwood played an injured union soldier who seeks out refuge in an all-girls boarding school in the enemy territory of rural Mississippi. The headmistress reluctantly agrees to take him in, but soon the headmistress, a teacher, and one of the older students all start to develop feelings for the soldier, though the original steers clear of too much romantic melodrama and takes a left turn into Southern Gothic. Without giving too much away, an amputation is a pivotal plot point. The film never received much attention in America, but the French love it. It's actually one of Eastwood's most beloved films in the country.
Now Coppola has come along to remake it. Fanning plays the elder student and Dunst is the teacher. Though absent from the Instagram fun, Nicole Kidman – who starred in the Anthony Minghella adaptation of the Southern classic Cold Mountain, which was less classic – was onboard to play the headmistress role originated by Geraldine Page. Colin Farrell plays the soldier.
We can expect Coppola to put her own unique spin on it, though we won't find out until it makes its debut in American cinemas in June 2017. That's almost four years to the month since we all got to see Coppola's last film, The Bling Ring.
Maybe like The Bling Ring, this one will end up having its official debut at Cannes as well. That wouldn't be too much of a surprise. Dunst, in particular, is practically the festival's favorite actress at this point and was recently a juror.