True to Form
With a new show at The Metropolitan Museum of Art, 89-year-old artist Ellsworth Kelly shows no signs of slowing down. A.M. Homes visits America's most prolific master.
---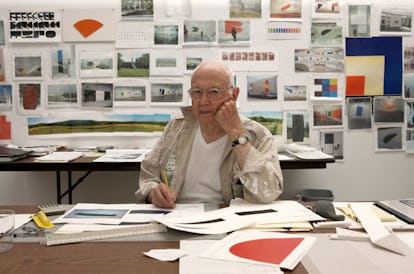 Ever since he left New York City in 1970 for fear that his social life was impinging on his creativity, the artist Ellsworth Kelly has lived and worked in Spencertown, New York, in an austere complex of buildings. His studio, designed by the architect Richard Gluckman, and home are refined, understated, and pared down to the essentials—much like Kelly himself. "I have a good sense of scale," he told me on the bright day I visited, playfully showing off his new oat-colored Margiela sweater as he ­ushered me through his studio, an expansive series of large white-walled rooms, some with skylights, some with views of the rolling landscape outside. "I know how not to go too far or how not to go too small. I'm doing a sculpture now, a rather big one—and it's ­really waiting and waiting. I sometimes don't try to invent something. I wait for some kind of a direction—and it happens. I get an angle, for instance, and it just appears, and I say, 'Oh my God—that's it!' "
At 89, and feeling the pressure of time, Kelly seems preoccupied with producing his most refined work yet. In the past year alone he has juggled multiple commissions—among them the facade of Matthew Marks's recently opened gallery in Los Angeles, an exhibition of new paintings, and several traveling shows—while continuing to paint regularly in his studio. The day I dropped by, he was out of fresh canvases because his assistants had been in Europe helping to move a show of Kelly's black and white paintings from the Haus der Kunst in Munich to the Museum Wiesbaden. Kelly led me to a room deep within the studio, a kind of mission control. On long tables were models of museum galleries thousands of miles away, and covering the walls was his correspondence with museums, curators, and collectors from around the globe. A poet of the monochrome, Kelly has, over the past seven decades, produced paintings, drawings, and sculptures notable for their purity, containment, and graceful perfection. A show of the deftly rendered plant drawings long central to his work is now on display at New York's Metropolitan Museum of Art, where it will remain until September. (This past April, the Barnes Foundation installed Kelly's recent 40-foot-tall sculpture The Barnes Totem in the garden of its brand-new building in Philadelphia.)
As much as Kelly's forms are abstracted, there is always something familiar in them: a continuous, ever evolving exploration of color, line, and form. So much so, in fact, that they can sometimes appear simpler than they are. "The building out here looks like it's a black bar on top of white—as in, What's the big deal?" Kelly's dealer Matthew Marks remarked to me of the facade Kelly created for his Los Angeles gallery. "He's the great formalist of our time," said Michael Govan, director of the Los Angeles County Museum of Art. "No other artist has pursued color and form as relentlessly and purely as Ellsworth." As a young art historian at Williams College in the eighties, Govan was charged with installing a gallery of Assyrian reliefs and called Kelly one day to ask if he would contribute one of his sculptures. Kelly, who lived nearby, agreed. "I was looking at these thousands-of-years-old sculptures, and there was Ellsworth Kelly's simple form—and they stood up to each other perfectly," Govan recalled. "I didn't know what I was more impressed by—that Ellsworth Kelly could live up to the standards of ancient art or that the ancient art still seemed current."
At the studio, Kelly moved energetically from room to room. His one concession to age is the need for supplemental oxygen—a result of a life lived amid turpentine fumes. Clear plastic tubing trailed behind him for 40 feet, and like a relay racer handing off a baton, Kelly effortlessly traded his gear for another set as he moved into the next room, the subtle white noise of the oxygen concentrators in the background adding a meditative hush to the proceedings. "My eyes are always searching outside for clues," he said, scanning the room and stopping at a window that looked onto a green hill in the distance. "I keep investigating how the sun hits a building and the shadow that appears with it or the look of a field of bright green, the curve of green. I'm constantly investigating nature—nature, meaning everything." Kelly still paints everything himself, an anomaly in a world where sometimes even the assistants have assistants. His brushes, which were sitting on a nearby table, are singular in that each has been used only for a single color—the bristles permanently stained yellow, red, blue.
For the past 28 years, Kelly has shared his life with the photographer Jack Shear, the director of the Ellsworth Kelly Foundation. Theirs is a civilized country life: Kelly works a full day in the studio and returns to the house by seven. Dinner is served at eight, after which Kelly reads and watches a little television—especially Downton Abbey—or plays on the computer. (His favorite game is Spider Solitaire.) The intimate portrait of Kelly taken by Shear (on the previous page) is an insider's nod to Shear's 1985 book Four Marines and Other Portraits, which included images of shirtless men, among them a younger Kelly. Of the recent photos, Shear said, "I thought, What can I do that no one else can, and that's photograph him naked. I didn't really photograph him naked, he just had his shirt off. But I sensed his vulnerability." Kelly, he added, "has done self-portraits his whole life. He's investigated what he looks like and how he sees himself."
The son of an insurance salesman, Kelly grew up in northern New Jersey, where his love of nature took hold. "When I was a kid I was often sick, and my grandmother and my mother got me going on birds, so I started doing these abstractions," he said. "I was always outside in the woods. And I remember this bird, this redstart, a little blackbird with three or four red specks on its head, and it was the first bird that ­zeroed in on me. It was ahead of me, like it was leading me on, and I kept following it. I got fascinated by all the birds. I had a good eye in those days."
Drafted into the Army in 1943 at age 19, Kelly asked specifically to be placed in a camouflage unit. "It was a secret ghost army," he added as he leaned forward, whispering conspiratorially. "We painted rubber tanks, and we'd inflate them in fields in Normandy, and we counted on the spy planes to see them." (Later, wondering how covert this army was, I Googled it and learned that the 23rd Headquarters Special Troops—whose mission was to impersonate other U.S. Army units and deceive the enemy—were, in fact, a classified government secret until 1996.) After the war, Kelly returned to the U.S. to attend Boston's School of the Museum of Fine Arts under the GI bill, but he soon went back to France—just as the focus of the international art world was shifting to New York.
In Paris, Kelly fell under the influence of the School of Paris artists: Pablo Picasso, Henri Matisse, Piet Mondrian, Jean Arp, and Constantin Brancusi. "I went to museums a lot, which led to my vision of France and Paris itself," Kelly recalled. "I said, I don't want to paint things like Picasso's women and Matisse's odalisques lying on couches with pillows. I don't want to paint people. I want to paint something I have never seen before. I don't want to make what I'm looking at. I want the fragments." While in France, Kelly made a point of meeting as many artists as he could. The experience of visiting them in their studios—Brancusi, Alberto Magnelli, Francis Picabia, Alberto Giacometti, Georges Vantongerloo, among them—was transformative. From that moment on, Kelly proceeded to break life down into fragments—form and color became content. The result was the development of a hybrid European-​American sensibility, combining a kind of high-modernist European style with an American sense of scale and form, which left Kelly belonging to no particular group or movement.
Though he became a key link between prewar-European and postwar-American art, Kelly returned to New York in 1954 only to be told by American painters and critics that his work was too French. And while his sensibility and painter's vocabulary were already in place, his art wasn't easily understood—Abstract Expression ruled the day. Kelly evaded classification and broad acceptance, so he remained singular, steadfastly refusing to be labeled a Minimalist while working parallel to his peers Merce Cunningham, John Cage, Robert Rauschenberg, and Jasper Johns. "In the fifties and sixties, when I was up against Abstract Expressionism, I said, 'I have to continue doing what I want to do,' " he told me. "I'm not an Expressionist. I love to look at de Kooning, but I've got this kind of secret life, and that is something that pleases me. I have to try and make something out of it."
Nowadays, of course, Kelly's work is regarded as profoundly American­—Yankee in its guileless insistence. Yet the language it speaks is international­—as if Kelly long ago anticipated a time in which communication would cease to be written and instead become entirely ­visual. It amuses him that the recent resurgence of interest in ­abstraction—whether in Damien Hirst's dots or in the 2011 de ­Kooning ­exhibition at the Museum of Modern Art—has brought with it a renewed enthusiasm for his work. "I think people have recently warmed up to it," he said, half-joking.
Not that he's anywhere close to done. Kelly continues to experiment and is "still excited about things I haven't done," as he said cheerfully when I called him one day this past April to see what he had been up to. (He recently designed his first ever tattoo, for New York's Whitney Museum drawings curator Carter Foster.) "Who needs heaven? I only feel my best when I'm working." He had stretchers coming in a few weeks, he said, and was in the middle of about a half-dozen paintings in the studio. And did I know that a show of his new work was about to open at Marian ­Goodman's gallery in Paris? "They're color paintings," he explained, "a continuation of what I've been doing, but these are more voluptuous than my radial curves, which are very architectural. These new curves are free curves—more like our body curves, not fragments of a circle. I'm not fond of circles; they're too complete. I love the curves of the body."
Years ago, it annoyed Kelly that in order to meet collectors and curators he had to drive the three hours to New York City. But now, there's constant traffic up to Spencertown, as they flock to him from around the world. Still, Kelly laments the fact that younger artists no longer seek out the masters of the previous generation the way he and others so ardently did. I suspect they are intimidated and have no idea that Kelly actually longs for that interaction with the art world's less well-placed habitués.
"I always say I'm painting for the dead artists I like," Kelly told me during my visit. "The ones I think would understand what I'm ­doing. You put your paintings up against Matisse and Picasso and wonder, Am I producing art that is nourished by the past? I wouldn't be doing this if I hadn't looked at a lot of art. This is the mystery of it all: You have to look at art for a long time before you begin to understand."
Photos: Artist Ellsworth Kelly photographed by Jack Shear
Ellsworth Kelly and Jack Shear's farmhouse in upstate New York

Photographs: Jack Shear
Kelly's garage at his studio, designed by Richard Gluckman

Photographs: Jack Shear
A view of Kelly's studio and his 2010 work, White Curve

Photographs: Jack Shear
Kelly's studio gallery installation of the "Curve in Relief" series, 2009

Photographs: Jack Shear
Kelly drawing in his garden

Photographs: Jack Shear
View of Kelly's collection with Bow Tie Bannerstone (3000–5000 BC), Yolk, 1999, by Kiki Smith, and Les Champs, 1956, by Georges Braque

Photographs: Jack Shear