The Artist Ellsworth Kelly's New $23-Million Chapel Is Bringing Some Atheism to Texas
The conservative state is become something of a destination for artist-designed, determinedly irreligious spaces.
---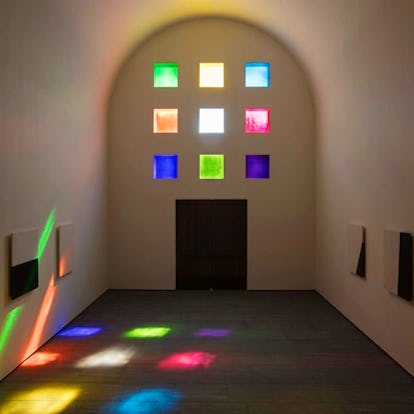 Courtesy of @sothebysinstitute
It's been more than two years since Ellsworth Kelly, one of the biggest abstract artists of the 20th century, died at age 92. Still, that hasn't stopped Kelly from continuing his legacy into the 21st—the late artist is in fact responsible for the new igloo-like space that officially popped up near the Blanton Museum of Art on the campus of the University of Texas at Austin this month, a design he first started on in the '80s and, decades later, approved construction of just two months before his death.
"Austin," as the $23-million structure is titled, is not your typical chapel: Outside of being incredibly ambitious, construction was delayed because Kelly was determined to keep it secular, turning down offers from those actually willing to pay for its creation if they came from, say, a Catholic university. In a way, though, it's almost better that its construction was so delayed: In today's context, the space is a rare one that makes it clear that all are welcome, as well as a culmination of Kelly's famed work with bold colors. (And, on a much lighter note, a reclamation of the circular rainbow that younger viewers likely simply associate with the dreaded spinning ball that pops up on when your Mac gets frozen.)
The location of Kelly's chapel is significant, too. At the same time that it's become increasingly conservative, Texas has now become something of a destination for nondenominational, artist-designed chapels. The state has been home to Mark Rothko's chapel since the '80s, which is also famously nondenominational—though many have said that the experience of meditating in its Philip Johnson-designed walls, many of which are covered with Rothko's six-feet tall, color-blocked canvases, is so sublime that it borders on its own kind of religious.
Unsurprisingly, since Rothko killed himself a year before the chapel opened, and Kelly has never shied from shining a spotlight on bright colors, "Austin" certainly adds some more levity to Texas' burgeoning nondenominational scene—take a look for yourself via the Instagrammers who've flocked to it so far, here.
Related: The Sublime Is Hard to See On Your Phone: Agnes Martin and Seven Other Artists Whose Work Must Be Experienced IRL