Elon Musk Is Being Trolled By The Onion After Hiring Ex-Staffers for His Media Company, Thud
He hired ex-staffers for his own satirical website.
---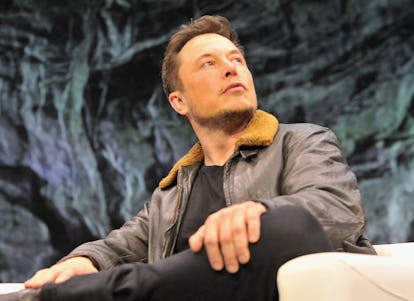 Chris Saucedo/Getty Images for SXSW
Elon Musk once tried to buy The Onion, and then he got owned by them. The satirical publication is in full-on Musk trolling mode after the Silicon Valley figurehead announced that he was starting what could be competing site.
Yesterday, Musk shared that he was starting a new media company called "Thud!", on Twitter. "That's the name of my new intergalactic media empire, exclamation point optional," he tweeted, before telling The Daily Beast, "It's pretty obvious that comedy is the next frontier after electric vehicles, space exploration, and brain-computer interfaces. Don't know how anyone's not seeing this."
While Musk likely delivered that statement with a winking sense of humor, it was pure bait for The Onion, which he considered buying back in 2014 but ultimately decided against pursuing because he reportedly had no interest in the publication's real news, sister site The A.V. Club, as The Daily Beast noted. Within 24 hours, The Onion had riffed on Musk's provocative comments with headlines like "Elon Musk Embarrassed After Realizing He Proposing Idea For Thing That Already Exists" and "I Did Everything I Could To Buy ClickHole, But Their Editorial Integrity Won Out Over My Billion-Dollar Offers, And I Respect Them Even More For That (By Elon Musk)," the latter of which appeared on The Onion's other's content farm-parodying site, Clickhole.
Musk's move into satirical media is all the more personal for the publication because the Tesla CEO has poached two of their own, editor-in-chief Cole Bolton and executive editor Ben Berkle, as The Daily Beast reported. That explains why The Onion also ran an article today with the headline "'The Onion' Hires Several Pastry Chefs Away From Entenmann's To Form New Bakery." "The Onion said in a press release this morning in which the news outlet revealed they attempted to buy Entenmann's three years ago, but ultimately declined out of disinterest in several of the company's muffin offerings," says the article. "'It's fairly obvious that bakery is the next frontier after domination of online news and tailored social media content. Frankly, we don't know how anyone's not seeing this.' Outside sources are speculating that the Onion has announced their bakery's new name following a cryptic, context-free tweet this afternoon that simply read, 'Crust!'"
Your move, Musk.
Related: Elon Musk's Instagram Is More Humble Than You Might Assume of a Billionaire CEO