The Elton John Biopic, Rocketman, Gets Its First Teaser Trailer
Plus a tentative release date.
---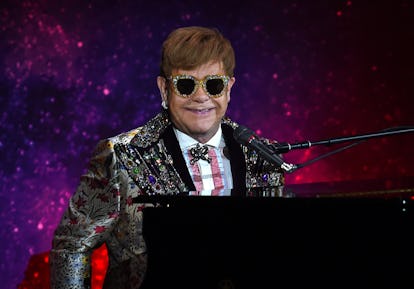 TIMOTHY A. CLARY/Getty Images
The first teaser trailer for Rocketman, the Elton John biopic approved by Elton John himself, has finally arrived. At just under a minute long, it packs in a surprising amount of Elton John–ness, from a voice-over promising a "wild ride" consisting of "moments in a rock star's life," to satisfactorily over-the-top costumes, to Taron Egerton doing a performance of "Rocket Man."
The trailer kicks off with a glimpse of Egerton as John from the back, as he greets a packed Dodger Stadium in his famous sequined baseball uniform. As Rolling Stone reported, it continues with a voice-over from John Reid (Richard Madden) saying, "There are moments in a rock star's life that define who he is. Where there was darkness there is now you, and it's going to be a wild ride." The moments in question appear to consist of John as a child running against traffic through a parade, John performing at the recording studio, John strutting out onto a balcony, John getting winked at, John partying with women on a well-manicured lawn, John psyching himself out in a graffitied bathroom stall, and John falling into a swimming pool while still wearing his bathrobe.
The footage then cuts to Egerton performing "Rocket Man" at the Troubadour. While the rest of the trailer appears to be pretty standard biopic fare, this is the first time we get a sense that Rocketman might be more surreal than your average rock star retrospective: As John performs, the audience begins to float, and soon the singer himself is suspended in midair. The tagline, "based on a true fantasy," seems to confirm this.
It looks like John is perfectly happy with a more whimsical retelling of his rise to stardom. Not only is he coproducing it, but he tweeted out a link to the teaser as well, describing it as an "epic musical fantasy."
Rocketman will be in theaters next summer.