Emerald Fennell Is Upending the Way We See Women on Film
Playing Camilla on The Crown was more of a passion project for the director of Promising Young Woman and showrunner of Killing Eve.
---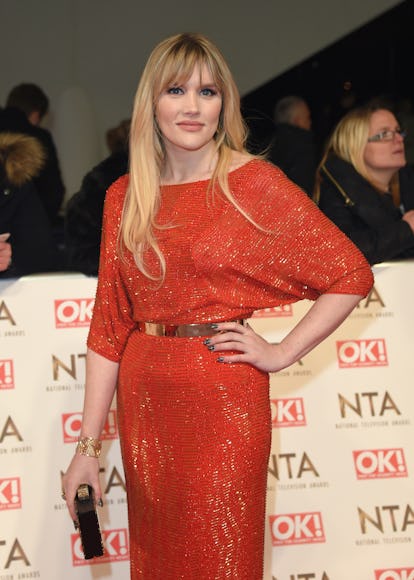 Photo via Getty Images
The past two years could have been so much easier—and yet no less successful—for Emerald Fennell, if she'd only given them the chance. In July of 2018, with three books already under her belt, the then 32-year-old took over from Phoebe Waller-Bridge as showrunner of Killing Eve. By the time it made her an Emmy nominee, Fennell had moved on to another TV series; this time, it was in front of the camera, as Camilla Parker Bowles in The Crown season four. Between those two projects, the pandemic, and her first baby, Fennell easily could have delayed her directorial debut. And yet, last week's release of Promising Young Woman comes just a year and six months after Fennell first filled Waller-Bridge's shoes.
I was halfway through the career recap detailed above on Zoom with Fennell when she started to laugh. The showrunner-director-actor-author acknowledged she is tired; "so very tired." And she is aware she did all this—which amounted to much more than a time crunch—to herself. "There was a movie I could have made that I think would have made my life easier," Fennell said. "And maybe would have sold a bit more popcorn."
Margot Robbie still would have produced that movie. But she, not Carey Mulligan, would also have been its star. Mulligan still would have played mind games with her victims, but she also would have been a stylish murderer, à la Villanelle. Viewers still would have felt uncomfortable, but not to the point Mulligan witnessed at Sundance: "You could feel their stomach muscles all tightened up." And maybe it wouldn't matter at that point, but after nearly two hours of twisting and turning, the ending would not have felt like one final, harrowing punch in the gut.
Promising Young Woman starts out feeling safe enough. Mulligan stars as Cassie, a 30-year-old med school dropout who lives with her parents and works at a coffee shop. She doesn't have friends, but her nightlife is vibrant nonetheless. As frequently and secretly as she can, Cassie dolls herself up, heads to a bar, and pretends to get wasted. It's not a question of if, but when, a man benevolently offers to escort her home. And it's not a question of if, but when, the man turns out to have something else in mind.
"There's a version of this movie where Cassie just goes and murders people, each time in a more thrilling fashion," Fennell said. "It's interesting that the thing she does instead is a lot more disturbing to people." It goes like this: Cassie innocently asks the man what he's doing, then waits for a response. She repeats herself, but this time in her normal—meaning clearly sober—voice. That time, the response is immediate. The man stops, and it visibly dawns upon him that he might not be the "good guy" he thought.
Cassie took up this singular extracurricular for the same reason she dropped out of med school: the trauma of what happened to her best friend Nina, starting with assault. Of course, it's bigger than that single incident; Cassie's specific trauma symbolizes the lived experience that's long been at the center of Fennell's work. "I'm so interested in female rage and how it manifests itself—what we do, how we deal with it, how it comes out," Fennell said. "How so often it stays in and just kind of hardens into this horrible thing."
What Cassie does, Fennell continued, is "completely mad, misguided, and dangerous." And yet I had a feeling Fennell related to her, just as I did. "Oh, completely," she said emphatically. "I think what a lot of people will understand is the exhaustion. The sheer exhaustion, which occasionally comes out in very surprising, disturbing ways. There's no place for our anger to go, still, except inside. And when we show it, people really hate it. And double that, you know, if you're a trans woman. Double that if you're not white."
Fennell wanted it to be clear that circumstances forced Cassie to be this way. Robbie was the obvious choice, but Mulligan would make her more believable. The casting decision is just part of why Promising Young Woman feels like a turning point for revenge tales starring women—much more so than Harley Quinn. Fennell not only ultimately upended the genre's narrative, but made it more dimensional, with a character who's larger-than-life.
"There aren't very many women that you see who feel genuinely scary," Fennell continued. What makes Cassie one of them is that she's right. "And to me, that's sort of biblical—when you're righteous but you're also furious, and you're happy to dole out punishment. If people don't see things, she teaches them lessons, just like in those allegories and morality tales they used to tell us when we were growing up."
The parallels between Promising Young Woman and Killing Eve are obvious. But how could someone so daring—and with such a dark sense of humor—not push for "Tampongate" to be included during her stint on The Crown? (A brief refresher: In 1993, the audio of a particularly raunchy late-night 1989 phone call between Charles and Camilla leaked. In fantasizing about being "all over [Camilla] and up and down you and in and out … particularly in and out," the prince expressed his desire to transform into her Tampax.) Fennell, like viewers, regrets what could have been, and made it clear she had nothing to do with it. "I mean, really?," she asked incredulously. "Oh, come, come. Don't be so squeamish."
At the same time, Fennell understands why series creator Peter Morgan would deprive viewers of such a storyline. "Look, the thing that is wonderful about Peter, and I think why we're all quite sort of defensive of The Crown, is that he's so careful to be balanced," Fennell said. "He would never put something in that actually felt private or salacious. That's not really the point of the show."
Had Fennell been in charge, it's something she easily could have changed. Perhaps that's why, more broadly, writing and directing are her no. 1 and 2 priorities, respectively. "I love acting, but just in terms of timing, being on somebody else's schedule now is so difficult with both my family and my own stuff I'm passionate about," Fennell said. As for why the on-screen role of Camilla was worth squeezing in, despite such a full roster of career-defining projects, Fennell wishes you wouldn't ask. "It's so embarrassing, because the true answer is I have no idea," Fennell said. She then burst into laughter. "I just really like The Crown."
Related: Why Can't All Royals Be More Like Camilla Parker Bowles?