Beyond Tomorrow: Adel Abdessemed
Beyond Tomorrow: Coming soon to a biennial near you, five up-and-coming artists attracting international attention.
---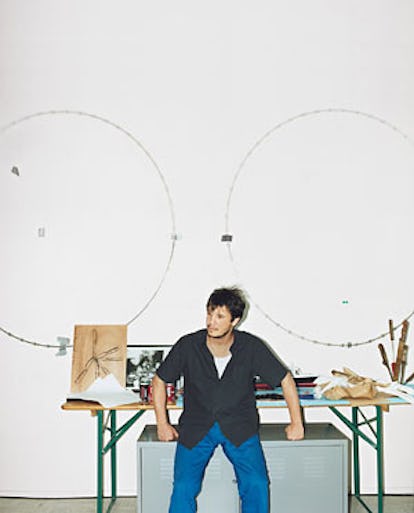 If you'd been strolling around central Paris one morning last winter and had taken a wrong turn at Colette, heading north toward the residential blocks around the Boulevard Périphérique, you would have come across an unsettling spectacle: seven wild boars running loose on the city sidewalks. Also there, with a camera, was Adel Abdessemed, the 33-year-old artist who'd staged the episode to capture a single, apocalyptic photograph of the animals, their eyes glowing with feral agitation as they prowled the empty street.
In recent years Abdessemed has created life-size terracotta sculptures of burned-out cars, a self-portrait as a gigantic flying skeleton and a video, shot in lurid close-up, of a cat devouring a rat. To any art critics or museumgoers who've noted the obvious undercurrents of anger and violence in his work, certain details of his personal history will come as no surprise: Raised in a Berber family in rural Algeria, he left the country at 19 after the director of his art school was assassinated by Islamic fundamentalists. When he first arrived in Lyon, France, he was homeless, sleeping at a gas station. But when Abdessemed discusses his artistic influences in his light-filled studio just above the street where he photographed the wild boars, he's as likely to mention James Joyce's Ulysses or his mother's cooking as repressive Islamic regimes. (The title of the cat-eats-rat video: The Birth of Love, because it coincided with his wife's second pregnancy and, he says, evoked "the cycle of renewal.") Abdessemed's raw, rough-hewn videos, sculptures and photographs are far more complex than their initial blunt impact suggests. Curator Robert Storr, who included two of the artist's works in this year's Venice Biennale, calls Abdessemed a "notional artist" who moves freely from idea to idea, from medium to medium: "There's not an apparent style or program, but then you begin to see patterns."
On October 23, P.S.1 in New York will open a solo show, the artist's first in the U.S. The exhibit marks a crucial return for Abdessemed, who moved to New York in 2000 but left a few months after September 11, put off by the surge of nationalistic, good-versus-evil rhetoric. "It was very strange," he recalls. "Galleries were giving out pins with American flags." For a new piece for the P.S.1 show, Abdessemed has collected dozens of antique Moroccan knives, which he will tie together in the shape of stars, then scatter on the floor "like a carpet," he says. He has been dulling the blades one by one.
Read about other emerging artists: David Altmejd Carol Bove Cao Fei Yang Fudong