Emile Haynie, Musician in Residence
The producer-turned-musician records a new album at the Chateau Marmont with a little help from his friends.
---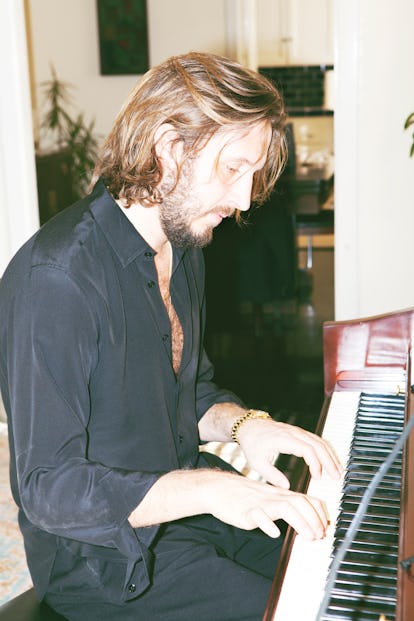 For the musician Emile Haynie, there are certain perks to recording an album at the Chateau Marmont, the infamous West Hollywood hotel. "People are just there," he says. But We Fall, his solo debut, out February 24, isn't stacked with guest stars like Lana del Rey, Devonté Hynes, Lykke Li, and Charlotte Gainsbourg simply because they happened to pass through the lobby. The producer has been working with some of pop's biggest names—including the Rolling Stones and Kanye West, with whom he made "Runaway"—for more than a decade. So when he decided to make a record under his own name, his pals naturally showed up.
But the album is not just a big party. In fact, it was born from heartbreak. "It documents me going a bit mad after I fell in love and it ended," explains Haynie, who holed up at the Chateau for six months while making the record. It wouldn't be the first time he turned to music as an escape. Growing up in Buffalo, New York, he says he was kicked out of three different high schools, including the "alternative" school where troublemakers were sent. Then there was jail, court-ordered rehab, even a mental institution. To paraphrase the famous song, you might say that DJ-ing saved his life. He tried his hand at making his own beats and, at 18, he moved to New York to pitch rappers his productions. Back then, he says, "There wasn't Soundcloud or Myspace and all that shit. It was like, 'I'm a fan. Here are some beats. If you like anything, my number is on the CD.'" Someone did call: the late m.c. Proof, of Detroit's famous D-12 group. "He flew me to Detroit," Haynie recalls. "I was in a studio with Eminem that night." (He won a Grammy years later for his work on Eminem's 2010 album Recovery.)
For a long time, Haynie had been content to remain behind the scenes. Now he feels like he has something to say that is his own—something very personal. "It's kind of lame to be like, 'Hey, I have 12 songs that didn't make it on other people's albums,' and package them under my name," he says. "This came from a time when I was a bit depressed, and I happened to be surrounded by friends—who just happened to be great musicians."