Emilia Wickstead Is Having a Flats Moment, Hates Tracksuits
The London-based fashion designer is having a newfound love affair with Los Angeles.
---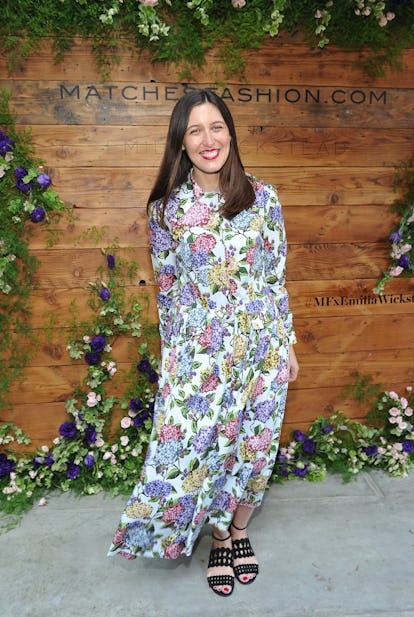 London-based fashion designer Emilia Wickstead only recently discovered the lure of Los Angeles. Last week, she touched down in the sunny city to debut her exclusive collection with Matchesfashion.com, which features enough floral prints to bring any Brit out of a rainy April stupor. The mother of three has so many more obsessions, though, including flat shoes, red lipstick, and, of course, Prince.
Occupation: Fashion designer.
Hometown: I grew up in Auckland, New Zealand.
3 words that describe your style: Modern, fresh, and effortless.
Style icons: Diana Vreeland, Wallis Simpson, Lauren Bacall, and anything mid-century!
Daily uniform: Emilia Wickstead Arabella trousers, a turtleneck or white t-shirt, and a flat shoe.
Where do you go for inspiration: Anywhere vintage, markets, and through picture books.
Night out look: Always a dress.
Preferred footwear: I am having a flats moment. My Rochas black velvet pointy flats are my most favorite to date.
Beauty secrets: Red lipstick and a big, winning smile. Black Rose Sisley face oil mixed into any face cream.
Best recent discovery: Los Angeles.
Style pet peeve: Collars up.
Last purchase: Yet another purchase on thetot.com, which launched its e-commerce this week. I have a one-year-old and a three-year-old and they are my go-to! Amazing packaging too!
Lusting after: A Mark Cross Grace box bag.
What's always in your bag: Red lipstick.
Something you would never wear: Track suit bottoms.
Most prized possession in your closet: My python wool coat that I live in seasonally in London. I can dress it up and dress it down.
Three things on your most recent mood board: A piece of Brazilian art, an image of Rio de Janeiro in the 1970s, Prince.
Watch W's most popular videos here:
Photos: Emilia Wickstead Is Having a Flats Moment, Hates Tracksuits