Meet Emily Alyn Lind, the Gossip Girl Reboot's First Lead
Spotted: E nabbing a major new role.
---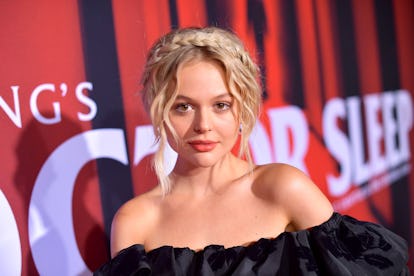 Emily Alyn Lind has been announced as the first lead of HBO Max's hotly anticipated Gossip Girl reboot. It's a concrete sign that, yes, this thing is really happening, but also a reminder that whether or not any member of the original cast shows up is besides the point. The series will focus on a new generation of Upper East Siders, after all.
According to Variety, Lind will play Audrey, who has spent much of high school in a long-term relationship but begins to wonder what else may be out there for her. That's not a lot to go on, but the description is decidedly more Blaire than Serena. Afterall, Blair Waldorf did maintain an obsession with the most famous of Audreys (Hepburn, of course) and began the series in a committee relationship with Chace Crawford's Nate.
Lind, meanwhile, has been a steadily working actress since she was around 6, though she has yet to nab a career-defining role. She made her debut in The Secret Life of Bees in 2008, as the younger version of Dakota Fanning's character, and played Shirley Temple in Clint Eastwood's J. Edgar. You might also recognize her from Netflix's Bella Thorne–led horror film The Babysitters (she's currently filming the sequel). Though, she might be best known to fans of both daytime and nighttime soap operas. She played the younger version of the lead character of Revenge, and had a multiple episode arc on All My Children. More recently she played Snakebite Andi in The Shining sequel Doctor Sleep.
She's also dabbled in music, releasing the single "Castles" last year.
According to her Instagram, Lind seems to enjoy your typical teenage shenanigans and international travel, but also plays guitar and loves anime.
https://www.instagram.com/p/B6XiALDFCec/
Show business is also in Lind's blood. Her father is an assistant director and producer. Her mother, Barbara Alyn Woods, is a veteran actress. She played the mother on the television version of Honey, I Shrunk the Kids, but might be best remembered to fans of classic CW teen shows as the troubled mother Deb Scott on One Tree Hill.
Lind's two sisters are also in the business. Her older sister, Natalie Alyn Lind, had major roles on Gotham and The Gifted. Her younger sister, Alyvia Alyn Lind, has had a recurring role on The Young and the Restless for about a decade, and played the younger version of Dolly Parton in two TV movies (Alyvia will also costar in another upcoming Bella Thorne thriller, Masquerade).
In many ways, Lind's career so far resembles Leighton Meester's before she landed her Gossip Girl role. Meester, too, built up a solid resume of TV guest spots and minor movie roles as a child actress before donning Blaire's iconic headband.
No concrete premiere date has been announced for the reboot, but we're likely to get more casting news soon. Producers have noted that the series will have more inclusive casting than the original.