Emily Blunt and John Krasinski Are Finally Starring in a Film Together
It's written and directed by Krasinski.
---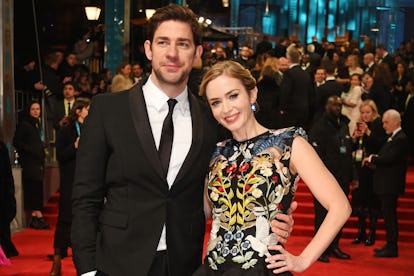 David M. Benett/Dave Benett/Getty Images
For their next projects, Emily Blunt and John Krasinski will combine their greatest loves: each other and their careers in film. Variety reports that he power couple, who married seven years ago, will finally be starring in their first film together.
The film is one that Krasinski has a personal stake in. He wrote and will direct the thriller, which is titled A Quiet Place. This is the third film he has helmed for a major studio, following 2009's Brief Interviews With Hideous Men and 2016's The Hollars. Also, during his days as a TV staple, Krasinski directed a few episodes of his breakout show, The Office. Meanwhile, A Quiet Place isn't Krasinski's screenwriting debut either—he penned Brief Interviews With Hideous Men and Promised Land.
So far, little information is out there about the couple's roles in A Quiet Place, but the fact that they're working together at all is notable. Last year, when asked if she'd ever work with her husband, with whom she has two daughters, Blunt said, "I think we would prefer it to be something where we're not married or boyfriend and girlfriend. Our chemistry is not up for public consumption. We'd like to do a play. That would be cool."
The couple did that—sort of—when Krasinski hosted a live read of Good Will Hunting for Film Independent, in which he cast Blunt in as Skylar, the film's female lead originally played by Minnie Driver.
"So I'm casting this #LiveReadNY of Good Will Hunting, then ran into this #girlonthetrain and thought…yeah it's time to work together! October 7!!Livereadny.com," he wrote. "Howdaya like THEM apples?" What's not to like?
Watch Emily Blunt and Meryl Streep reveal their cinematic crushes: