Fall Film Heats Up with 'The Girl on the Train' and 'Nocturnal Animals' — and Gucci's Cinematic Show
Designer-turned-filmmaker doesn't look like much of a stretch anymore.
---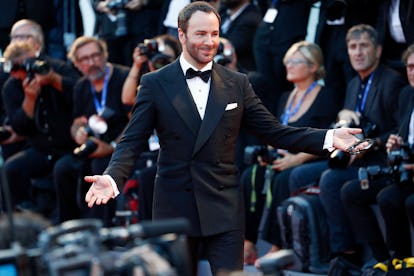 Getty Images
Abloh, Virgil The creative director of Off-White (and member of Kanye West's notoriously secretive Donda think tank) will debut a capsule collection with Matches Fashion in late October. From Donda to Pyrex Vision to Off-White, Abloh is all about rethinking streetwear.
Blunt, Emily The star of the upcoming adaptation of Paula Hawkins's The Girl on the Train discusses women's roles in films, shooting while pregnant, and why "likable" is her least favorite word in the English language.
Chabon, Abe His dad calls him the prince of fashion — his dad being Michael Chabon, and the occasion being a trip to Paris Men's Week.
Cunningham, Bill Why dressing for today's street style photographers is a form of homage to the late photographer, even if he's not around to see it.
Ford, Tom Finally following up his 2009 effort A Single Man with this year's Nocturnal Animals. According to the designer-turned-filmmaker, fashion and movies aren't really that different.
Gucci Alessandro Michele isn't out to make movies like Tom Ford, but there's something cinematic in the way he presents his decadent collections.
Hitler: Ascent, 1889-1939 The book review everyone is talking about. Michiko Kakutani examines the latest tome on the German dictator's life, which examines the personal qualities — his demagoguery, chief among them — that precipitated his rise to power in the early 20th century.
Rihanna Moved her Puma x Fenty Spring 2017 show to Paris, to really underscore that Marie Antoinette-goes-to-the-gym aesthetic. But did Marie Antoinette ever really go to the gym?
Vetements The design collective is opening up its studio to another newcomer: Maison Margiela alum Nina Nitsche, who joins Vetements as collection director, reporting directly to designer Demna Gvasalia.
See W's most popular videos: