Netflix's Emily in Paris Trailer Has Guilty Pleasure Binge Written All Over It
Emily is in Paris. You're in your room binging every episode.
---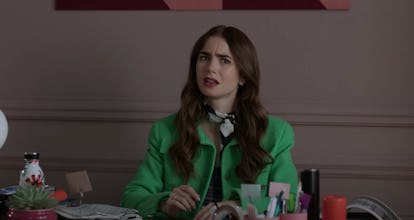 If there was any doubt that the upcoming Netflix show Emily in Paris is precisely about a woman named Emily who happens to be geographically located in the French capitol of Paris, the trailer for the upcoming series starts with a shot of the Eiffel Tower, and a French voice calling out the name "Emily Cooper." There is Paris. There is Emily. What else were we supposed to expect?
The series is the latest from Darren Star, the man most famed for adapting Candice Bushnell's "Sex and the City" columns into an HBO mega-hit. However, Emily seems more tonally reminiscent of Star's more recent series Younger, and, thematically, it's destined to draw comparisons to The Devil Wears Prada.
Emily, played by Lily Collins, is a young Midwestern girl who suddenly scores a job in Paris at a marketing firm that seems to specialize in fashion and beauty. Her job: ensuring that the firm's efforts are more attuned to American consumers. "Sexy or sexist?" she asks of a particularly provocative campaign her French colleagues are working on. Of course, you don't set a show aimed at Americans in Paris just to explore workplace politics. There's also romance afoot, and some deep sexual tension with a handsome chef who lives across the hall (he has a girlfriend, but it's unclear if that's going to stop anything. It's Paris, after all).
In addition to Collins and a cast of French actors, Ashley Park, the Tony-nominated breakout of the Mean Girls musical, stars as Emily's fellow American confidant. Grey's Anatomy star Kate Walsh also has a recurring role.
The show probably won't shake the culture in the way some of Star's earlier work did, and yet it definitely seems like it has guilty pleasure binge written all over it. It debuts on Netflix on October 2nd.
Related: Lily Collins, a Young Audrey Hepburn, Returns to Paris to Take In Givenchy, the Late Icon's Favorite Label