Emily Ratajkowski On the Power Of Optimism in Fashion When "A Lot of People Feel Really Hopeless"
The actress got political at the launch of H&M Studio's new "See Now, Buy Now" collection, which the brand intended as a "message of love."
---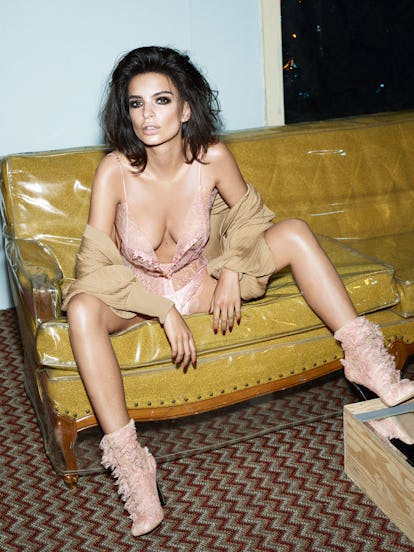 Lately, Emily Ratajkowski has been particularly on the go. Having flown in from Los Angeles, where she took in the spectacle that was the Academy Awards, the actress was just about to set off for Paris for Fashion Week when she decided to make a stop in between: the H&M flagship store in Midtown Manhattan, which launched H&M Studio's new "see now, buy now" collection on Wednesday night.
"I was a ballerina at one point in my life," Ratajkowski said with a smile, gesturing approvingly to the nylon hoodies, lightweight bombers, and roomy knits from the athletic-inspired collection on the racks around her.
Despite her sporty inclinations, though, it was the themes of hope, optimism, and femininity from the collection, which H&M intended as a "message of love," that most spoke to Ratajkowski. Wearing a "big pant" from the collection to balance out her sheer, "super feminine" top—though making sure to point out that femininity "Can mean kind of anything, to be honest, because what one person thinks is feminine is another person's definition of masculine"—the actress took a moment to reflect on just how timely that message of optimism really is when looking toward the future in today's turbulent political climate.
"I think a lot of people feel really hopeless," Ratajkowski said. (Herself included.) As for whether clothes can be a good way to address those feelings, she's still figuring that out: "I'm not sure, but I think that anything that has a positive message probably has a good impact, ultimately."
It's a possibility that, recently, Ratajkowski, who's made her politics known through campaigning for both Bernie Sanders and causes like women's rights, has gotten to know firsthand. About a month ago, she paraded around LAX with a sign reading "revolution has no borders" in protest of President Donald Trump's extreme travel ban—a slogan that the ACLU then turned into a t-shirt, with a portion of the proceeds going toward the group.
As for whether she'll get into actually designing? It looks like Ratajkowski is leaving that to the pros like H&M. "I think it's really cool to do stuff like that, and I really encourage it, but it was just because a portion of the profits was going to the ACLU," she said.
Protesting, on the other hand, remains decidedly in her wheelhouse. "Messages are really important, but you know, really supporting causes and getting out there for rallies is even more important, still."
Exclusive: Bella Hadid, Alessandra Ambrosio, and Emily Ratajkowski Take the Bahamas by Storm
I Am an Immigrant: See 81 Fashion Celebrities Stand Together: