Emily Ratajkowski Recounts Stories of Abuses of Power in a New Essay
The 29-year-old model's personal essay, published today, details a number of events that happen far too often in the fashion industry.
---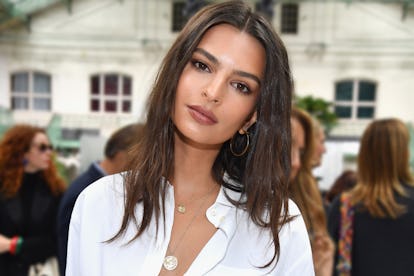 Pascal Le Segretain/Getty Images
"I have learned that my image, my reflection, is not my own," Emily Ratajkowski writes in a new essay in New York magazine.
While we all may assume that any photo taken of us may, in some sense, belong to us, that's not true legally, and especially not for models. For Ratajkowski, the loss of control of her own image dovetails with other issues that have plagued the modeling industry for decades: abuse of power, sexual misconduct, and the personal pain brought on by legal battles pertaining to copyright.
In the essay, Ratajkowski first cites a lawsuit a paparazzo brought against her for using a photograph he took of her on her own Instagram Story, an increasingly common legal headache that has also caught up others like Gigi Hadid and Khloé Kardashian.
Though, Ratajkowski's issues also extend into the art world. She discusses in her piece the Richard Prince "Instagram Paintings" series, in which two images of hers were used by Prince, an artist who has come under fire a number of times for appropriation and pushing the limits of copyright law. She ended up purchasing the canvas with an ex-boyfriend, in efforts to reclaim her own image.
"When the piece arrived, I was annoyed," she writes. "I'd seen online that other subjects of the Instagram paintings were being gifted 'studies,' the smaller drafts of the final works. My boyfriend asked the studio, and some months later, a 24-inch mounted black-and-white 'study' arrived. It was a different shot than the large piece we had purchased, but I still felt victorious."
She touches on the 4Chan leak that occurred when she was 22 years old, saying: "Pictures meant only for a person who loved me and with whom I'd felt safe—photos taken out of trust and intimacy—were now being manically shared and discussed on online forums and rated 'hot' or 'not.'"
Through all of these disconcerting and bitter scenarios, arguably the most upsetting portion of the essay is Ratajkowski's retelling of her photo shoot with the photographer Jonathan Leder in 2012. Leder is known to shoot women nude, or wearing lingerie, exclusively—as a cursory glance at his Instagram proves. Ratajkowski says her agent sent her to Woodstock, New York to spend the night at Leder's house for the shoot, (which might seem like a sketchy situation, but in the mid-Aughts, was a fairly common practice for models and photographers, and still does occur today). The story she tells—in which Leder makes unkind comments about her weight and feeds her wine—is entirely uncomfortable, and culminates in what Ratajkowski describes as a negative sexual encounter.
Leder also ended up using the photographs shot that night (some of which were nude and which the model described as "the most compromising and sexual photos of me ever taken") to publish three editions of a photobook and as the subject matter for an art show held in New York City in 2017.
"I looked him up online occasionally; I almost felt like I was checking in on a part of me, the part of me he now owned," Ratajkowski writes. "For years, while I built a career, he'd kept that Emily in the drawers of his creaky old house, waiting to whore her out. It was intoxicating to see what he'd done with this part of me he'd stolen."
The model's retelling of these abuses of power are distressing, but unfortunately happen far too often in the fashion industry. Young women trying to start their careers are frequently taken advantage of—even if they do have a solid agent backing them. Instagram accounts like Shit Model Management (which posts models' stories of abuse in addition to memes that speak to a model's tough lifestyle) and the model Cameron Russell have publicized hundreds of harrowing recounts of sexual misconduct and rape.
Ratajkowski's article published today will be part of a larger collection of personal essays, the model stated in an Instagram post.
Related: The Man Who Invented Supermodels Also Took Advantage of Them