Eminem's Comeback Has Stretched Over to the Art World, Thanks to Alex Da Corte
The artist bleached his hair once more for his final embodiment of the rapper.
---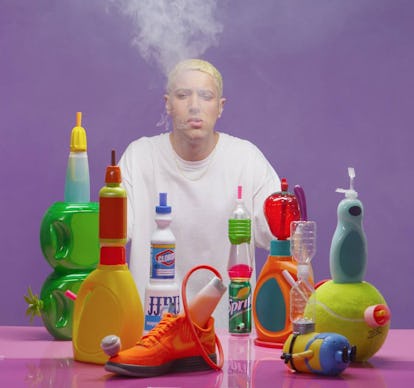 Courtesy of Josh Lilley Gallery
In case you hadn't noticed, Eminem has been making something of a comeback as of late, coming out of semi-retirement to release a scathing Trump diss track and tapping Beyoncé for his latest single. At the same time, however, he's also been experiencing another rebirth—one through the lens of the Philadelphia-based installation artist Alex Da Corte, who's taken a break from collaborating with St. Vincent (and a few flaming cabbages) to finally complete his trilogy of art exhibitions starring himself as Eminem.
Da Corte first went public with his alter ego back in 2013, after a friend had sent him a photo of the rapper at the Louvre, mistaking his gangly figure and closely cropped hair for Da Corte's. The mistake, Da Corte told Artsy, got him thinking about what Slim Shady might really be like underneath his tough veneer, prompting the artist to start not only dressing like the rapper, but bleaching his hair and picking up his mannerisms, in an attempt to understand if it were possible to identify with a penchant for violence and misogyny that he himself felt opposed to.
His first attempt to explore Eminem's more human side began as simply as with a bowl of cereal, which he captured himself, dressed as the rapper, eating in a video that was shown in Detroit, which was eventually accompanied by more Eminem-themed works at another show at Joe Sheftel Gallery in New York. Now, instead of claiming the spotlight in his first full-scale solo exhibition in the U.K, Da Corte has now returned to his alter ego for "Bad Land," at Josh Lilley Gallery in London, which features three new videos of Da-Corte-as-Eminem, one in which he's surrounded by homemade bongs that he smokes from with unsettling laughter, and another in which he covers himself in mustard.
The original mustard is thankfully long gone, but the bongs can be found inside the gallery along with a sculpture of a white, super-sized Adidas sneaker and Da Corte's signature carpeting and neons, one of which, a crown, nods to the famed Philly cheesesteak establishment Pat's King of Steaks that's well known for its discrimination and insistence that its customers speak English. See how Da Corte managed to give both Pat and Eminem a much homier, more human touch with a look inside the show via Instagram, here.
Related: How St. Vincent Ended Up with a Flaming Cabbage for a Microphone in Her New Video for "New York"
See Kendall Jenner, Performance Artist, Channel Icons Like Marina Abramovic and Yoko Ono: