Oscars 2020: The Best Celebrity Reactions to Eminem's Surprise Performance
Martin Scorsese could barely keep his eyes open.
---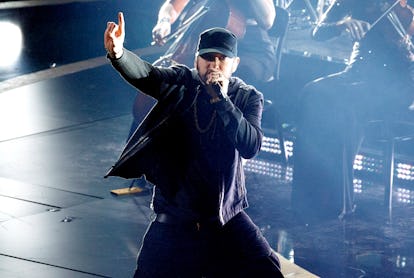 Getty Images
The audience that gathered at the Golden Globes last month were undeniably taken aback by its host, Ricky Gervais, but at least they had some sort of inkling of what to expect. At the 2020 Oscars on Sunday night in Los Angeles, on the other hand, it seems as though no one anticipated that Eminem would take the stage and perform "Lose Yourself." (He had a much darker beard than the peroxide hair we were used to from when he'd released it in 2002.)
Perhaps it was to make up for the fact that the rapper was napping in Michigan when "Lose Yourself" won Best Original Song at the 2003 Academy Awards. (That certainly seems possible, given that Eminem tweeted "Sorry it took me 18 years to get here" during the ceremony.) But especially for attendees like Billie Eilish, who wasn't even alive when Eminem last won, the connection wasn't apparent. She seemed much more into it than Maya Rudolph and Kristen Wiig's earlier medley, though, and her brother Finneas even more so. After they recovered from their initial shock, that is.
Regardless of Eminem's ever-problematic nature—most recently showcased by a lyric referencing the bombing at an Ariana Grande concert—some couldn't help but convey their enthusiasm at his surprise appearance. (One that was all the more surprising on the heels of Lin-Manuel Miranda shouting out historic songs in cinema like the classic "Moon River.") Gal Gadot and Janelle Monáe semi-subtly bobbed their heads, while Kelly Marie Tran and Hamilton's Anthony Ramos weren't afraid to, well, lose themselves.
No one seemed to know what was going on, but some seemed certain that they didn't like it—or at least thought they might not. Idina Menzel seemed to be in a state of shock, as did Brie Larson.
The performance eventually ended with a standing ovation. But before that, there was at least one person whose attention Eminem couldn't hold. Martin Scorsese, apparently in a complete state of apathy, occasionally closed his eyes during the rapper's performance.
Related: The Best Celebrity Reactions to Ricky Gervais's Monologue at the 2020 Golden Globes
Oscars 2020 Best Dressed: Timothée's Tracksuit and an Elegant Political Gesture
Timothée Chalamet attends the 92nd Annual Academy Awards at Hollywood and Highland on February 09, 2020 in Hollywood, California. Photo courtesy of Getty Images.

Getty Images
Natalie Portman attends the 92nd Annual Academy Awards at Hollywood and Highland on February 09, 2020 in Hollywood, California. Photo courtesy of Getty Images.

Getty Images
Mahershala Ali and Amatus Sami-Karim attend the 92nd Annual Academy Awards at Hollywood and Highland on February 09, 2020 in Hollywood, California. Photo courtesy of Getty Images.

Getty Images
Beanie Feldstein attends the 92nd Annual Academy Awards at Hollywood and Highland on February 09, 2020 in Hollywood, California. Photo courtesy of Getty Images.

Getty Images
Brad Pitt attends the 92nd Annual Academy Awards at Hollywood and Highland on February 09, 2020 in Hollywood, California. Photo courtesy of Getty Images.

Getty Images
Rooney Mara attends the 92nd Annual Academy Awards at Hollywood and Highland on February 09, 2020 in Hollywood, California. Photo courtesy of Getty Images.

Getty Images
Zazie Beetz attends the 92nd Annual Academy Awards at Hollywood and Highland on February 09, 2020 in Hollywood, California. Photo courtesy of Getty Images.

Getty Images
Penelope Cruz arrives for the 92nd Oscars at the Dolby Theatre in Hollywood, California on February 9, 2020. Photo courtesy of Getty Images.

Getty Images
Brie Larson arrives for the 92nd Oscars at the Dolby Theatre in Hollywood, California on February 9, 2020. Photo courtesy of Getty Images.

Getty Images
Margaret Qualley attends the 92nd Annual Academy Awards at Hollywood and Highland on February 09, 2020 in Hollywood, California. Photo courtesy of Getty Images.

Getty Images
Antonio Banderas attends the 92nd Annual Academy Awards at Hollywood and Highland on February 09, 2020 in Hollywood, California. Photo courtesy of Getty Images.

Getty Images