Emma Director Autumn de Wilde Shows a New Side of the Jane Austen Classic
The photographer and music video director who went on tour with Jenny Lewis lends her eye to Emma, which hits theaters on February 21.
---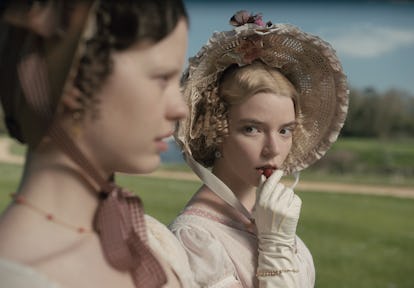 "I'm in love," says Autumn de Wilde. The multihyphenate artist (photographer, author, music video/commercials/short films director) is talking about movies—feature-length films, to be exact. De Wilde—who got her start shooting CD covers for musicians like the White Stripes and Elliott Smith, then went on to direct music videos for the Decemberists and Death Cab for Cutie—has jumped into the narrative movie world with a classic: Jane Austen's Emma. Her adaptation of the film, which hits theaters on February 21, marks her full-length feature-film debut. And unlike her heroine, cheekily played by Anya Taylor-Joy, de Wilde knows exactly what she wants from her newfound romantic interest.
"I was hoping to do a film and had been trying, and this just appeared," says de Wilde, who admits she can't mention any other upcoming feature projects she's working on, but says there are some more coming. "And it felt like the most perfect beginning I could have."
De Wilde grew up in Los Angeles with an American father and an English mother, daydreaming about what her life could have been like had she been born in the land of Shakespeare and Jane Austen.
"I ate, drank, slept anything that was from England," she says.
But as she morphed into an eclectic visual artist, it seems that her tastes changed with her—and Jane Austen might not be the most obvious match to de Wilde's current aesthetic. De Wilde chronicled the Rodarte sisters Kate and Laura Mulleavey from behind her camera, and she's been on the road with the White Stripes and Jenny Lewis while the musicians were on tour. Through these experiences, she's gained an insider's knowledge of the intimacies within the life of an artist. De Wilde's filmic and photographic work has been known to reflect upon, comment on, and deconstruct established notions of femininity and masculinity, so the source material for Emma became the way in for de Wilde's precise type of creative direction.
De Wilde's version of Emma is not so much a reimagining of the past as it is both a satirical and a serious nod to it, with period-appropriate costumes, sets, hair and makeup, servants, and an all-white cast—all of which help to portray positions of prejudice within this particular upper echelon of society in 19th-century England.
"I wanted to point a finger—as Jane Austen did—at the rigid class system that existed in that particular time and place of the Regency period in England," de Wilde says. "My goal was to humanize the story, not to modernize it. All the characters in Emma are very limited in their worldview and bound by their class position. Jane Austen wrote an astute satire about the insular world that her characters inhabit and the snobbery that bound people to their inherited class. This was the type of adaptation, perhaps a time-travel approach, that I set out to make. However, this is such a universal story about human behavior and relationships that it could transfer to many other settings where there is a comparable imbalance of power—American high school being a great example. This is why Clueless is so brilliant. Like Shakespeare, there are no limits to how many interpretations of Jane Austen's stories should be made."
De Wilde adds, "Jane Austin wrote such incredible characters, male and female; she was a very astute observer of the human condition and relationships between men and women and desires."
De Wilde saw this same narrative in Emma, with the character Mr. Knightley (Emma's best frenemy, played by Johnny Flynn) sticking out in particular. In him, she saw When Harry Met Sally; Reality Bites; every cop show where the female and the male police officers argue all the time, but really, they love each other.
Her interpretation of Mr. Knightley in particular required taking the most creative liberties. Audiences receive a more fully rounded picture of the man this time, rather than the tightwad version shown in Jeremy Northam's 1996 adaption of Knightley, which he played opposite Gwyneth Paltrow. This Knightley throws tantrums, is naked in one scene, has a panic attack, and cries, dropping to the floor, leaving even his servants embarrassed by him.
"Mr. Knightley is going to be doing a lot of mansplaining for the movie," explains de Wilde. "Lots of bossing around, lots of 'I'm the moral compass, I know best,' and most of the time, he kind of does, because he's older and more mature and has better human instincts, whereas Emma is not very human at the beginning, which was part of our plan. And so, because of that and knowing that Mr. Knightley has often been seen as the type of character with a rod up his ass, I really felt like I wanted to see the human man—the vulnerable man—underneath all of the armor."
Throughout the film, we see the unveiling of the perfect person not only in Mr. Knightley but in Emma and the women too. There is no makeup to fix their blemishes or thicken their eyebrows; their splotchy skin and scarred faces are shown in close-up, so too their crooked and yellowed teeth. In the penultimate romantic scene, in which Emma and Mr. Knightley finally profess their love for each other, Emma gets a nosebleed and Knightley has tears streaming down his face.
"Emma's story is really important because she's a female antihero. That's kind of rare," de Wilde concludes. "We're drawn to antihero stories in general because it's a part of the dark side of ourselves and the light side of ourselves." It's the perfect insider moment for de Wilde to show—as though she'd invited the audience onto a band's tour bus.