Emma and Roman Holiday: W Editors Pick Their Favorite Films
This week, social media manager Jenny Oliver lists her go-to's, including Autumn de Wilde's adaptation of Jane Austen's Emma, Roman Holiday, and Harry Potter and the Sorcerer's Stone.
---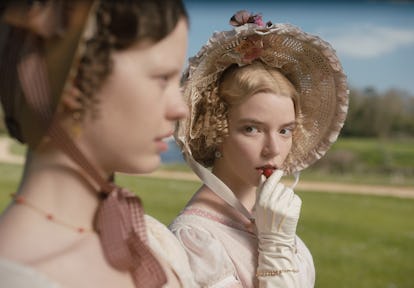 Welcome to the W Movie Club, a new series in which W magazine's editors pick five films they'd recommend you watch while in quarantine. This week, social media manager Jenny Oliver lists her go-to's––a variety of light-hearted, inspirational films with plenty of fashion moments and a touch of magic.
In quarantine, I've found myself busier than ever. I escaped New York to head to my parents' house in the New Jersey suburbs. At home, the amount of activities available is a little overwhelming. Re-learning the piano, putting together a 500-piece puzzle, reading endless books and watching tv shows––there are not enough hours in the day to do everything. I've also taken this time to revisit some of my favorite feel-good movies. There's nothing like the sweetness of Emma, inspiration from Joy, adventure of Roman Holiday, the colorfulness of Confessions of a Shopaholic, and the comfort of Harry Potter.
Emma
They say you shouldn't judge a book by its cover, but when I found a beautiful paperback copy of Emma in Chelsea Market's Posman Books a few years ago, I knew I had to have it. Every now and then, I would pick up the novel and try to get into it, but once I heard the director Autumn de Wilde was putting her spin on it, I finally had a new incentive to dive in. Thankfully, Emma, the movie, became available on Amazon shortly into quarantine. I like to describe the film as the Love Shack Fancy version of Clueless, another beloved adaptation of the Jane Austen novel. I always think of the dreamy brand while watching this movie because of the long, romantic dresses, ever-present floral details, and the endless dessert spreads on gorgeous tables. For those who haven't seen the '90s take on the story, the plot centers a spoiled girl who lives in her own bubble, rarely taking anyone else's feelings into consideration. Thinking that she always knows best, especially when it comes to love, Emma stirs up quite a lot of trouble in Highbury. Spoiler alert: Throughout the movie, you see sparks fly between Emma and Mr. Knightley. It takes years of friendship and one romantic dance for the pair to realize their love, "for if I loved you less, then I might be able to talk about it more," Mr. Knightley tells Emma. Swoon. Between the gorgeous costumes, stunning sets, and a classic Jane Austen love story, there's nothing not to love about Emma. Garden tea party for one, please.
Joy
Who isn't intrigued by a movie that's based on a true story, especially one with a happy ending? Joy tells the story of Joy Mangano, played by Jennifer Lawrence, the creator of many products you either currently use or grew up using (the Miracle Mop, Huggable Hangers, etc). What's so inspiring about this movie is how Joy beat the odds: She had a complicated family life, very few people who were supportive of her ventures, and once she got into business, she struggled. The dysfunction of the entire household would make anyone go crazy, but not Joy. She used their doubts to fuel her ambition to become the success she always knew she could be. The fashion in Joy can't go unmentioned—Joy's button-down blouses are her wardrobe staple. It's a no-nonsense, professional look. Then there's the iconic leather jacket: structured like a blazer, this jacket serves as a transformation piece in the film. You see Joy wearing the piece when she's thrown in jail and forced to file for bankruptcy. Later, this jacket serves as a source of power. After a fresh hair chop and a need for vengeance, Joy makes moves to solve her own problems. Once she's victorious, Joy walks down the street with her head held high, sunglasses on. After watching this movie, you'll be inspired to start that project you've been putting off.
Roman Holiday
Roman Holiday is the perfect movie to watch if you're itching for a European adventure. In her first starring role, Audrey Hepburn plays Princess Ann, a young heir who runs away from the Roman palace where she's staying during her official European tour. Suddenly, she embarks on a journey she never expected. (Cue the iconic scene in which Princess Ann cuts her hair, revealing her new self.) Although the black-and-white film was released in 1953, set in Rome many years before social distancing, the theme of Roman Holiday is nowhere near outdated. Princess Ann's famous quote, "I'd like to do just whatever I like, the whole day long," still holds true. I'm dreaming of the day when I can "do just whatever I like," preferably with a gelato in hand, exploring a new place (sans mask). When in Rome…
Confessions of a Shopaholic
I rediscovered Confessions of a Shopaholic about a year ago, and I was so mad at myself for not revisiting it sooner. A few minutes after starting it, I had already texted five or so friends, "Confessions of a Shopaholic is literally my life––right down to working at a magazine, minus the debt." After losing her job at a gardening publication, Rebecca Bloomwood sets her sights on Alette Magazine. The position gets filled, but she has the opportunity to get her foot in the door at another magazine, Successful Savings, which operates under the same parent company. Although the credit card debt that Rebecca accumulates is a major plot in this film, there's also an element surrounding fashion. "Because when I shop, the world gets better, and the world is better. And then it's not anymore, and I need to do it again," Isla Fisher as Rebecca says. I couldn't agree more. The sample sale scenes remind me of my own experiences in New York, waiting in line at many "designer sales of the season." However, Rebecca's love of shopping lands her in Shopaholics Anonymous. "My will is strong. My wallet is closed. I don't want to shop!" And repeat.
Rebecca is sassy, fun and authentic—even when working at Successful Savings, Rebecca shines through her writing as the Girl in the Green Scarf, making mundane investments sound intriguing and relatable. In the end, Ms. Bloomwood discovers that happiness doesn't come from shopping, or clothes, or her own column at Alette. Friends, family and honesty should always be top priority—just like we are all learning while stuck in quarantine.
Harry Potter and the Sorcerer's Stone
I grew up during the height of Harry Potter's reign, and I even remember my brother and my dad going to the bookstore to get one of the new Harry Potter books at midnight. The first movie, Harry Potter and the Sorcerer's Stone, is my favorite. Sure, it's the most innocent of the series, but that doesn't mean it lacks drama or intensity. Watching Harry encounter magic for the first time is, well, magical. Harry is enamored by all of the spells and novelty that comes with attending Hogwarts. It's almost grounding to go back to Harry Potter roots because you notice little details with a fresh perspective. Some of the most crucial moments in the film are those that include the blooming of Harry's relationships, setting the stage for the rest of the series. His bond with gamekeeper Hagrid and Professor McGonagall are the foundation of Harry's entire experience at Hogwarts. Harry's friendship with Ron and Hermione are the most critical; the two young wizards become not only his friends, but his family. (Going on an adventure to defeat You Know Who together at 11 years old has that effect). And at this moment, the escape of visiting the wizarding world is much-needed.
Related: W Movie Club—The Nostalgia Trap