Emma Stone Shares a Photo She Drew of Her Anxiety in Therapy at Nine-Years-Old
"I'm bigger than my anxiety!"
---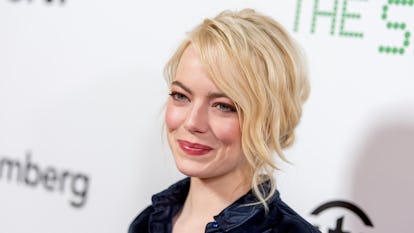 Roy Rochlin/Getty Images
Oscar winner Emma Stone has been refreshingly open about her struggle with anxiety for some time, but maybe you didn't realize how far back her attempts to treat the condition went.
During an interview with Stephen Colbert on the Late Show on Tuesday to promote her new film, Battle of the Sexes, in which she plays tennis champ Billie Jean King, Emma revealed that she's been in therapy for anxiety since she was seven years old and shared a picture she drew in one of her sessions. "I was nine. I was in therapy at that time, I drew this at therapy," she said, then described the drawing, which has "I'm bigger than my anxiety!" written across the top in neat handwriting. "This is me, I guess, it's really great artistry, with my shoes. And then this is anxiety here," the 28-year-old said, pointing to a tiny green figure standing next to her in the picture. "It's a little green monster that looks a little bit, as someone backstage said, a uterus with some ovaries. But I didn't mean for it to be hormonally related in any way — as I said, I was nine."
The La La Land star's years of therapy have given her much more than just a collection of creative illustrations. "I was a very, very, very anxious child and I had a lot of panic attacks. I benefitted in a big way from therapy," she said, adding that acting and improv were also a huge help in learning to cope with her anxiety. And although her panic attacks have mostly gone away ("knock on wood"), Emma noted, "I still have anxiety to this day."
Emma has been refreshingly open about her mental health issues many times before, and has even previously spoken about the meaning behind her elementary school drawings of the little green anxiety monster. "I wrote this book [in therapy] called I Am Bigger Than My Anxiety that I still have," she told Rolling Stone last year. "I drew a little green monster on my shoulder that speaks to me in my ear and tells me all these things that aren't true. And every time I listen to it, it grows bigger. If I listen to it enough, it crushes me. But if I turn my head and keep doing what I'm doing — let it speak to me, but don't give it the credit it needs—then it shrinks down and fades away."
Related: Emma Stone Never Thought She'd Be Able to Move Away From Home Because of Her Anxiety
Emma Stone Sucked Her Thumb Until She Was 11 Years Old:
Emma Stone's New Blonde Hair Is Just One of Many Stunning Looks
Attending the premiere of Superbad in 2007, actress Emma Stone looked fresh faced and youthful with simple black liner and her red locks softly tousled.

Jon Kopaloff/FilmMagic/Getty Images
Stone arrived to the 2008 MTV Movie Awards with her hair swept back with an embellished clip, dewy skin and black eyeliner.

Jon Kopaloff/FilmMagic/Getty Images
Darkening her locks to a deep auburn, Stone attended the premiere of Zombieland in 2009 with a golden smoky eye and a nude lip.

Jon Kopaloff/FilmMagic/Getty Images
Stone was platinum blonde with blunt bangs and a dramatic smokey cat eye at the The Trevor Project Annual Show in 2010.

Gregg DeGuire/FilmMagic/Getty Images
Stone radiated elegance with a simple up do, a natural eye and sun-kissed skin at the 68th Annual Golden Globe Awards in 2011.

Evan Agostini/NBC/NBCU Photo Bank/Getty Images
Attending the 5th Annual Essence Black Women in Hollywood Luncheon in 2012, the actress kept her red hair loosely pinned back.

Todd Williamson/WireImage/Getty Images
Back to blonde! At The Croods film premiere in 2013, Stone changed up her beauty look with a sleek playful top bun and a bright pink lip.

Luca Teuchmann/WireImage/Getty Images
At the 2014 Met Gala, Stone wore her hair softly tousled in a side braid and a shimmery, bronze smokey eye.

Larry Busacca/Getty Images
Stone attended the 71st Venice Film Festival in 2014 with her newly chopped locks in a tousled bob. She also wore a subtle winged eye and a berry lip.

Elisabetta A. Villa/WireImage/Getty Images
Attending the 21st Annual Screen Actors Guild Awards in 2015, Stone looked classic with a sleek side pony, a red lip, and a black winged eye.

Jeffrey Mayer/WireImage/Getty Images
Exuding old Hollywood glam with her auburn locks softly tousled to the side, rosy cheeks and a coral lip, the Birdman actress looked the part of an Oscar nominee at the 87th Annual Academy Awards in 2015.

Steve Granitz/WireImage/Getty Images
Stone showed off her dark side at the 2016 Met Gala with her brunette locks in a sleek do, a dramatic dark smoky eye and a nude lip.

George Pimentel/WireImage/Getty Images
Celebrating her Oscar win for her role in La La Land, Emma Stone steps out wearing her auburn red locks in elegant curls with a burgundy red lip.

Getty.
Wearing a soft mauve lip with her golden blonde tousled waves, Stone arrives at the AFI Life Achievement Award Gala.

Getty.
Debuting her latest look, Stone steps out in New York City with her new shoulder length platinum blonde locks

Getty.