See Emma Stone as Feminist Sports Hero Billie Jean King in New Battle of the Sexes Trailer
Fresh off winning an Academy Award, Emma Stone is set to follow up with Battle of the Sexes in which she plays Billie Jean King.
---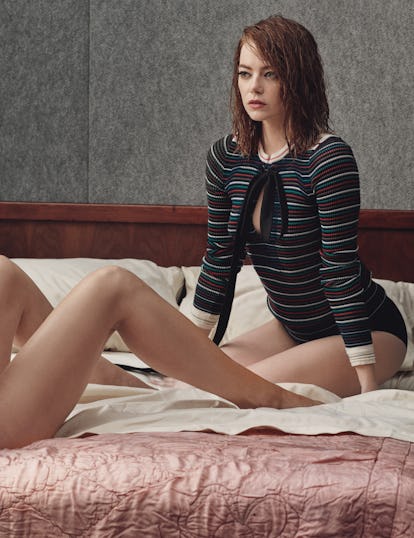 Fresh off winning an Academy Award for La La Land, Emma Stone is taking on another challenging role. The actress will star in the new film Battle of the Sexes as real-life tennis hero Billie Jean King at the peak of her career. Instead of dancing across Los Angeles with one former Crazy, Stupid, Love cast member, she'll instead do battle on the court with another, this time Steve Carell.
Today, we finally get our first look at how this all will play out with the release of the first trailer for Battle of the Sexes.
Based on the real life 1973 tennis match that pitted King, then 29-years-old and with nine of her eventual 11 singles Grand Slam titles under her belt, against the 55-year-old grandstanding has been Bobby Riggs. King already had a reputation as a champion of women's rights and gender equality in sports, while Riggs was happy to play up the role of the male chauvinist.
While the match was nothing but a publicity stunt from Riggs' point of view, King took it much more seriously. "I thought it would set us back 50 years if I didn't win that match. It would ruin the women's [tennis] tour and affect all women's self-esteem," the real life King would say later in life.
The film version is set as a comedy, but doesn't shy away from the cultural importance of the match.
"I had a great idea!," says Carell in character in a phone call to Stone's King. "Male chauvinist pig versus hairy legs feminist. You're still a feminist, right?"
"I'm a tennis player who happens to be a woman, and by the way, I happen to shave my legs," deadpans Stone as King.
The film also seems to include King's romance with her secretary Marilyn Barnett as well, thought at the time of the match King wasn't open about her sexuality and would be outed eight years later.
In addition to Stone and Carell, the film also has a solid creative team. Academy Award winning screenwriter Simon Beaufoy (whose previous work includes Slumdog Millionaire and 127 Hours) handled the script. Meanwhile, Jonathan Dayton and Valerie Faris, the married couple behind Little Miss Sunshine, took care of directing duties.
The film's release is still a bit of a ways off. It's set for release on September 22nd.
Could Stone find herself following up with another Oscar nomination? Hey, it's possible, and we wouldn't be surprise with if she lands a Golden Globe in the comedy and musical Best Actress category.
Related: Brie Larson Offered Emma Stone a Literal Shoulder to Cry on at the Oscars
Emma Stone & Natalie Portman Audition as Chunk from 'The Goonies':
For La La Land and Beyond, It's Impossible to Pin Down Emma Stone's Eclectic Style
Emma Stone in Prada at the Metropolitan Museum of Art Costume Institute Gala for 'Manus x Machina' in New York, New York, May 2016.

Getty Images
Emma Stone in Roland Mouret at the Hollywood Foreign Press Association Grants Banquet in Beverly Hills, California, August 2016.

WireImage/Getty Images
Emma Stone in Atelier Versace at the opening ceremony of the Venice Film Festival and the premiere of La La Land in Venice, Italy, August 2016.

WireImage/Getty Images
Emma Stone in Chanel at the Venice Film Festival in Venice, Italy, August 2016.

GC Images/Getty Images
Emma Stone in Rochas at the party for Katie Says Goodbye at the Toronto International Film Festival in Toronto, Canada, September 2016.

WireImage/Getty Images
Emma Stone in Chanel at the press conference for La La Land in Venice, Italy, September 2016.

WireImage/Getty Images
Emma Stone in Chanel at the premiere of La La Land at the Toronto International Film Festival in Toronto, Canada, September 2016.

FilmMagic/Getty Images
Emma Stone in Rodarte at the special screening of La La Land during the Mill Valley Film Festival in Mill Valley, California, October 2016.

FilmMagic/Getty Images
Emma Stone in Prada at the Kennedy Center Mark Twain Prize in honor of Bill Murray in Washington, D.C., October 2016.

WireImage
Emma Stone in Chanel at the premiere of La La Land at the Denver Film Festival in Denver, Colorado, November 2016.

Getty Images
Emma Stone in Rosetta Getty at a special screening of La La Land in Los Angeles, California, November 2016.

Getty Images for Lionsgate
Emma Stone in Prada at the premiere of La La Land in Westwood, California, December 2016.

FilmMagic
Emma Stone in Rochas with Ryan Gosling at their hand and footprint ceremony at TCL Chinese Theater in Hollywood, California, December 2016.

FilmMagic/Getty Images
Emma Stone in Giambattista Valli at the Hollywood Reporter Women in Entertainment breakfast in Los Angeles, California, December 2016.

Getty Images for The Hollywood Reporter
Emma Stone in Gucci at the W Magazine Best Performances pre-Golden Globes party in Los Angeles, California, January 2017.

Getty Images for W Magazine
Emma Stone in The Row at a screening of La La Land in London, England, January 2017.

Getty Images