Brie Larson Offered Emma Stone a Literal Shoulder to Cry on at the Oscars
The two young Hollywood stars are also close friends.
---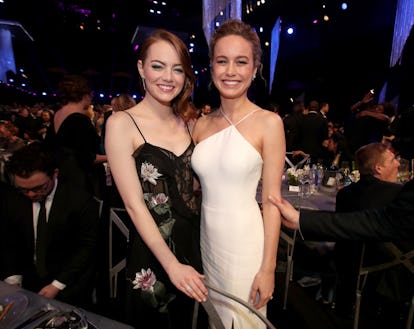 Christopher Polk/Getty Images
If there's anyone who truly understands the emotions of winning an Academy Award for Best Actress, it's probably the person who won it last year. Luckily for Emma Stone, last year's winner Brie Larson not only happens to be her close friend but was there backstage.
After claiming her rightful place among the Oscars' ranks of Best Actresses for her role in La La Land, Stone was standing amid the chaos backstage as Larson, who claimed last year's honor with her performance in Room, approached to congratulate her. In true best-friend fashion, it took but one look at each other for Stone to burst into tears.
"Oh, now I start to cry," she said through sobs as the two embraced.
"Wanna go?" Larson asked.
"Yeah," Stone said. Then they left the scene together to do whatever glorious activities Best Actress winners and do in tandem.
Luckily for us, someone captured the entire emotional exchange on video, which the Academy posted to its official Instagram account.
Later, Larson posted one of the photos taken as the two got their hug on to her own Instagram. "You know what's better than winning? Watching your friends win. @theacademy," Larson, who would know, wrote.
And Larson wasn't the only one to sweetly congratulate Stone following her big night. Adele also took to social media to share her excitement over the actress's win, along with a photo of herself standing next to her TV, with the screen frozen on none other than the newly minted Best Actress herself.
City of stars: They are shining just for Emma Stone.
If only Jennifer Lawrence, a fellow young Best Actress winner and noted friend of Stone and Larson's as well, had been on hand.
Emma Stone Sucked Her Thumb Until She Was 11 Years Old: