How Emma Stone Managed to Keep Her Wedding and Pregnancy a Secret
The actress and her husband Dave McCary are reportedly expecting their first child.
---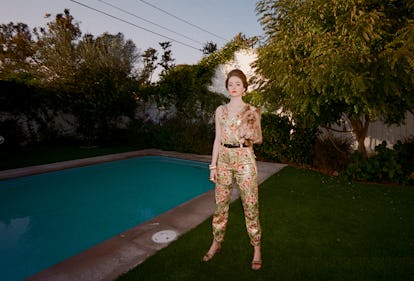 Directed and Photographed by Yorgos Lanthimos; Styled by Sara Moonves.
Congratulations are in order for Emma Stone and Dave McCary, who appear to be expecting their first child.
Stone, 32, was photographed by paparazzi on December 30 taking a walk in Los Angeles with a friend—sporting Missoni x Adidas sneakers and a not-insignificant baby bump.
The actress, who does not have social media, has yet to release a statement confirming her pregnancy. But it makes sense that the world would find out about hers and McCary's baby through pictures shot clandestinely by the Daily Mail rather than an announcement in a lengthy Instagram caption. The notoriously low-key couple is known to keep their private life to themselves, especially after they successfully carried out another major life event in secret this year.
The two met on the set of Saturday Night Live, where McCary worked as a writer and segment producer, and which Stone hosted in 2016. (McCary, by the way, was responsible for directing one of the most memorable sketches from Stone's episode, "Wells For Boys.") They confirmed their relationship in October 2017, and announced their engagement two years later, in December 2019—somewhat uncharacteristically, on Instagram. (Stone, it's worth noting, got in on the pearl engagement ring trend early.)
In March, they were forced to postpone their nuptials due to the pandemic—but in May, Stone made a video appearance with Reese Witherspoon in support of the charitable organization Child Mind Institute wearing a wedding ring, sending rumors flying that she and McCary had wed in secret. (The fire was fanned further during the conversation posted on YouTube, when Institute member Dr. Harold Koplewicz said, "If you marry an anxious man, you're going to have to know me the rest of my life," to which Stone replied, "Thankfully, I didn't do that.") It was confirmed they'd tied the knot in September 2020—but of course, not by McCary and Stone themselves. "A source" told Page Six and People Magazine.
As we see it, there couldn't be a better time to keep your personal life behind-the-scenes. In a way, this is an ideal moment for Stone to get pregnant. Leaving the house is barely an option in L.A. due to spiking Covid cases in the region, and a dearth of red carpet events, public appearances, and promotion for whatever projects celebrities are working on allows these stars to do what they want with their lives without the general public knowing. Although Stone is already off the hook when it comes to the latter—earlier in 2020, she was reported to be rejoining La La Land director Damien Chazelle for his Hollywood golden-age film Babylon. But in December, Deadline announced that she was leaving the production for "scheduling reasons," with Margot Robbie in talks to take her place.
Related: Coronavirus Causes Emma Stone and Dave McCary to Postpone Their Wedding